A plurality of Conservative members say they would be "happy" with Nigel Farage as their party leader, according to a poll.
The YouGov poll of 892 Tory Party members conducted between the 11th and 14th of June and published this week revealed that 46 per cent would be happy with The Brexit Party leader taking charge of the Conservatives, with 40 per cent expressing they would be unhappy.
The results come as Mr Farage said on Tuesday that a Tory-Brexit Party ticket "would win a massive, thumping majority" at the next General Election — but only if Tory Party leadership frontrunner candidate Boris Johnson ditched the EU-approved withdrawal treaty and committed to a full, clean Brexit.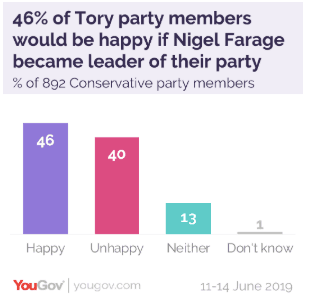 Tories' willingness to forgo Conservative tribalism was also revealed when the majority of poll respondents (54 per cent) said they would rather Brexit take place even if it caused the Conservative Party to be "destroyed", while just one-third (36 per cent) put party preservation above delivering on the EU referendum result.
The poll also showed that Tories are aware of the threat that The Brexit Party poses to them if they fail to deliver Brexit, putting the Nigel Farage-led party as a greater threat to the Conservatives than their traditional opposition the Labour Party.
Mr Johnson has said during the Tory leadership campaign that cancelling or delaying Brexit would result in "defeat" for the party in the next election — a sentiment shared by the party membership. More than half (51 per cent) believe that if a Conservative government does not deliver Brexit, the party will be damaged "to the extent that it will never lead a government again", while nearly one-third (29 per cent) believe it will keep the party "out of power for multiple elections to come" and 12 per cent think the Tories would lose the next election but "will remain competitive" — only three per cent think failing to deliver on the 2016 referendum instruction would be good for the party.
Farage Teases Brexit-Tory Pact That Could Win 'Massive, Thumping Majority' For PM Boris https://t.co/VPFA84kQsA

— Breitbart London (@BreitbartLondon) June 19, 2019
The Brexit Party came first in May's European Parliament elections — while the Conservative Party came fifth, as Tories abandoned their traditional political home over Prime Minister Theresa May's failure to deliver Brexit.
Mr Farage's party continues to hold steady in General Election voting intention, holding first place — ahead of the establishment parties the Conservatives, Labour, and Liberal Democrats — for three YouGov polls in a row.
Conservatives will likely suffer in the next General Election should a Remainer take control of the party again, with projections conducted last week by Electoral Calculus giving The Brexit Party up to 252 seats in the House of Commons if Remain-backing Rory Stewart becomes prime minister.
Tory MPs are also reportedly threatening to defect to The Brexit Party if a prospective Prime Minister Johnson fails to deliver Brexit, as he has pledged with or without a deal, by October 31st.
Tory Brexiteer tells Breitbart the party needs a pact with Farage's Brexit Party. See the full video at Breitbart London >> https://t.co/r02OBtzE2o pic.twitter.com/t6WjBvExFt

— Breitbart London (@BreitbartLondon) June 14, 2019