Pro-amnesty, pro-migration advocates are mourning the exit of their covert ideological ally, House Speaker Paul Ryan.
"Paul Ryan was an outspoken and tireless defender of immigrants and immigration," said Frank Sharry, the director of America's Voice, a high-profile progressive advocate for amnesty and mass migration. Sharry met the House Speaker when Ryan was a staffer for a pro-immigration group run by former GOP Rep. Jack Kemp, said Sharry:
In the mid-1990s, I met Paul Ryan when he was young Jack Kemp acolyte working for Empower America … He was fearless, strategic and determined.

After he became one of the most powerful people in the nation, however, Speaker Paul Ryan did nothing on immigration except to front for President [Donald] Trump's nativism.

The old Paul Ryan believed immigration was central pillar to the American experiment.
The portrayal of Ryan as a closeted amnesty-advocate was amplified by Greg Sargent, a progressive, pro-migration blogger at the Washington Post:
An apt summing-up of @SpeakerRyan's legacy, delivered by @FrankSharry to @RonBrownstein:https://t.co/bzfHbpLZAM pic.twitter.com/9XSSxllHQH

— Greg Sargent (@ThePlumLineGS) April 11, 2018
Ali Noorani is the director of the National Immigration Forum, a Washington, D.C.- based group which promotes cheap-labor immigration for cheap-labor employers, including the dairy industry in Ryan's home state of Wisconsin. Noorani tweeted:  "Thank you @SpeakerRyan for always hearing us out on immigration. Let's get some good legislation passed before your next step!"
Thank you @SpeakerRyan for always hearing us out on immigration. Let's get some good legislation passed before your next step! pic.twitter.com/RDVesTTOFM

— Ali Noorani (@anoorani) April 11, 2018
Matthew Soerens is a top official for World Relief, a so-called VOLAG or Voluntary Agency, which is paid to help settle refugees in the United States. He Tweeted his hope for a last=minute Ryan amnesty:
I'm a Wisconsin guy* who's genuinely hoping you'll do all you can to pass a positive solution for those with DACA and other Dreamers before you head home to Janesville, Mr. Speaker

(*transplanted to Illinois but don't hold that against me or against Dreamers who need you to act) https://t.co/7oOhqcxmpw

— Matthew Soerens (@MatthewSoerens) April 11, 2018
Vox.com, a pro-immigration media site, quoted Yuval Levin, a social conservative and an ally of Ryan:
"He is an outlier," Levin said of Ryan's personal views, which are more moderate than those of the immigration hawks dominating the current immigration conversation. But he's shown a willingness to give hardliners airtime on the issue.
Vox reported that Ryan:
… he's also been dovish at times. He supported an early version of a comprehensive immigration push from Sens. John McCain (R-AZ) and Ted Kennedy (D-MA) that would have created a path to citizenship for nearly 12 million undocumented immigrants. And in 2013, he stood with Rep. Luis Gutiérrez (D-IL), among the most progressive immigration activists in the House, on a stage in Chicago to support a pathway to citizenship.
 Vox also reminded readers of Ryan's close cooperation with the Democrats' leading amnesty advocate, Rep. Luis Gutiérrez, reporting:
Ask Gutiérrez where he places Ryan's personal position on immigration today and he says he can't.

"I can tell you what they were [in] 2013; we were together in April in Chicago," Gutiérrez told me of Ryan. "I don't know what they are today."
Breitbart News exposed that 2013 meeting, where a video recorded Ryan and Gutierrez stumping for Sen. Marco Rubio's amnesty bill and urging unlimited immigration:
Gutierrez said in his introduction of Ryan:

I want to share something… I saw Paul— Congressman Ryan— and we were talking. And he— I just want you to know that when he worked for Kemp, and he was a staffer there, they were against Proposition 187 in California. I want you to know— because people think, 'Oh, he just showed up lately on the scene on immigration'— No, he has a history on this issue. And I want you to know that in 2005 when [Jeff] Flake and I introduced comprehensive immigration bill… and Kennedy and McCain was the first bipartisan, bi-cameral bill… Paul Ryan was an original cosponsor of comprehensive immigration reform. And I want to share one last thing with you. There was a day that we were in his office, and I'll apologize to him later, and he said to me, 'Well, Luis, I don't want to do it because it's the political thing to do, I want to do it cause it's the right thing to do.' And he said, 'You know, you and I are Catholics and our Catholic values do not allow us to create a permanent underclass.' And you know what? My heart soared that day. I mean I could walk so much easier that day. I felt strengthened that day by his words.

Ryan confirmed Gutierrez's assertion.

"Luis is right," Ryan declared. "I've worked on this issue back since the early 90s. And many Republican and Democrat coalitions trying to make this system work."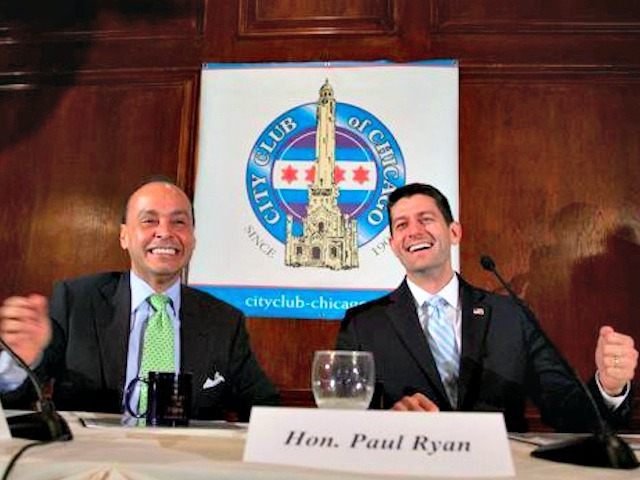 But Ryan's push for amnesty, greater immigration and even for the "any willing worker" proposal that would allow American companies to free hire foreigners instead of Americans, has repeatedly been blocked by the public's love for their own country.
Those repeated defeats rankle the amnesty advocates who hoped Ryan would bring the GOP over to their side. Sharry bemoaned:
He could have been a leader who put his party on the right side of history. Instead, the non-racist, pro-immigration libertarian of yore yielded to the party hack intent on kissing Trump's ring and advancing a radical restrictionist agenda. How sad. How cynical.
Ron Brownstein, a writer for the Atlantic, lamented:
No one in the GOP was better equipped, by position and disposition alike, to resist Trump's racially infused, insular nationalism, or to define a more inclusive competing vision for the party. Instead, Ryan chose to tolerate both Trump's personal excesses and his racially polarizing words and deeds as the price worth paying to advance Ryan's own top priorities: cutting spending; regulations; and above all, taxes. The result was that Ryan, more than any other prominent Republican, personified the devil's bargain the GOP has signed with Trump.
Vox complained:
Immigration is among Ryan's biggest political vulnerabilities in the Trump era of Republican politics. His own views, often said to have been shaped by his mentor Jack Kemp — the pro-immigration New York Republican whom Ryan worked for early in his career and with whom he remained close until Kemp's death in 2009 — are in stark contrast to the hardliner views espoused by the White House.
The New York Times deplored:
A lifelong advocate of relaxed immigration laws, Mr. Ryan did little to stop the hard-liners who backed Mr. Trump's crackdowns and pushed for his wall on the southern border with Mexico.
But Ryan's support for small government and mass immigration was always an impossible contradiction for a nation that wants to be a middle-class society.
The contradiction is made clear by the decline of mass-immigration California, whose sunny optimism has been replaced by growing economic divides, a winner-take-all economy, broadening "diversity" and civic fractures, rising homelessness, declining education levels and record levels of middle-class emigration.
The 2016 election showed that American voters know Ryan's cheap-labor policies would impose that disaster on all of the United States — and also on all of their children. That's why a populist real-estate developer and TV showman has eclipsed lifetime policy-wonk Ryan as the GOP's leader.