Labour MEP Julie Ward, who boasts a Masters degree in education, has revealed she can't spell the plural of 'library'.
In a tweet to mark World Book Day, the politician who represents Labour on the European Parliament's Culture and Education Committee posted a picture of herself 'talking about the vital role librairies (sic) play.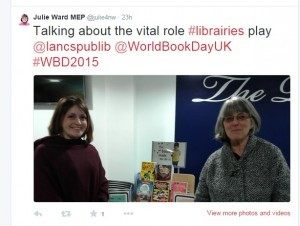 Her personal biography states she is 'a writer, theatre director, community animator and cultural activist.'
But political rival Paul Nuttall, who also represents the North West Region in Brussels, suggested that she spent a little more time on her own education.
The UKIP MEP told Breitbart London, "Maybe Labour could encourage kids to learn to spell rather than spend time on sex lessons at the age of 5. And while they are at it, teach their MEPs how to spell too.
"Labour Party education policy has gone to the Fairies, …sorry….Librairies!
"I believe this is just 'sic'.
"If his Lordship and Labour Education spokesman Tristram Hunt was asked how many Labour party officials can spell- his answer would probably be 'Nun!'"