The Palestinian "wave of terror" has escalated so much over the past two months that some fear a third intifada is on the brink of breaking out.
At least 20 Israelis have been killed while some 96 Palestinian attackers have died in the process of carrying out or attempting attacks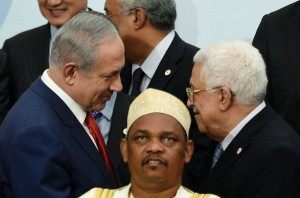 .
With that as an ongoing background, Israel Prime Minister Benjamin Netanyahu, and the president of the Palestinian National Authority, Mahmoud Abbas, have not met to shake hands since 2010. That all changed overnight at the Paris climate change talks.
According to Haaretz it is the first time the two men, who only had the prime minister of New Zealand, John Key, standing between them, have come face-to-face in an amicable environment for five years.
Sadly, Ikililou Dhoinine, president of the Comoros (seen at front, right) , wasn't pre-briefed about the potentially significant moment taking place behind him.