A former Labour MP who accused the Jewish community of colluding with "Blairite plotters" to damage the party has been suspended.
Jim Sheridan, MP for Paisley and Renfrewshire North until 2015, lost party support after apparently writing in a Facebook post that has since been removed: "For all my adult life I have had the utmost respect and empathy for the Jewish community and their historic suffering. No longer, due to what they and their Blairite plotters are doing to my party and the long-suffering people of Britain who need a radical Labour government."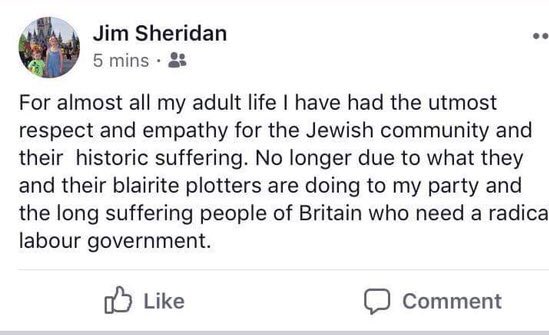 Mr. Sheridan – now a local councillor in Renfrewshire – has been suspended by Scottish Labour over the post, according to the BBC.
A party spokesman said: "The Labour Party takes all complaints of antisemitism extremely seriously and we are committed to challenging against it in all its forms.
"All complaints about antisemitism are fully investigated in line with our rules and procedures, and any appropriate disciplinary action is taken."
Labour MP Ian Austin called Mr Sherdian's remarks "utterly disgusting".
The suspension is the latest chapter in Labour's ongoing public row over anti-Semitism in the left-wing party. It comes just 24 hours after an Israeli athlete, who survived the massacre at the 1972 Munich Olympics, called on Jeremy Corbyn to quit as Labour leader.
Professor Shaul Ladany, a Holocaust survivor who competed at the Munich games as a racewalker, condemned his visit to a Palestinian cemetery in Tunisia in 2014.
Mr Ladany said he had "no doubt" Corbyn was an antisemite.
"He knows at present he cannot fully express himself totally openly because he might lose some of his voters," he told The Daily Telegraph. "I don't know him personally but from what I have read and heard I have no doubt that he is an antisemite.
"He should disappear from the political scene. And I hope that it will happen."
Anti-Semitism allegations have stalked Labour ever since since socialist Jeremy Corbyn — who called anti-Israeli, anti-Semitic terror groups Hamas and Hezbollah "friends" — was elected party leader.
The suspension of former London Mayor Ken Livingstone for claiming there was "real collaboration" between Zionists and Nazis before the Second World War and MP Naz Shah who was suspended for calling for the "transportation" of Israelis out of the Middle East on social media are just two of the many episodes that have combined to define the party as anti-Jewish in the public arena.
Follow Simon Kent on Twitter:

Follow @SunSimonKent

or e-mail to: skent@breitbart.com