White House officials say the Democrats' insistence on open-border migration forces U.S. border agencies to house children separately from their detained parents until judges can decide whether to send them home.
"The cruel and inhumane open borders policies of the Democratic Party are responsible … [and] lead to the temporary separation of illegal alien families, because they refuse to close border loopholes that prevent those families from being swiftly returned home," said a Sunday evening statement from Hogan Gidley, deputy spokesman for the White House.
Gidley also said the Democrats' policies are:
enabling horrendous child smuggling, and releasing violent MS-13 gang members into American communities.  Their lawless policies spread human suffering and finance criminal cartels … Democrat policies also result in the permanent separation of American families— who have to bury loved ones because of the criminals Democrat policies allow in to this country.
"Sadly, Democrats openly oppose simple fixes to federal law that would stop the illegal migrant crisis and end the magnet for unlawful migration," said Gidley.
The tough statement comes amid Democrats' outrage at President Donald Trump's new effort to close the "catch and release" loopholes created by the 1997 Flores legal settlement.
On Sunday, for example, Democrats used images of children in detention to attack Trump as heartless — until they noticed the images were taken in 2014 when a flood of migrants headed north because of President Barack Obama's migration friendly policies.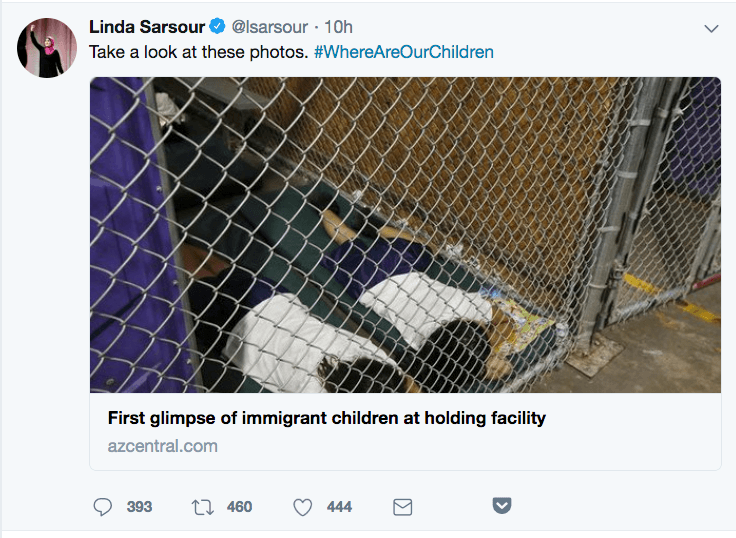 These awful pictures are from 2014, when the government's challenge was reconnecting unaccompanied minors who showed up at the border with family or a safe sponsor.

Today, in 2018, the government is CREATING unaccompanied minors by tearing them away from family at the border. https://t.co/Jgbbnq0djq

— Jon Favreau (@jonfavs) May 27, 2018
Obama's 2014 policies helped wreck Obama's push for amnesty and opened the door for Donald Trump's pro-American immigration platform in 2016.
The FWD.us lobbying group for Silicon Valley investors is also protesting the housing-and-detention policy:
IMPT: if you are looking for groups who are doing great work supporting families pulled apart by immigration enforcement – near you or by the Border – click here. You can volunteer or contribute directly. https://t.co/plhNcsYyUZ

— Todd Schulte (@TheToddSchulte) May 27, 2018
Pro-migration advocates and media outlets are portraying the housing-and-detention policy as a hateful threat to frighten migrant families, not as a bureaucratic step to close up the Flores loophole. For example, the Washington Post declared in an article which did not mention Flores:
On Saturday, Trump tweeted that the policy of ripping apart families was a law being supported by Democrats. That's not true. It's a policy he supported and implemented, apparently because of its "horrible" — his descriptor — deterrent effects.
On Sunday, Trump used Twitter to blame the Democrats'  "horrible law" — likely including Flores — for the catch and release loopholes which prompted the new housing-and-detention policy. He also called for approval of his four-part immigration reform plan.
Put pressure on the Democrats to end the horrible law that separates children from there parents once they cross the Border into the U.S. Catch and Release, Lottery and Chain must also go with it and we MUST continue building the WALL! DEMOCRATS ARE PROTECTING MS-13 THUGS.

— Donald J. Trump (@realDonaldTrump) May 26, 2018
On Sunday, Connecticut Democratic Sen. Chris Murphy rejected any reforms, and declared that Trump's enforcement policy is "evil":
C'mon guys. There is no law that needs to be changed.

Trump unilaterally changed the rules so that he could start separating these kids from their families. This is his evil. https://t.co/V5r6uWud9F

— Chris Murphy (@ChrisMurphyCT) May 27, 2018
The main loophole used by family migrants is the 1997 Flores settlement.
It was negotiated by the ACLU with officials in President Bill Clinton's administration, and it sets a 20-day limit on the detention of migrants who bring their children.
This court settlement has become a loophole because the Congress has not funded enough detention centers or judges to process families of illegal border-crossers or asylum-seekers within the 20-day deadline. Migrants recognize this loophole and carry children up to the border to ask for asylum, or to sneak through the border, believing they are likely to be released into the United States by the 20th day.
Once released, the migrants can legally take low-wage jobs in Democratic-run cities or GOP agricultural areas, pending their eventual deportation or asylum hearings. Those hearings are scheduled for two or more years later by the backlogged courts.
Often, the migrants use much of their legal wages to pay tolls and debts to the cartels who allowed them to cross the Mexican border. This revenue provides $500 million a year for the cartels, say administration officials.
On May 24, the Houston Chronicle showed how one Guatemalan economic migrant, Esteban Pastor, brought his child across the border to exploit the Flores loophole and to pay his debts:
Such money-lenders charge exceptional interest and Pastor worried he would lose his home. He couldn't find enough work to make bigger payments. He knew it would be difficult to return to the United States, but heard that if he brought along his child he might be released.

Pastor thought he would stay only a few months to repay his debt.
Pastor was caught July 2017 and detained while the child was housed by Department of Health and Human Services. Pastor was convicted in August and sent home in October. The child was returned January 2, 2018.
The new detention-and-housing policy is needed to curb the growing flood of migrants who use the loopholes, say White House officials. "From October 2017 to this February, DHS saw a staggering 315% increase in illegal aliens using children to pose as family units to gain entry into the country, compared to the same time frame the previous year," said the White House statement. For example, the tactic was used by many members of the Honduran "caravan" who brought their children to the border wall to ask for asylum.
A White House official blamed Democrats for the clumsy legal process:
The Administration has repeatedly advocated for the closure to federal immigration loopholes that would allow for the swift, safe, and expeditious return of illegal alien minors, adults, and families at the southern border. However, the Democratic Party has repeatedly opposed these loophole closures in favor of preserving "catch-and-release" policies that make a mockery of national sovereignty. The Administration is hopeful that the Democratic Party will abandon its position of open borders and will support the Administration's common-sense reforms to close catch-and-release loopholes, so all illegal aliens caught at the border can be returned home expeditiously.

…

Furthermore, Democrat policies preserving catastrophic asylum loopholes have led to a 600,000 caseload backlog that swamps out legitimate asylum seekers while overwhelming the entire U.S. immigration system and perpetuating a hemispheric migration crisis at enormous cost to U.S. taxpayers and American lives.
But the GOP's business-first leadership is also partially responsible.
Congressional legislators — including House Speaker Paul Ryan — have blocked President Donald Trump's proposals to speed up the courtroom process for illegal immigrants and for migrants who legally request asylum, and also capped spending on detention beds.
In February, for example, shifting coalitions of Democrats and Republicans in the Senate blocked Trump's four-part immigration reform package, which would have removed the Flores loopholes and established-fast track process for handling migrants and asylum-seekers.
In the House, Democrats and the GOP leadership have also united to oppose an immigration reform bill drafted by Rep. Bob Goodlatte and rep. Michael McCaul, the chairmen of the House judiciary and homeland-security committees. Instead, the GOP leadership is providing backroom support to a group of legislators who are using the discharge-petition process to force through an amnesty for millions of young illegals.
Congress' refusal to block the cartels' labor-trafficking network has allowed hundreds of thousands of "family group" migrants into the U.S. labor markets and schools.
Separately, many children, youths and young men are sent into the United States via the legal loopholes offered to "Unaccompanied Alien Children."
Under President Barack Obama, the UACs were bussed or flown to meet relatives in the United States — including many illegal-immigrant parents — with minimal oversight to prevent covert labor-trafficking or gang recruitment.
This inflow of criminals divides American families by murdering American children and parents, said the White House:
The Democrats' open borders policies are responsible for the permanent separation of thousands of American families, whose loved ones were killed and taken from them forever through illegal immigrant crime and open borders. Just this week, an illegal MS-13 gang member, who was released in the country due to his status as an unaccompanied minor, was arrested for allegedly murdering a man in Houston and burning his victim's body.
Under Trump, federal officials have stepped up efforts to combat the Central American gangs who use the UAC loopholes to bring gang members into the United States, the White House said:
The influx of UACs creates recruiting opportunities for brutal gangs such as MS-13. "Operation Matador," so far has led to the arrest of nearly 500 individuals, including 274 MS-13 members.  Ninety-nine individuals arrested during this operation crossed the border as unaccompanied minors—that's more than 36% of those arrested—all of which were confirmed as MS-13 gang members.
According to the White House statement,
Since the beginning of FY16, more than 110K UACs have been released into the interior of the United States, according to the most recent figures released by HHS.
From October to December of 2017,  HHS placed 7,635 UACs with sponsors and only five of them were removed from the United States due to the legal loopholes in federal law that drive international child smuggling and reckless child endangerment.
Approximately 6,000 unaccompanied children each year fail to appear in court when they've been summoned subsequent to being released in the U.S. interior.
Only 3.4 percent of unaccompanied minors from countries other than Mexico encountered at the southwest border in FY 2014 had been removed or returned as of FY 2017 year-end.
From April 2017 to April 2018, the number of unaccompanied alien children (UAC) at the ports of entry increased by 636%.
The number of cases of UAC pending in immigration court has risen from less than 4000 in FY10 to over 76,000 presently.