As the Egyptian military effectively declared a coup, overthrowing the elected government of repressive Muslim Brotherhood President Mohammed Morsi, the Obama administration struggled to come up with a coherent strategy to deal with the situation. 
President Obama released a statement on Morsi's ouster, suggesting that his administration "does not support particular individuals or political parties, but we are committed to the democratic process and respect for the law." With those principles in mind, Obama declared himself "deeply concerned" and called for a transition to civilian rule. He refused to state whether the United States would withdraw aid to Egypt, saying only that he had directed a comprehensive review process.
Simultaneously, the State Department, which issued a mandatory evacuation order to non-essential personnel on Wednesday, said it would not take sides in the Egyptian situation. "We haven't taken sides and don't plan to take sides here," said State Department spokeswoman Jen Psaki.
In an embarrassing signifier of the level of chaos plaguing the administration, Secretary of State John Kerry called into the top level meetings from a secure phone. According to CBS producer Mosheh Oinounou, Kerry was on the "Isabel" on Wednesday afternoon. Oinounou said that when another CBS producer yelled "Morsi!" to Kerry, she received no response. Oinounou tweeted this photo: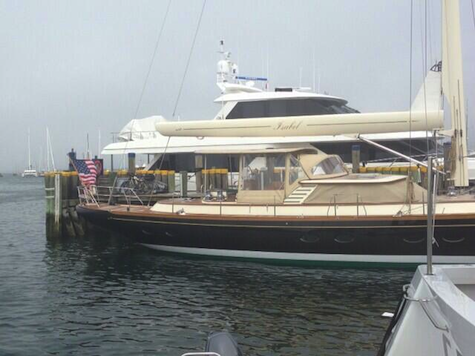 Later, Oinounou reported that the State Department denies his claim that CBS reporters saw Kerry aboard his yacht; the State Department maintains that Kerry has been working on Egypt "all day."
Whether Kerry was working all day or not on the strategy, it's clear that confusion reigns at the highest levels. President Obama in Cairo in 2009 decried the "overthrow of a democratically-elected Iranian government" in the 1950s; when Honduras' military ousted a would-be dictator, the Obama administration originally kicked back before caving. Now, it seems that the administration can't label the military coup a military coup, and won't label it a democratic movement.
President Obama isn't even leading from behind at this point, simply because he can't tell which direction is behind.
NOTE: This post has been edited to reflect the State Department's denial of the original CBS report regarding Kerry's presence on his yacht.
Ben Shapiro is Editor-At-Large of Breitbart News and author of the New York Times bestseller "Bullies: How the Left's Culture of Fear and Intimidation Silences America" (Threshold Editions, January 8, 2013).