WASHINGTON— About 100 people participated in a Washington, D.C. rally in front of the White House Saturday in support of the nuclear accord with Iran. The rally brought together a mixture of peaceniks, idealists, and even some extremists. Some said they were there not necessarily to support or to reject the deal, but to advocate for a more moderate Iran, one that could re-engage with the community of nations. Others just wanted to talk about Israel (in a negative manner).
Breitbart News spoke with several participants in the rally. They shared diverse viewpoints about why they supported the deal.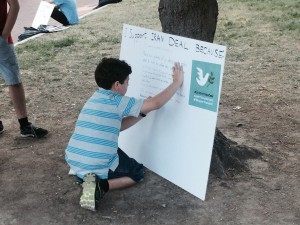 When surveyed, most stated that they did not support the clerical leadership in Iran. Some deal supporters hoped that the agreement would provide the engagement and pressure needed for a detente with the West. "We're here for peace," as one deal supporter told me, was the main, but vague message they hoped to convey.
But a minority who took part in the rally revealed a number of unsettling perspectives concerning the Iranian regime and its support for terrorism worldwide. Some, when questioned, openly supported the Lebanese terrorist group Hezbollah, a proxy of the Iranian regime. 
One woman even accused this reporter of "looking like an AIPAC person."
"How come you see what Hezbollah has killed but you don't see what you killed?" the man next to her asked, continuing to assert that this reporter was an agent sent by the pro-Israel group.
"Me? You mean the U.S.?" I responded.
"No. Who is Hezbollah? They are resistant group," he told me, hinting that I was only interested in talking about Iran's proxy because I was an Israeli agent.
"So you don't support what they're doing, do you?" I asked.
"I support the cause. If the Hezbollah was not in Lebanon it would be destroyed" by Israel, he asserted.
I responded: "Do you support the tactics" of Hezbollah?
"I don't care about the tactics," he exclaimed, "they are a resistance group."
Another younger Iranian man, when asked if he was worried that the billions of dollars in sanctions relief the regime is set to receive could be used by Iran to fund terror, countered, "Do you support Israel and their war efforts?" He spoke passionately about Israel's "occupation of Palestine," casting blame on Israel for the rise of "necessary" "resistance movements" such as Hamas, Hezbollah, and other terrorist groups.
Others were quick to condemn Hezbollah and its extremist tactics, hoping that the deal would allow for the "moderates" within the regime to re-engage with the West.
The younger people at the rally, when surveyed, almost unanimously disavowed Ayatollah Khamenei, the dictator of Iran. "Very few people here support him," one participant told me, as others nodded in approval. The same goes for Bashar al-Assad, the dictator in Syria, he added, as others concurred. 
"We have to open up to the world. We have to re-engage the world," an Iranian national told me, admitting that the deal was a "gamble," but one that he and others believed was worth taking.