The rising tide of anti-Semitism now convulsing Europe is forcing political leaders to address the matter of Jews in society and their place in countries that for generations have provided a safe haven for the Jewish diaspora.
On Tuesday night the German chancellor, Angela Merkel, opened a major exhibition in Berlin (pictured above) featuring works by Jewish concentration camp prisoners, choosing the moment to pledge to combat anti-Semitism in Germany linked to a record influx of refugees.
The show, Art from the Holocaust, gathered 100 works on loan from Israel's Yad Vashem memorial. They were created in secret by 50 artists between 1939 and 1945 while they were confined to the camps or ghettos.
She spoke just 24 hours after French Prime Minister Manuel Valls acknowledged that French Jewry is in crisis and that France must work with "all its might to protect Jews", as Breitbart London reported.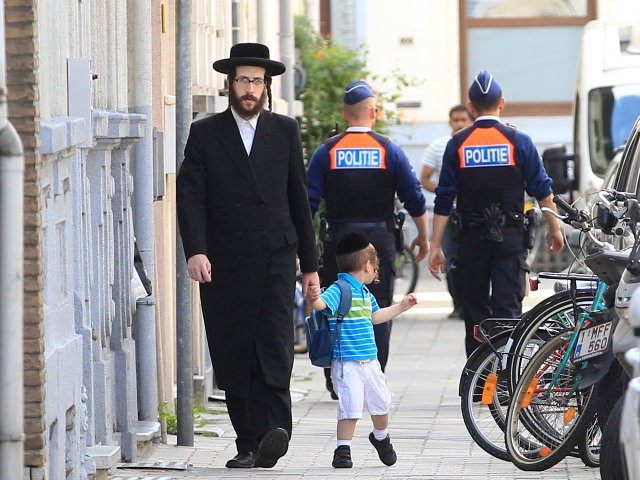 For her part, Mrs Merkel was looking ahead to Wednesday's commemorations of the 71st anniversary of the Auschwitz liberation. In her weekly video podcast, the German leader said such exhibitions served as a crucial tool in educating younger generations about the religious horrors of the past.
She cited in particular the fears of German Jewish leaders that the need to impart the lessons of the Holocaust has grown more urgent with the influx of a record 1.1 million asylum seekers to Germany in 2015, most from the Middle East.
"We must focus our efforts particularly among young people from countries where hatred of Israel and Jews is widespread," she said.
To that end, it is a sad fact that Jews across Germany are hiding their identity when volunteering at refugee shelters for fear of reprisals, adding another layer of complexity to a social, economic and logistical challenge that is stretching the fabric of German society.
"Among the refugees, there are a great many people who grew up with hostility toward Israel and conflate these prejudices with hatred toward Jews in general," Josef Schuster, president of the Central Council of Jews, told Reuters in an interview conducted in October.
An official Israeli government report into global anti-Semitism published Sunday shows that France and Germany are far from alone in fighting anti-Jewish sentiment with more than 40 per cent of European Union citizens holding anti-Semitic views, with "Islamic elements" prominent in its creation.
This trend has not gone unnoticed in Israel itself.
The World Zionist Organization has found almost 67 per cent of Israelis are concerned for the lives of Jews abroad, while 83 per cent said they were willing to invest in absorbing immigrants, even at the expense of employing Israelis, and that the state should intervene in the labor market to aid such absorption.
The European Union Agency for Fundamental rights agreed Wednesday that anti-Semitism is thriving. It cautioned that "attacks in Belgium, France and Denmark, widespread anti-Semitic cyberhate and continued verbal and physical abuse of Jews or their property serve as a sad reminder that Jewish people in the EU continue to face anti-Semitism to this day."
Across the English Channel the story is much the same. There has been a dramatic 61 per cent increase in anti-Semitic hate crime in the UK capital over the past 12 months according to the latest statistics released by London's Metropolitan Police.
A total of 483 anti-Semitic crimes were committed up until November 2015, up from 299 crimes in the same period in 2014.
This comes a full 70 years after the Holocaust and the death of some six million European Jews caught up in Adolf Hitler's Final Solution.
All of which chillingly recalls the words of George Santayana when he said: "Those who cannot remember the past are condemned to repeat it."
Follow Simon Kent on Twitter:

Follow @SunSimonKent

or e-mail to: skent@breitbart.com