As Brazil struggles to contain the Zika virus in what has now become a pandemic, the nation officially begins its annual Carnival. Despite experts deeming the scantily clad nationwide block party an "explosive cocktail" for a mosquito-borne illness, thousands are expected to flood the streets of the nation's biggest cities and have a good time.
While festivities officially began Thursday, revelers took to the streets already last weekend to begin their celebrations. In these events, the presence of the Zika virus permeated the celebrations. Some governments, like in Rio de Janeiro, used events to promote awareness for containing the Zika virus. One private group of partiers used their display to sing away the threat of Zika, dressed as Olympic gods and singing, "If you leave still water [around]/the larvae grow/from larvae come mosquitos/Leave me alone, Zika! Scare the evil away."

The Zika virus is spread through the Aedes aegypti mosquito, found in all nations of the Western Hemisphere except Canada and Chile. While 80 percent of those who contract Zika remain asymptomatic, and adults with symptoms often recover rapidly, experts have found ties between Zika and the prenatal disorder microcephaly, in which a child is born with a skull too small for his or her head, causing severe neurological damage. In adults, Zika has been linked to Guillain-Barré syndrome, which causes severe muscle pain, paralysis, and death.
The high concentration of people in hot, confined spaces concerns many virologists regarding the ease with which Zika may spread. "There will be great concentrations of people wearing little clothing, with not much insect repellant, which makes mosquito bites easier to get," the head of Brazil's Society of Infectious Diseases, Sérgio Cimerman, said. "The Carnival could become an explosive environmental cocktail that will accelerate the spread of Zika."
During Thursday's celebrations, Zika was such a protagonist at the Sao Paulo Carnival that the most popular revelers at the event were disguised as Aedes aegypti mosquitos, taking photographs where they pretended to sting passersby.
The city of Sao Paulo's health secretary, Alexandre Padilha, joined in on attacking the "mosquitoes."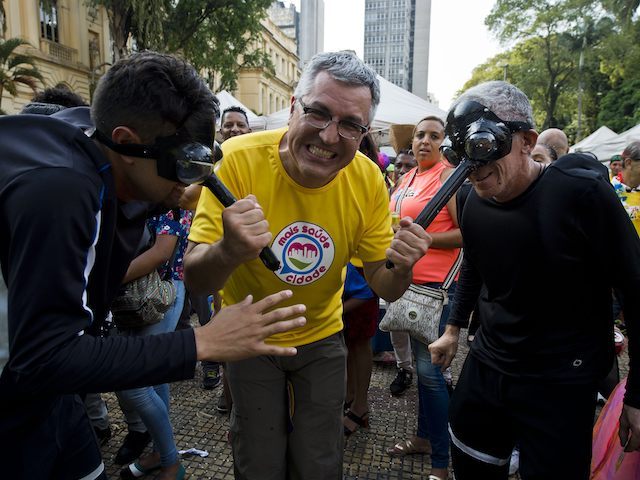 Not all of Sao Paulo state is participating in Carnival this year, however. Capivari, a city of 50,000 people, canceled its Carnival celebrations to invest the money that would have gone into staging the event into Zika reseach. Capivari is among at least 48 cities nationwide that canceled official Carnival celebrations entirely.
In Rio de Janeiro, considered the capital of Carnival, the show must go on. The city's government has installed tents in the traditional "blocks" where parties occur with the "Xo Zika" ("Leave Me Alone Zika") label, where people can gather information on how to eradicate the mosquitos that carry the disease. Officials expect more than one million tourists and four million Brazilians to gather in Rio throughout the weekend. The city is divided into 505 "blocks," each its own party.
Speaking to the AFP, a number of revelers noted the desire not to think about the many problems plaguing Brazil this weekend, Zika paramount among them. "You have to have fun," said "carnival fanatic" Angela Pessanha, adding that the carnival "is the best way to give everyone a good dose of fun."
"Those are all important things that worry Brazilians, but I am not going to worry about them until after Carnival," Pedro Maciel, a student, told AFP, referring to both the Zika outbreak and Brazil's sluggish economy. Teresa Curi, who sells costumes in Rio de Janeiro, agreed. "Carnival is to forget all that; at Carnival, people let go of everything anguishing them and embrace what they desire, like men dressing as women."
Recife, a city in which experts estimate that up to 100,000 have been exposed to Zika, the Carnival continued throughout the night. Revelers greeted tourists at the Guararapes Gilberto Freyre International Airport with colorful umbrellas: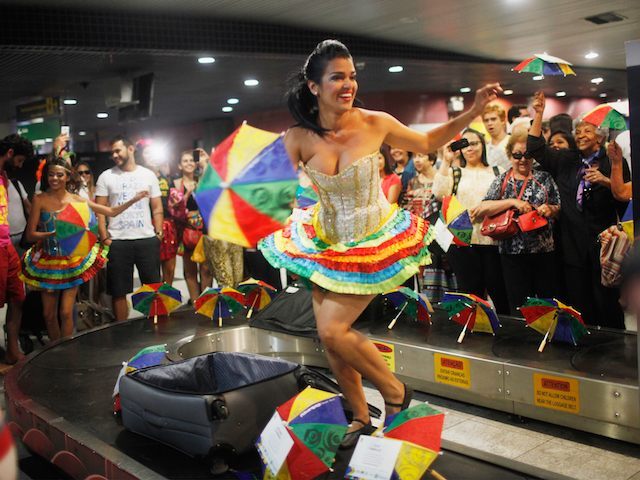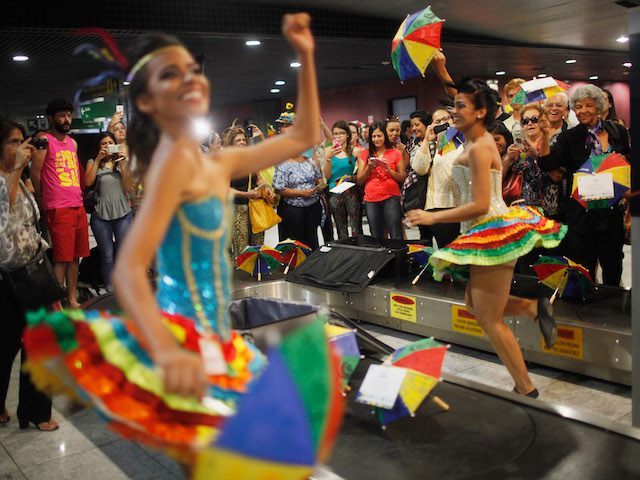 Property owners in charge of renting rooms to partiers have reported a much slower travel season than usual. ("In more than 40 years, I do not remember ever having such a bad year," said one.) Nonetheless, photos showed the streets of Recife filled with partiers in full costume.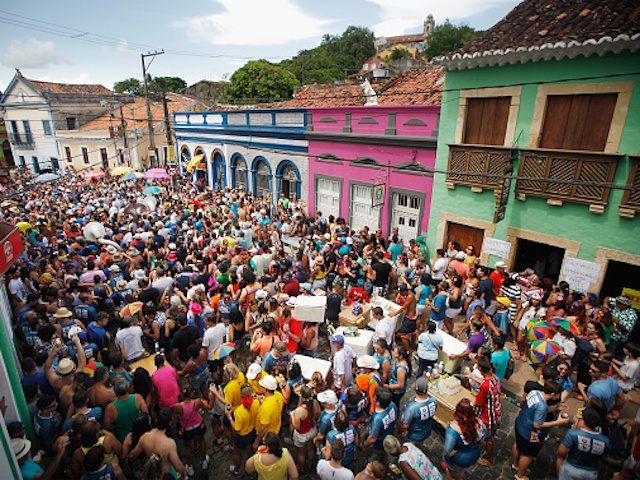 Carnival will continue throughout Friday and Saturday, with Saturday night being the last major event, and also the biggest.