A suicide bomb attack struck a busy shopping district in Istanbul on Saturday, killing 5 and wounding 36 at the time of this writing. No terrorist group has claimed responsibility for the attack as of yet, but Turkish officials say the most likely suspects would be either Kurdish militants aligned with the separatist PKK party, or minions of the Islamic State.
Three of the dead have been confirmed as Israeli citizens by their government, while another was Iranian, according to an Al-Jazeera report. This report says 12 foreign citizens were among the wounded, including "six Israelis, two Irish, one German, one Icelander, one Iranian and one Emirati."
Turkey's Hurriyet Daily News says that all of the people killed and injured in the attack, besides the bomber, were foreign nationals, and one of them was a child.
Hurriyet is one of several sources to relate comments from unnamed Turkish officials that the bomb was detonated prematurely, because the bomber was afraid of police, and a different location was originally targeted. International Business Times notes that if the detonation had occurred a little later, the area would have been even more crowded with victims.
"Istiklal street is a long pedestrian thoroughfare that winds its way through the Beyoglu neighbourhood from Taksim Square," Al-Jazeera says of the scene of the attack, comparing it to Oxford Street in London or Fifth Avenue in New York City. "It is rimmed by hundreds of shops and would have been filled with pedestrians at the time of the explosion."
Al-Jazeera quotes witnesses who said "hundreds of people ran in panic away from the site of the explosion."
International Business Times posted security camera footage of the blast.  (Note: the video contains violent and disturbing imagery.)
Hurriyet Daily News posted a photo gallery of the scene, showing a pack of ambulances converging on the blast site while police cordoned off the area: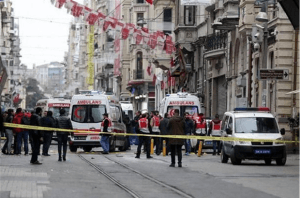 The BBC says the blast occurred at roughly 11:00 AM local time.
"People didn't know what was going on. It was very chaotic. Everyone was screaming and running away," one witness told the BBC. "Istanbul is on high alert and people are very worried as to what will happen next."
The UK Guardian notes that rumors of a potential attack prompted Germany to close its embassy in Ankara, which has also suffered a recent suicide bomb attack, and its general consulate in Istanbul, along with the German school and Goethe Institute, which are both located in the general vicinity of today's bomb attack. The governor of Istanbul accused the Germans of spreading panic and overreacting to "unconfirmed information."
"No centre of terrorism will reach its aim with such monstrous attacks," Turkish prime minister Ahmet Davutoglu declared in a written statement on Saturday, as quoted by the Guardian. "Our struggle will continue with the same resolution and determination until terrorism ends completely."
"Terrorism once again showed its ugly and treacherous face, and targeted civilians," said Turkish Foreign Minister Mevlut Cavusoglu in his own statement. "Our struggle against terrorism will continue in the most decisive manner and on all levels, both here and abroad. We expect the whole world, first and foremost Europe, to cooperate with us in the fight against terrorism."
Jens Stoltenberg, Secretary-General of NATO (of which Turkey is a member), declared the attack was "yet another terrorist outrage targeting innocent civilians and our ally Turkey."
The Jerusalem Post reports Iran's Foreign Minister Mohammad Javad Zarif, who is currently visiting Istanbul to discuss issues related to the Syrian civil war, denounced the bombing and said it "displays the ugly face of terrorism."
More controversial was a comment from Irem Aktas, who is said to be the head of public relations for a women's branch of Turkey's ruling AKP Party in Istanbul. According to the BBC, Aktas said she wished "all Israeli citizens in the area had died."
Another AKP official distanced the party from her statement, and said she would be expelled from its ranks.
Haaretz reports that Prime Minister Benjamin Netanyahu said his government was investigating the possibility that Israelis were deliberately targeted by the attack. The dead and injured Israelis reported so far appear to have been part of a tour group.
"Foreign Ministry staff will work around the clock to bring [Israelis back home], and to provide them full support in this difficult moment," said Netanyahu, as quoted by Haaretz. "I'm sure Israel's citizens join me in wishing for the recovery of the wounded, as well as conveying condolences to the murder victims' families."
Israeli Defense Minister Moshe Ya'alon said the Istanbul bombing "is yet another proof for the vital need for an extensive cooperation to tackle global terrorism, which has become the most significant threat to the West." The Israeli army is reportedly sending medical personnel to Turkey, to help treat victims of the attack.