Breitbart News presents live coverage of the aftermath of the jihadist Omar Mateen's massacre at Orlando's Pulse night club. Two days after the largest terrorist attack on U.S. soil since 9/11, debates rage over immigration from Islamic-majority nations and expanded gun control.
All times Eastern Standard Time.
*****
Top developments:
• FL Gov. ckck Scott: 'Don't send refugees into my state'
• Police under fire for three-hour wait before entering the building
• BOMBSHELL REPORT: Mateen's wife drove him to the club and was present when he bought guns, ammo… didn't report to law enforcement but "tried to talk him out of it"
• Obama angrily mocks GOP criticizing him for failing to name 'radical Islam' as the enemy
• Report: Disney notified FBI that Mateen & wife may have been casing the location in April
• Survivor said Mateen told police he was killing so that America would 'stop bombing his country'
*****
10:33 PM — Sanders, Clinton leaving after meeting:
.@HillaryClinton leaves through back entrance of Hilton. Like Bernie, no comment after meeting pic.twitter.com/uUl30FxlGc

— Nicholas Fandos (@npfandos) June 15, 2016
Bernie Sanders' motorcade departs hotel…meeting lasted 90 minutes pic.twitter.com/iV6isxfHZN

— Steve Brusk (@stevebruskCNN) June 15, 2016
10:30 PM — Trump also says Clinton is "wacky" and doesn't have the temperament to be president. Trump also says Obama treats Israel "so badly." He also calls on Muslims in the United States to turn in known radicals/terrorists:
.@realDonaldTrump: "They'll be other [attacks] because we don't have the vigilance, and the Muslims are not turning…people in." #Hannity

— Fox News (@FoxNews) June 15, 2016
10:25 PM — On Fox News, Trump again hammers Clinton for her hypocrisy, saying she takes millions from countries where people throw gay people off of buildings. Trump again mentions that second- and third-generation Muslims aren't assimilating and there is a percentage of people in the country who want to do what the Orlando terrorist did.
10:02 PM — The Orlando terrorist reportedly had been watching ISIS beheading videos and other ISIS propaganda.
9:35 PM — Sanders, Clinton having their meeting in D.C.
.@BernieSanders and @HillaryClinton have arrived at their meeting at the Capital Hilton in Washington, DC. pic.twitter.com/uYexq6cjYm

— Danny Freeman (@DannyEFreeman) June 15, 2016
9:25 PM — Orlando terrorist reportedly checked his Facebook page while carrying out attacks and pledging allegiance to ISIS.
Just now. @CBSNews has learned that during the Orlando attack shooter Omar Mateen was pledging allegiance to ISIS on his Facebook page.

— Charlie Kaye (@CharlieKayeNews) June 15, 2016
8:42 PM — On CNN, David Gergen says Trump has a point arguing that Obama doesn't refer to radical Islam. He mentions that President Reagan called the Soviet Union the "Evil Empire." Gergen said he thought he shouldn't have but "in the end, he was right because it clarified what we were against and what we were fighting." Gergen says when we are facing evil, you should't be afraid to call it what it is.
8:30 PM — Clinton projected to win D.C. primary.
Initial results per DC BOE: Clinton 80, Sanders 18 with 19k votes counted

— Nate Cohn (@Nate_Cohn) June 15, 2016
8:00 PM — Polls in Washington, D.C. for the Dem. primary have closed.
7:55 PM — Multiple survivors think the Orlando terrorist didn't act alone. At least two survivors have said that the terrorist claimed there were snipers outside ready to shoot at police and was calling possible accomplices. One survivor tells CNN that there's "no way" he acted alone and the terrorist said there were people outside holding the doors so some people couldn't get out. She says there may have been a "white male" who was with the Orlando terrorist. She says the Orlando terrorist yelled "Allahu Akbar." One survivor told ABC right after the attacks that the shooter said there were four accomplices:
WATCH: Orlando shooting victim says he played dead for 3 hours to stay alive: https://t.co/IQy5R7Cfsz https://t.co/l7hbH1DdfU

— 20/20 (@ABC2020) June 13, 2016
7:51 PM — Not as much as Obama. Doesn't seem as "personal."
As @MaeveReston and I wrote about in CA, Clinton appears to really relish going after Donald Trump. https://t.co/8D4t56veUQ

— Dan Merica (@merica) June 14, 2016
7:49 PM — Hillary Clinton's social media director:
Fuck.

— Emmy Bengtson (@EmmyA2) June 13, 2016
7:45 PM — Just like in San Bernardino:
Police Are Investigating Media Breaching Orlando Shooter's Home 'Like a Burglary' https://t.co/kgd1Ngtsf9 pic.twitter.com/SJWYVYkqHb

— Mediaite (@Mediaite) June 14, 2016
7:38 PM: Trump says he doesn't know if our country will ever come back if Clinton becomes president. He says we can't be "politically correct" when what's happening to our country is "devastating."
Trump rains insults on Dems tonight in North Carolina. Mocks Kerry for bicycle accident. On Obama: "one hell of a lousy president."

— Hallie Jackson (@HallieJackson) June 14, 2016
7:20 PM – Rolling Stone joins the left-wing chorus in calling for the repeal of the Second Amendment:
Why it's time to repeal the Second Amendment https://t.co/UA68rZiZk4 pic.twitter.com/5CsS2J4bRE

— Rolling Stone (@RollingStone) June 13, 2016
7:15 PM — "We need borders," Trump says, pointing out that without borders, there is no country. He is about to read "The Snake" again:
Buckle up folks, Trump is going to read The Snake poem again

— Jeremy Diamond (@JDiamond1) June 14, 2016
7:10 PM — Trump says Clinton "sort of" used "radical Islamic terrorism" and says we have a "radical Islamic problem." Trump says after Obama's speech, the only thing people thought was "boy, does he hate Trump." Trump laments the lack of assimilation (The Orlando terrorist, who was born in America, referred to Afghanistan as "his country.").
7:09 PM — Michelle Obama on Orlando terror attack:
.@FLOTUS just spoke on the Orlando shooting, saying "it's time for us to come together": pic.twitter.com/6uPKPzKTsd

— Kyle Griffin (@kylegriffin1) June 14, 2016
7:06 PM — Trump says because Clinton is no friend of women and LGBT Americans because she is taking millions from countries that oppress LGBT folks and women.
7:04 PM — Trump says many immigrants from Muslim nations are hostile toward gays, women and those who believe in other religions. "How does this type of immigration make our country better?" Trump asks. "We've had enough. We've all had enough."
7:03 PM — Trump says that political correctness is deadly. Trump says Obama today was "more angry at me than the shooter."
Looks like President Obama showing more anger condemning Trump than he does condemning ISIS

— Charlie Spiering (@charliespiering) June 14, 2016
"That's the kind of anger that he should have for the shooters and the killers who shouldn't be here" Trump says. 
7:02 PM — Trump says a "radical Islamic terrorist" killed at least 49 people in America. Trump says Clinton "plays the woman card more than any human being than I have seen in my life." He says he is not even sure women like her and points out that Clinton has taken at least $25 million from countries that treat women horribly and kill gays. Trump calls on Bill and Hillary Clinton to give back the $25 million from those countries. Trump says the children of Muslim immigrants are responsible for a "growing number of attacks."
7:01 PM — Trump says Clinton is "weak" and "ineffective." Trump says Clinton wants 550% more refugees. "We don't know who they are and where they are coming from," Trump says. He adds that the refugees are being "snuck into certain communities" and even the governors don't know who is coming in and where they are coming from.
7:00: PM– THE KING (Richard Petty) endorses Trump and is at Trump's North Carolina event.
6:56 PM — In North Carolina, Trump says "we're going to put our country over the top" and "make our country great again."
6:55 PM — These people just don't give up.
Romney ally starts group to fund ballot access for potential independent candidate: https://t.co/tQuJV5yl2k pic.twitter.com/850OTeH7gd

— The Hill (@thehill) June 14, 2016
6:35 PM — Grand Jury reportedly called for Orlando terrorist's wife:
25 hours after we broke possible arrest- Fox News reporting Grand Jury has been called for Pulse shooter Omar Mateen's wife.

— Karla Ray (@KRayWFTV) June 14, 2016
6:33 PM — Mainstream media or Dem. rapid response?
it is unfair to generalize that Muslims are anti-gay, writes @EmmaRoller https://t.co/ZTrPmlustD pic.twitter.com/iLNfIkl0l3

— NYT Opinion (@nytopinion) June 14, 2016
6:30 PM — Orlando terrorist reportedly placed a call to someone else he knew while inside night club:
While inside #Pulse Mateen not only called 9-1-1 but also placed a call to someone else he knew — @ABC #Orlando

— Mariam Khan (@MKhan47) June 14, 2016
6:25 PM — GLAAD's response to Orlando terror attacks:
GLAAD responds to speculation about Orlando gunman's sexuality https://t.co/93Ie9P6bSP pic.twitter.com/MeuGd1WSX6

— Colleen Shalby (@CShalby) June 14, 2016
6:15 PM — Ex-coworker of Orlando terrorist says he seemed to take pride in being able to carry out a "surprise attack."
https://twitter.com/AdamWeinstein/status/742780295603052544
6:11 PM — Obama, French President Hollande discuss terror attacks, send condolences:
French Pres. Hollande expresses condolences for Orlando shooting; @POTUS sends own condolences over French attack. pic.twitter.com/XcDxZdh1Id

— ABC News Politics (@ABCPolitics) June 14, 2016
6:10 PM — Obama still hasn't called Florida Gov.
Gov. Rick Scott: President Obama hasn't called me @foxandfriends | https://t.co/ucH0lgEMZ4 pic.twitter.com/1x5NYawlno

— Fox News Video (@foxnewsvideo) June 14, 2016
6:00 PM — Typical career politician:
Sen @marcorubio scrubbed a planned gaggle this afternoon, then announced a 4:30pm floor speech which he never delivered

— Erica Werner (@ericawerner) June 14, 2016
5:45 PM — Mainstream media reporters like Chuck Todd really really really don't want this to be an act of Islamic terrorism. He asks a leading question to Rep. Peter King (R-NY) on "MTP Daily," saying that the terrorist was "mentally unstable or closeted." He asks if this terror attack is "less and less looking like something directed from overseas." King doesn't take the premise of the question and says he wouldn't "minimize" the threat of radical Islam like that. He says ISIS has a way of inspiring mentally unstable people.
5:35 PM — Orlando mass shooting not deadliest on American soil:
The Orlando massacre was horrific, but it was not the deadliest mass shooting in U.S. history https://t.co/5AzAp7aSSl by @arielagross

— WSJ Think Tank (@WSJThinkTank) June 14, 2016
5:25 PM — Last night on Fox News, Trump criticized Obama for not having "more anger" after terrorist attacks (Obama showing much more anger over Trump's proposal to temporarily ban Muslims):
I've never seen Obama that angry. Ever.

— Bradd Jaffy (@BraddJaffy) June 14, 2016
5:20 PM — Funny how nearly every other mainstream reporter gleefully focusing on how a similar percentage of Americans were bothered by Trump's comments about Judge Curiel:
70% in Bloomberg/Selzer poll say they're bothered, at least a little, that Clinton's private server wasn't "allowed" by State, per IG.

— Steven Portnoy (@stevenportnoy) June 14, 2016
5:18: PM — Establishment Republicans(even consultants like Weaver who worked for Democrats) seem to really, really want Trump to fail and Clinton elected:
Will Trump be nearer to the Alf Landon/Goldwater/McGovern GE % or the Willkie/Dewey/Stevenson %? That is the only question. #GOPdisaster

— John Weaver (@jwgop) June 14, 2016
5:16 PM — Americans trust Trump on terrorism more than Clinton:
Trump has an edge over Clinton on the issue of terrorism. https://t.co/Hy1zMCQbXZ pic.twitter.com/wgfN4xadU4

— Sahil Kapur (@sahilkapur) June 14, 2016
Clinton, though, holds a 12-point lead in one national poll (presidents aren't elected via national popular vote):
*poll conducted half before Orlando, half after (thanks, @ZachWahls)https://t.co/2i7lsVQGZb

— Bradd Jaffy (@BraddJaffy) June 14, 2016
5:13 PM — Orlando terrorist's father reportedly called him "gay" in front of his ex-wife:
Orlando shooter's ex-wife says his father previously called him gay in front of her: https://t.co/5upV2Yb0f1 pic.twitter.com/ojSGO0yHWT

— Us Weekly (@usweekly) June 14, 2016
5:12 PM — Disney donates $1 million to OneOrlando fund to assist those affected by the terror attack:
Walt Disney Company donating $1 million to the OneOrlando Fund to assist those affected by the #Orlando shooting. pic.twitter.com/Y79wR5pT0x

— ABC News (@ABC) June 14, 2016
5:10 PM — Trump set to speak in North Carolina later tonight:
Front and center for the Trump rally in Greensboro North Carolina!!!! pic.twitter.com/bDC5b39nEw

— Keith Trout (@phi334) June 14, 2016
Trump is set to hold a rally here in Greensboro, North Carolina in about two hours pic.twitter.com/AWgJsEGGmd

— Ashley Killough (@KilloughCNN) June 14, 2016
5:01 PM — RNC Chair Reince Priebus blasts "insensitive" and "reprehensible" Senate Democrats/Harry Reid for using the Orlando tragedy raise money:
Disgraceful, insensitive, reprehensible. @SenatorReid, @dscc using #Orlando tragedy to raise money & build lists https://t.co/QDA2Pi898B

— Reince Priebus (@Reince) June 14, 2016
4:59 PM — Attorney General Lynch railing against "voices that prey on fear."
"We have to push back on the voices that prey on fear" – Lynch on Orlando at #StateOfWomen

— issie lapowsky (@issielapowsky) June 14, 2016
4:52 PM — Kasich says he is not for a Muslim ban, "but I'm not here to talk about Donald Trump."
4:50 PM — Mainstream media lauding Paul Ryan for distancing himself from Trump's call for a temporary ban on Muslim immigration:
House speaker Paul Ryan distances himself from Donald Trump's position on banning Muslims from entering the U.S.https://t.co/wnKrQT6ivB

— Yahoo News (@YahooNews) June 14, 2016
4:45 PM — Mexico official fired after he said "too bad" 100 gay/lesbian people didn't die in Orlando:
Mexico official fired after comments on #Orlando attack: 'Too bad it was just 50, not 100' https://t.co/xyPmbOB2MS pic.twitter.com/WIL0QVtFlc

— Fox News Latino (@foxnewslatino) June 14, 2016
4:39 PM — This witness's comments after the shooting about how the Orlando terrorist said he was the "fourth shooter" and had a female accomplice who may have had a "bombing vest" are more interesting in light of today's news about the terrorist's wife potentially facing criminal charges.
WATCH: Orlando shooting victim says he played dead for 3 hours to stay alive: https://t.co/IQy5R7Cfsz https://t.co/l7hbH1DdfU

— 20/20 (@ABC2020) June 13, 2016
4:37 PM — Orlando terrorist posted "Now taste the Islamic state vengeance" on day of attack:
#BREAKING– per law enforcement source, on day of #PulseShooting, Mateen posted "Now taste the Islamic state vengeance." #WFTV

— Karla Ray (@KRayWFTV) June 14, 2016
4:35 PM — Team Clinton trying to label Trump as a "one-trick pony."
It was powerful today to have both @POTUS & @HillaryClinton standing up at the same time against Trump and in defense of our values #InSync

— Brian Fallon (@brianefallon) June 14, 2016
This will be a powerful force against the one trick pony, one man band of @realDonaldTrump. It's just the beginning. https://t.co/rjYP8xFPb5

— Nick Merrill (@NickMerrill) June 14, 2016
4:17 PM — Walmart gunman who was shot dead this afternoon in Texas reportedly left a note in Arabic in his car. Authorities are classifying the incident as "workplace violence."
Active shooter in Amarillo Walmart ended when SWAT team shot the suspect. Cops outside report letter in suspect's car written in "Arabic."

— Brian Wilson (@BrianWilson997) June 14, 2016
4:15 PM — Sen. Bob Corker (R-TN) showing his establishment GOP true colors.
More from @SenBobCorker (who was an early backer of Trump's first major foreign policy speech) –> pic.twitter.com/TVx5yJG4Ds

— Hallie Jackson (@HallieJackson) June 14, 2016
4:10 PM —
According to court records, in 2006, Omar Seddique legally changed his name, adding "Mateen" as his surname.

— Frances Robles (@FrancesRobles) June 14, 2016
4:01 PM — Four-star accommodations… on a security guard's salary? Was someone bankrolling his trips to Saudi Arabia?
Orlando gunman Omar Mateen's two trips to Saudi Arabia, one of which was a pricey package that included four-star accommodations and fancy meals, were highly unusual and may have been cover for terror training, according to experts.

The FBI is piecing together Mateen's radical Islam roots, and the trips to Saudi Arabia could be a sign of his growing religious devotion. His stated reason for both the 2011 and 2012 trips was umrah, a Muslim pilgrimage to the Kingdom that is not as significant as the hajj, a trip all Muslims must make to Mecca at least once in their lives. Either or both of the trips could also have included a side trip.

…

"It's not cheap to do so and people that young usually don't go twice," said Adnan Khan, former leader of the Council of Pakistan-American Affairs. "And especially considering he appeared not to have come from a staunchly religious background."
3:59 PM — Trump on Hannity's radio show.
.@realDonaldTrump tells @seanhannity @HillaryClinton was "shamed" into saying the "radical Islam" after #Orlando pic.twitter.com/SHPtDXj4Eo

— Chris Snyder (@ChrisSnyderFox) June 14, 2016
3:58 PM —
MEDIA ADVISORY: Today At 4:30PM, @MarcoRubio To Deliver Floor Speech On #Orlando Terror Attack https://t.co/J515xKEllk

— Senator Rubio Press (@SenRubioPress) June 14, 2016
3:55 PM — 
.@Disney Donates $1 Million to #Orlando Victims https://t.co/NVJZUDMrKt pic.twitter.com/y9jzs59wlq

— TheWrap (@TheWrap) June 14, 2016
3:53 PM — Another left-winger, Roland Martin, sees through NBC's spin.
So Mateen's wife knew he planned the shooting and she said NOTHING?! Oh, hell to the naw! https://t.co/kqB8iCCXuN

— rolandsmartin (@rolandsmartin) June 14, 2016
3:51 PM — John Bolton responds to Obama: "he won't acknowledge the existence of the ideology… because if he did, it would require a totally different strategy."
3:47 PM — Don't forget it!
I came here 2 yrs ago. Mosque was attended by a man who blew himself up in Syria in 2014. Omar Mateen also came here pic.twitter.com/unCqhDbaKp

— Aleem Maqbool (@AleemMaqbool) June 14, 2016
3:43 PM — The never-ending "who is the bigger victim?" hot take war.
https://twitter.com/kevinroose/status/742804261591912448
3:42 PM —
Law enforcement have set up a barricade wall about a block from Pulse. pic.twitter.com/IShiCy1nOa

— Ryan Gillespie (@byRyanGillespie) June 14, 2016
3:35 PM — Ugh.
GOP Rep Jolly says first question at classified briefing on Orlando was about gun control, says it's "disgusting" people playing politics

— Deirdre Walsh (@deirdrekwalsh) June 14, 2016
3:34 PM — Daily Beast/CNN contributor seeing past NBC's spin.
But she didn't call the cops… Gunman's Wife Tried to Talk Him Out of Attack https://t.co/eraV7TDM5h via @nbcnews

— Michael Weiss (@michaeldweiss) June 14, 2016
3:34 PM — New from the FBI:
The FBI has told members of the LGBT community it will pursue accounts that the Orlando nightclub shooter was partially motivated by internal conflict over his own sexuality, the Guardian has learned.

A conference call held late Monday pulled together representatives from the FBI and departments of justice and homeland security with 358 civil-rights-minded leaders, particularly from the LGBT and American Muslim groups, a senior US official told the Guardian, to share information and hear concerns from communities reeling from one of the worst incidents of gun violence in recent US history.
3:31 PM — 
The Tampa Bay Rays are dedicating Pride Night to Orlando shooting victims https://t.co/qISaXE787t

— AP South U.S. Region (@APSouthRegion) June 14, 2016
3:29 PM — FBI source tells NY Times, regarding Mateen's wife: "We don't know what's true and what's not."
3:26 PM — For more context on the former elementary school teacher:
Classmate says Omar Mateen suspended for threatening shooting rampage in fifth grade https://t.co/DeAIc8FB9e #orlando #gunviolence

— Christopher Brennan (@CKozalBrennan) June 14, 2016
3:23 PM — 
DJ at only gay club in Ft Pierce FL, where Orlando shooter Omar Mateen lived, says cops were in Monday asking if club knew him..answer no

— Jayne Miller (@jemillerwbal) June 14, 2016
3:08 PM — 
Update: Only media event planned today is the Vigil at First Baptist Church at 7:00 pic.twitter.com/a6CaXhexh8

— Orlando Police (@OrlandoPolice) June 14, 2016
2:57 PM — From Edwin Mora of Breitbart:
"[Omar's father Siddique Mateen] served as a director and vice president" of the mosque attended by his son, which authorities describe as a "breeding ground" for jihadists, reports CounterJihad, a component of the Center for Security Policy.
2:52 PM — Details on Orlando fire from local newscaster.
Source at Universal tells me the fire is in an empty lot where they were storing equipment for the new Volcano Bay attraction. Started as a 6ft fire and then ignited into the massive blaze. Contact predicts $2-3million dollars worth of rides destroyed, but they will better asses the situation when fire is out. Says the fiberglass on the rides helped fuel the flames.
2:51 PM — 
Link to Orlando florist willing to donate all funeral arrangements to immediate family of #OrlandoShooting victims https://t.co/y8NNUQO28G

— Christopher Rice (@chrisricewriter) June 14, 2016
2:50 PM — Fire looking contained.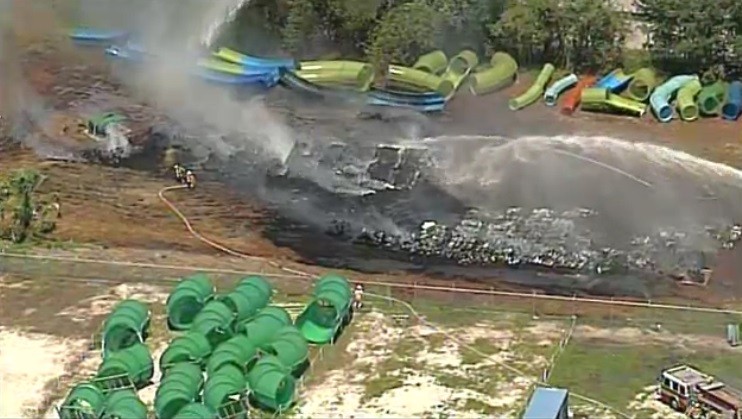 2:46 PM — Elementary school teacher says Mateen's father told the young boy he did not have to listen to women.
Omar Mateen's elementary school teacher did not want to be identified for fear of retaliation. She says Mateen is a student that left a lasting impression on the entire staff at Mariposa Elementary and not a good one.

"The whole staff was concerned about him. I can honestly say of all my students there were 2 that I knew they were going to grow up to hurt someone. The ground work was done with the family. We did not get support from his father. "

She went on to say his father often told Omar that he did not have to listen to women. This created a barrier for the staff predominately comprised of woman to help a child they say they knew early on had a tendency to be violent and would often lash out.
2:45 PM — Wider angle.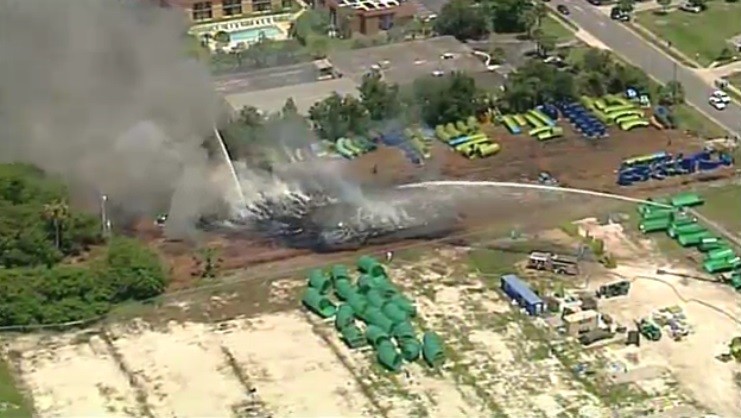 2:42 PM — Aerial view of the fire.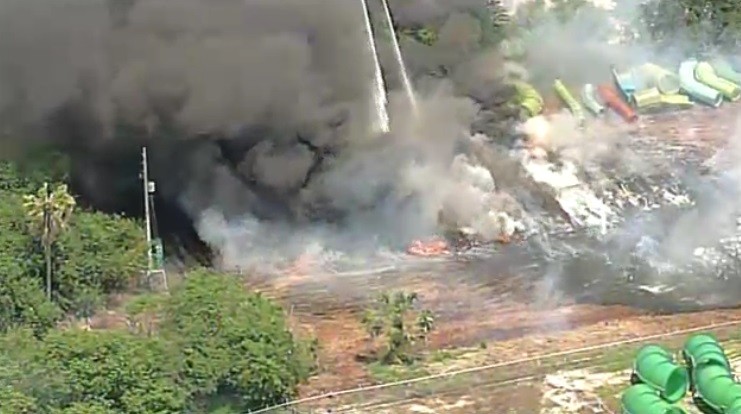 2:39 PM — Local news: fire is "at an apparent construction site."
2:37 PM — First videos.
https://twitter.com/SiobhanDaenerys/status/742787356823027712
Huge cloud of black smoke in Orlando. Somethings on fire and visible from Islands of Adventure pic.twitter.com/2fD8aWFcyj

— Bling Gaming (@bling_gaming) June 14, 2016
There is thick black smoke happened in orlando pic.twitter.com/zp8uZZqVKG

— Thupten lhundup (@Lobping) June 14, 2016
2:31 PM — Closer picture.
That is a serious blaze near Universal Blvd and IDrive in #Orlando. @news965wdbo pic.twitter.com/3H7BAg4IRC

— Chris Fernandez (@ManInHat) June 14, 2016
2:26 PM — Large plume of smoke visible in Orlando. Identified by some on social media as Universal Studio Theme Park.
https://twitter.com/Nero/status/742784413017247745
I'm in Orlando looking out my hotel window and I can see a huge plume of smoke. I hope everything is okay! #orlando pic.twitter.com/8hJpNZXhkp

— Sacramento Marko (@SacramentoMarko) June 14, 2016
https://twitter.com/bling_gaming/status/742785114157907969
Anyone know what this smoke is from at Universal Orlando?? #Orlando #UniversalOrlando pic.twitter.com/tcMukswKaU

— Tait (@realAlexTait) June 14, 2016
Giant plume of smoke outside of universal Orlando. pic.twitter.com/Fyw3y2vUXH

— G.Vuckovich (@PGH_Geo) June 14, 2016
Breaking: massive smoke cloud in #Orlando – not sure source. Burning for several minutes near John Young pkwy #fire pic.twitter.com/O6sIfFo4YB

— Mark Meredith (@markpmeredith) June 14, 2016
2:20 PM — Update from the father. Spoiler alert: he knows nothing!
"I can't say what she knew, when they last talked or what they talked about," Seddique Mir Mateen said Tuesday of his daughter-in-law, Noor Salman.

Salman would not be giving interviews anytime soon but a "family apology" would be forthcoming in the near future, Seddique Mir Mateen said in an 11 a.m. interview at the front door of his Port St. Lucie home.
2:19 PM — 
https://twitter.com/IMascarenas/status/742783209247780864
2:15 PM — "Big rhetorical guns"… the day after Trump calls her out for just offering words to the victims. Sad!
Hillary Clinton brought out the big rhetorical guns today, hitting Trump for "pathological self-congratulations" https://t.co/eLWHCw8i4m

— Blake Hounshell (@blakehounshell) June 14, 2016
2:12 PM — "Prayers don't fix anything!" -angry celebrities on Twitter.
This man has been here since Sunday, trying to heal this #Orlando community by praying, hugging, offering kind words pic.twitter.com/WPN5hfG8tE

— Mariam Khan (@MKhan47) June 14, 2016
2:11 PM — Chilling: Mateen's imam said he and his family "were maybe more aligned with American [sic] than us."
2:08 PM — Curious.
Gay dating app says it has no record of Mateen account https://t.co/PQJ7jfNuWx

— ABC10 (@ABC10) June 14, 2016
2:03 PM — Lee Stranahan on gay conservatives' reaction to the Pulse massacre:
Publisher and entrepreneur Jacob Engels will hold availability at 4:15pm at 1742 S. Orange Avenue to discuss the implications of the terrorist attack at Pulse Nightclub on the presidential election, what it means to gay conservatives, and how to move forward.
Mr. Engels will speak on behalf of thousands of gay conservatives who call Central Florida and Orlando their home.
"We must place the blame and responsibility of this heinous attack on Omar Mateen and anyone who aided or abetted his efforts," he states.
"Hillary Clinton is not a friend of the LGBT community, and she must answer several questions about financial ties to oppressive foreign regimes and Islamic states that perpetrate acts of violence against gay men and women each and every day."
For further comments and press availability, please call or text 231-360-1411.
2:01 PM — Official statement from Black Lives Matter blames "the anti-Black white supremacy, patriarchy and homophobia of  the conservative right":
1:57 PM — New: FBI really dropped the ball on Mateen's connection to first American suicide bomber in Syria.
The relationship between Orlando terrorist Omar Mateen and an American suicide bomber in Syria was much "deeper" than previously understood by federal investigators, according to a government source.

Fox News was told the relationship as well as the Mateen case in general are "very complex" but would not go further, citing the sensitivity of the FBI investigation and classified information. The source said the bomber's return to Florida in 2013 is under fresh scrutiny as well.

…

FBI Director James Comey told reporters Monday a witness had identified Mateen to the FBI during their investigation of Abu-Salha and claimed Mateen was watching videos from the American cleric Anwar al-Awlaki, an Al Qaeda terrorist targeted for death by the CIA in 2011.
1:55 PM — Mosque attendee contradicts imam, suckers lefty reporter.
Spoke to an attendee at the Fort Pierce mosque that's been linked to Omar Mateen. He's very upset Mateen has been tied to the mosque.

— Hunter Walker (@hunterw) June 14, 2016
The man I spoke with said he's been going to this mosque for 3 years and never saw Mateen. Said there's no way he was a regular member.

— Hunter Walker (@hunterw) June 14, 2016
1:53 PM — WH press sec now mocking calls to identify jihadists as people who take the Quran seriously:
Both Obama and Hillary using coordinated messaging against Trump. Both mocking notion that the phrase "radical Islam" are "magic words"

— Charlie Spiering (@charliespiering) June 14, 2016
"That's cynical politics, there" says Josh Earnest, condemning "magic words" of "radical Islam" phrase

— Charlie Spiering (@charliespiering) June 14, 2016
1:51 PM — RNC responds to Obama's address:
WASHINGTON – Republican National Committee (RNC) Chairman Reince Priebus released the following statement in response to President Obama's press conference on the terror attack in Orlando:

"The horrific attack in Orlando was the second act of radical Islamic terrorism inspired by ISIS to be carried out on our shores in six months. Let's not forget: President Obama's hasty and politically-driven withdrawal from Iraq, which Hillary Clinton supported, created the vacuum that enabled the rise of this terrorist group. Their failure to secure Libya after their military intervention gave ISIS a beachhead on another continent. Democrats want to talk about anything else because they have lost the national security debate.

"Nothing President Obama and Hillary Clinton are proposing in response to the Orlando terror attack would have prevented it, but they would infringe on Americans' constitutional rights to due process and to own a gun. We should not make it harder for law-abiding Americans to defend themselves when radical Islamic terrorists are successfully launching attacks on U.S. soil. The terrorists win when they convince politicians they should take away our rights, and that is exactly what President Obama and Hillary Clinton are proposing."
1:50 PM — Mateen's father placing his hands on a photographer's camera:
NOW: Mateen's dad emerges from home – bizarre – wanting to talk but also upset some photogs in his driveway @wsvn pic.twitter.com/vK4R8rD4AJ

— Brian Entin (@BrianEntin) June 14, 2016
1:46 PM —
Tomorrow: @HillaryClinton hosts conversation on national security in Virginia

— AP Planner (@AP_Planner) June 14, 2016
1:45 PM — Comfort dogs deployed to Orlando:
Mourners from all over the country have been showing support for the victims of the Orlando club shooting, and now reinforcement is being sent of the four-legged kind.

Gracie, a 5-year-old golden retriever, is a Lutheran Church Charity K-9 Comfort dog based out of Davenport, Iowa. She's been specially trained to ease human suffering.
1:44 PM — Survivor in response to question from reporter:
https://twitter.com/clairemcneill/status/742774699478921216
1:42 PM — Carter: "I was begging God to take the soul out of my body" because of the pain from her gunshot wounds.
1:39 PM — Details on moments after police breached the wall:
.@Patience326_: Mateen said "hey you" and fired off three more shots before the police and SWAT stormed inside. #OrlandoShooting

— Lauren Dawn Johnson (@LaurenDawnFox29) June 14, 2016
1:38 PM —
Thank you to the LGBT community! I will fight for you while Hillary brings in more people that will threaten your freedoms and beliefs.

— Donald J. Trump (@realDonaldTrump) June 14, 2016
1:36 PM — "Honestly, I don't believe he could have pulled it off all by himself," Carter says. Cites Mateen's threats to the police that he had "snipers" outside.
.@Patience326_ says it sounded like Mateen was communicating with other people during the attack. #OrlandoShooting

— Lauren Dawn Johnson (@LaurenDawnFox29) June 14, 2016
1:32 PM — Says that Mateen told her "This isn't about black people," the reason was "his country."
.@Patience326_: Mateen said "damn, it jammed!" about the gun. #OrlandoShooting

— Lauren Dawn Johnson (@LaurenDawnFox29) June 14, 2016
https://twitter.com/clairemcneill/status/742772120384638976
1:31 PM — "The reason he's doing this [he says] is that he wants America to stop bombing his country." Says Mateen began speaking in Arabic.
1:23 PM — Pulse massacre survivor from Philadelphia Patience Carter reading a poem she wrote about her experience — very vivid imagery about blood, debris, seeing the feet of the killer. "The guilt of being alive is heavy," it concludes.
.@Patience326_: Says her friend Googled popular nightclubs and Pulse was at the top of the list. Her friends parents dropped her off.

— Lauren Dawn Johnson (@LaurenDawnFox29) June 14, 2016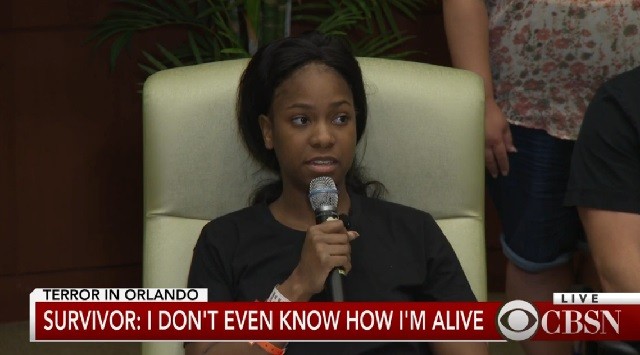 1:17 PM — New York Daily News sees past NBC spin.
If the wife reported this to police maybe 49 people would still be here https://t.co/SzaHL8bbSA

— Candace Amos (@CandaceAmos) June 14, 2016
1:15 PM — Get ready for a HOT TAKE! dressed up as news…
It's unclear if the Orlando mass killer was actually driven by religious or political ideology https://t.co/7sHxBDqiDI

— NYT Politics (@nytpolitics) June 14, 2016
1:06 PM — Guardian hot takes are not disappointing today:
In the aftermath of Orlando, hard-edged religious conservatives are facing a dilemma. How can they call for a redoubled assault on "radical Islam" without drawing attention to their own homophobic history?
1:02 PM — Police cancel Milo's talk tonight thanks to Islamist threats.
https://twitter.com/Nero/status/742761743953334272
https://twitter.com/Nero/status/742762041778278400
https://twitter.com/Nero/status/742762249773846528
https://twitter.com/Nero/status/742762476333375488
https://twitter.com/Nero/status/742762660421357568
https://twitter.com/Nero/status/742762965062062080
12:53 PM — Updates from reporter with law enforcement source:
#BREAKING– law enforcement source says Disney notified FBI the couple may have been casing Disney in April #WFTV

— Karla Ray (@KRayWFTV) June 14, 2016
#BREAKING– June 1-6, during Gay Days, Omar Mateen visited Downtown Disney and Pulse nightclub, per law enforcement source. #WFTV

— Karla Ray (@KRayWFTV) June 14, 2016
#BREAKING– shooter did several searches in weeks leading up to shooting for local law enforcement agencies, including @OrlandoPolice #WFTV

— Karla Ray (@KRayWFTV) June 14, 2016
#BREAKING– day of #PulseShooting, Omar Mateen searched words 'pulse' and 'shooting' and made several posts about Islamic state. #WFTV

— Karla Ray (@KRayWFTV) June 14, 2016
#BREAKING– per law enforcement source, on day of #PulseShooting, Mateen posted "Now taste the Islamic state vengeance." #WFTV

— Karla Ray (@KRayWFTV) June 14, 2016
12:52 PM — Report: Mateen's wife facing arrest.
#BreakingNews per @FOX23 sister station @WFTV police to arrest wife of #Orlando shooting suspect for casing @Disney & not reporting it

— ShaeRozziFOX23 (@ShaeRozziFOX23) June 14, 2016
12:51 PM — It's like that SNL "Really!?!" Weekend Update bit, just by, um, the leader of the free world.
Obama angrily rejects Trump's Muslim ban – live https://t.co/ZPOIk3q035 pic.twitter.com/4zdWGfSX6s

— Guardian US (@GuardianUS) June 14, 2016
12:48 PM — CNBC, Fox contributors seeing past the NBC spin:
https://twitter.com/ReformedBroker/status/742756774961385472
Apparently Mateen's wife know about the attack and she tried to stop him but didn't call law enforcement…

— Charles V Payne (@cvpayne) June 14, 2016
12:41 PM — Obama praising diversity of a graduating class of cadets.
12:40 PM — Obama says his critics are a threat to Constitutional liberties, the rule of law, etc.
12:37 PM — After a rabbit trail on gun control, Obama spends the lion's share of his address attacking Donald Trump — first, the criticism of his refusal to say "radical Islam." Now the proposal to halt immigration from Muslim nations.
Obama has gotten very sarcastic and snippy — called criticism of him "yappin'" and blasted "politicians who tweet and appear on cable news shows."
Critics say "we can't beat ISIL unless we call them 'radical Islamists.' What, exactly, would using this label accomplish?"
"Calling a threat by a different name does not make it go away. This is a political distraction."
Terror hawks want to make this "a war between Islam and America or between Islam and the West."
12:28 PM — Obama's update on the Orlando terror attack is a victory lap against the Islamic State. Says the jihadist network is "losing ground," "on defense," and "their morale is sinking."
11:53 AM — AUDIO from Breitbart News Daily this morning:
Erik Prince: Trump Is Right, 'There's No Vetting' of Syrian Refugees
Milo On Breitbart News Daily: Islam Has 'Contempt And Loathing' For Gays
11:52 AM — NBC's spin already collapsing.
Gunman's wife knew the whole thing, did nothing. #Orlando https://t.co/J6US9D3ttr

— Jon Levine (@LevineJonathan) June 14, 2016
11:38 AM — Reporter asks doctors about the process of buying firearms. Top-notch journalism.
11:37 AM — RIP.
#PulseShooting victim and Army captain Antonio Davon Brown was "down to earth guy" https://t.co/WiBpn8kh0X pic.twitter.com/YBrJ80D19b

— Orlando Sentinel (@orlandosentinel) June 14, 2016
11:36 AM — Figures from hospital:
Orlando Regional: 44 victims brought to hospital, 9 died in first few minutes. 11 patients were treated at other facilities. #fox5atl

— Beth Galvin (@bethgalvinfox5) June 14, 2016
11:35 AM — NBC News is pushing the "tried to talk him out of it" talking point at the top of all their coverage.
Omar Mateen's wife tried to talk him out of Orlando attack, sources tell NBC News: https://t.co/iFBLy5ySd3 pic.twitter.com/d5fhSdaLfQ

— MSNBC (@MSNBC) June 14, 2016
That is not the story. The story is that she could have prevented the massacre by talking to law enforcement and she did not.
11:30 AM — NBC: Police considering filing charges against Mateen's wife.
11:29 AM — Colon is asked whether he had seen Mateen before at the club and says that he had not personally.
Colon on shooter prior visits to Pulse. "I have not seen him…but it scares me, knowing that someone like this was constantly in the club."

— Jeff Weiner (@JeffWeinerOS) June 14, 2016
11:27 AM — Video from Angel Colon's remarks:
11:18 AM — And more.
NBC NEWS: Wife of Orlando shooter, Noor Salman, was with Mateen when he went to buy ammunition and a holster prior to the attack sources say

— Tom Winter (@Tom_Winter) June 14, 2016
11:16 AM — With three hours to bleed out, no one will be.
Dr. Michael Cheatham, re Pulse shooting victims in critical condition: "I would be surprised if we do not see the death toll rise" @CBSMiami

— Carey (@ccoddcbs4news) June 14, 2016
11:15 AM — Curiously omitted from this new detail: did she report him to authorities?
Mateen's wife tried to talk him out of any type of attack. She drove him at least once to Pulse nightclub, sources tell @PeteWilliamsNBC

— Bradd Jaffy (@BraddJaffy) June 14, 2016
11:12 AM — Why isn't this woman in jail?
NBC News has learned that Mateen's wife tells FBI she drove him to Pulse nightclub in days before attack but tried to talk him out out it.

— Ken Dilanian (@KenDilanianNBC) June 14, 2016
11:10 AM — That figure of "202 rounds fired overall" just gets more and more implausible.
Orlando massacre survivor reveals he was shot SIX times by ISIS gunman Omar Mateen https://t.co/aBGm7TI1Jn pic.twitter.com/I7G7gBsqDf

— Daily Express (@Daily_Express) June 14, 2016
11:08 AM — Obama will be in Orlando Thursday to counter all the truth bombs dropped by Milo Yiannopoulos tonight.
President Obama will travel to Orlando on Thursday.
We'll continue to have live updates of the terror attack here: https://t.co/RWLBXVZvUz

— Los Angeles Times (@latimes) June 14, 2016
11:04 AM — Doctor says staff encountered"full gamut" of gunshot wounds — high caliber, low caliber, extremities, abdomen. One odd note: some were from an angle indicating the victims were shot "from below."
Where many of the Pulse victims were shot, per dr: "wounds to the chest, wounds to the abdomen, wounds to the pelvis area"

— Katie Zezima (@katiezez) June 14, 2016
11:03 AM — Always with those mis-translations.
Re: allegations that he praised the Taliban, Seddique Mateen those reports are from a mistranslation. https://t.co/sV2fixxZF4

— WOR NewsTalk Radio (@710WOR) June 14, 2016
10:59 AM — Hospital staff says that victims were transported quickly thanks to their proximity but that meant workers did not have much time to prepare, and the facility was already a high-activity site. However, worker after worker who was not scheduled to work that night volunteered to show up and help.
#Orlando trauma surgeon says after 1st patient came in stable, 4-5 came in that they were unable to save.

— ABC 7 Amarillo (@ABC7Amarillo) June 14, 2016
Doctors who treated Pulse patients say "It is very fortunate that it happened two blocks away," say proximity saved lives

— Zeke Miller (@ZekeJMiller) June 14, 2016
10:58 AM — AP interview with Pulse regular: "He was trying to pick up men."
10:46 AM — Survivor Angel Colon speaking at press conference says that Mateen was shooting bodies on the floor to confirm his kills. Says that miraculously, he was shot in the hand and the hip instead of the head.
10:40 AM — Another interview from the Washington Post. Survivor says the active shooting lasted "about an hour" and that she was "flipping out" at the police:
The men said that police arrived within minutes, and that the shooting lasted about an hour. Authorities said Mateen called 911 and the scene turned into a hostage negotiation.

As McCoy waited for word of her friends outside, she grew furious at the Orlando police.

"I was flipping out on the cops," she said, telling them to go inside and rescue people who had been shot.
10:24 AM —
Orlando officer seen smiling after Kevlar helmet saved his life during nightclub shooting https://t.co/D9B9k7ObHO pic.twitter.com/Rvw5o8HGdh

— New York Daily News (@NYDailyNews) June 14, 2016
10:23 AM — They can't spin it much.
Trump says Clinton wants to let 500% more Syrians into the US https://t.co/UdySYFqAGO pic.twitter.com/uknHb2e3EO

— PolitiFact (@PolitiFact) June 14, 2016
10:22 AM — What.
Evidence is building from a variety of sources that Orlando jihadi Omar Mateen, who murdered 49 people at gay nightclub Pulse, was himself gay, or had "gay tendencies," as his ex-wife put it. Strangely, the ex-wife claims FBI agents asked her not to share this detail with the media.
10:13 AM — A clearer picture of the night emerges — NYTimes interviews a survivor who played dead in the bathroom while Mateen carried out his rampage.
Orlando said he never looked Mr. Mateen in the eye, but recalled his calm voice. At one point, after noticing that some of the hostages in the bathroom were texting, the gunman ordered them to surrender their phones.

He spoke again, according to Orlando, asking the hostages, "Are you guys black?"

"He said, 'I don't have an issue with the blacks,'" Orlando said.

Early in the siege, the gunman called 911 to pledge his allegiance to the Islamic State, Chief Mina said.

"He was cool and calm when he was making those phone calls to us," he said.

Orlando could hear the gunman speaking on the phone, presumably to the police. He spoke about how America should stop bombing the Islamic State.

"He got mad and hung up," Orlando said. He never heard Mr. Mateen mention gay people — he spoke only about the Islamic State and Syria, and about the damage he still intended to do.
10:01 AM — Too many takes!
'Mateen despised gays in the same way that Trump and too many of his supporters despise Muslims,' @petulad https://t.co/ppZlaNMaUZ

— Eugene Scott (@Eugene_Scott) June 14, 2016
9:59 AM — 
Jeh Johnson on @CBSThisMorning: "Meaningful gun control has to be a part of homeland security." "https://t.co/LpbOZRRGZS

— Hannah Chanpong (@hannahfc) June 14, 2016
9:57 AM — Hottest take yet.
9:53 AM — Pretty damning report from NBC. Law enforcement experts say the three-hour police wait definitely led to more deaths.
The decision by law enforcement to hold off on entering the Pulse club — where more than 100 people were shot, 49 of them killed — immediately raised questions among experts in police tactics. They said the lessons learned from other mass shootings show that officers must get inside swiftly — even at great risk — to stop the threat and save lives.

"We live in a different world. And action beats inaction 100 percent of the time," said Chris Grollnek, an expert on active-shooter tactics and a retired police officer and SWAT team member.

…

Grollnek, a consultant who conducts active-shooter training for law enforcement, said that's another lesson from other mass shootings: Civilians can't expect to stay safe by heeding the old advice to hide or shelter in place.

"The problem is we're failing to evolve by learning the lesson that hiding does not work," he said. "Running works. Everyone who escapes to tell their story says, 'I ran away. I heard a noise on my left, and I went to my right and I got out.'"
9:45 AM — Response to the attack breaks a GoFundMe record:
A crowdfunding campaign to support the Orlando Pulse shooting victims and their families has pulled in more than $3 million.

The campaign is GoFundMe largest ever, dwarfing the previous record of just over $2 million. The charity site was started in 2010.

Equality Florida, the largest LGBT rights group in the state, posted the GoFundMe fundraisershortly after a gunman killed 49 people and injured dozens more at a gay club in the deadliest mass shooting in U.S. history Sunday morning. An earlier death toll of 50, released by officials, had included the gunman.

By Tuesday morning, more than 69,000 people had made contributions. That included a $100,000 donation from GoFundMe, which essentially waived its transaction fee.
9:39 AM — Rep. Michael McCaul frets that Trump may be recruiting terrorists with his scary rhetoric!
The proposed ban on Muslim immigrants had already been rejected by Speaker Paul Ryan (R-Wis.) and the overwhelming majority of Republicans in Congress. But House Majority Leader Kevin McCarthy (R-Calif.) said again he wouldn't support it, and that he had no interest in seeing it get a vote.

"You don't ban somebody on race [or] religion," McCarthy said. "I don't see that coming to the floor."

…

Hill Republicans expressed concern over everything from the tone of Trump's remarks to their substantive impact.

"I think you have to be a little careful with the rhetoric," Rep. Michael McCaul (R-Texas), chairman of the House Homeland Security Committee, said of Trump's renewed call for a ban on Muslim immigrants. "You don't want to inflame or help the recruiting efforts."
9:36 AM — Catherine Herridge says on Fox News that James Comey, behind closed doors, more explicitly said that playing the Islamophobia card made the FBI back off its investigation of Mateen. Via the Daily Caller:
"At the end of 10 months the investigation was closed with no further action. They took Mateen's statements he was trying to taunt his coworkers because he thought he was being marginalized because of his Muslim faith."
9:24 AM — Oh.
California has much tougher gun laws than Florida, but it wouldn't have made any difference. https://t.co/qahXHa9nkM

— Scott McGrew (@ScottMcGrew) June 14, 2016
9:22 AM — From Frances Martel: Video of the Univision reporter that went into Mateen's house getting attacked by a giant cockroach and taking it in stride.
9:21 AM — 
Giuliani: Obama's rhetoric contributed to some people in San Bernardino not reporting suspicious acts before attack https://t.co/DUa2LIfIV6

— New Day (@NewDay) June 14, 2016
9:07 AM — Gov. Rick Scott: "Don't send refugees into my state."
Florida Governor Rick Scott (R), speaking near the scene of the slaying, said Tuesday that investigators were working diligently to sort out what happened and why. He said he had been focused on talking to victims' family members. He did not offer any new details on the status of the investigation.

Scott also called for the federal government to share more information with their state counterparts in the wake of the shooting. While he did not specify how more sharing of information might have prevented the massacre, Scott said it was broadly important that federal officials share what they learn with local law enforcement — especially in immigration or refugee cases.

He referenced the recent attacks in Paris, noting that in the wake of those, he told the federal government, "Look, until you can tell me how you're going to vet people, don't send refugees into my state."
9:03 AM — 
.@freshfromFL is refusing to release records related to Omar Mateen's firearms license and security officer license https://t.co/cH2zHwWP3S

— POLITICO Florida (@politicofl) June 14, 2016
8:52 AM — New left-wing narrative emerging.