Korean defector and founder of Free North Korea Radio Kim Seong Min was on Capitol Hill recently to speak to lawmakers and staff about the ongoing effort to help people in North Korea learn about the outside world and offer hope for their futures.
"There is nothing more powerful than North Koreans living in freedom in South Korea reaching out to North Koreans still living in enslavement under Kim Jong-un," Suzanne Scholte, president of the Defense Forum Foundation (DFF), told Breitbart News in an interview Tuesday.
At the event, Scholte introduced Kim Seong Min to a large group in the Rayburn House Office Building.
"Our speaker today, Kim, is one of the bravest and most active defectors, earning him No. 1 on Kim Jong-un's target list for assassination," Scholte said as she introduced him.
"I know personally that he wanted to be a poet but because of the Kim regime decided to become a freedom fighter," Scholte said.
Kim's harrowing defection tale includes a failed attempt to escape to China and facing certain public execution before he jumped from a moving train transporting him to Pyongyang. Now his mission is broadcasting a daily radio program from Seoul since he founded it in 2006. His visit to D.C. is part of an ongoing partnership between North Korea defectors and Americans, according to Scholte.
"Free North Korea Radio is a unique partnership between North Korea defectors in South Korea who produce the daily broadcast and Americans, through the Defense Forum Foundation, who finance 100 percent of the shortwave transmission costs for the daily broadcast," Scholte told Breitbart News, adding that private citizens and churches cover the cost.
But in his remarks, Kim told the audience that Free North Korea Radio and other defectors are doing a lot more than just talking. They are also providing practical help for North Koreans, including sending 60 tons of rice by placing it on an ocean current in plastic water bottles and releasing balloons decorated with Kim Jong-un's image to prevent their destruction.
Food is not the only thing being smuggled in, Scholte said. Other items include medicine, Bibles, South Korean soap operas, and Western films.
"Different defector NGO groups focus on different things like the NKPLF — North Korea People's Liberation Front – a very pro-USA, pro-democracy NGO of former DPRK military — concentrate on exposing the corruption of the Kim regime, their opulent lifestyle versus how average North Koreans live," Scholte said.
"The Fighters for Free NK has been leafleting information about how Kim Jong-un murdered [American] Otto Warmbier, and his own half-brother [Kim Jong-nam], describing it so North Koreans know what happened," Scholte said.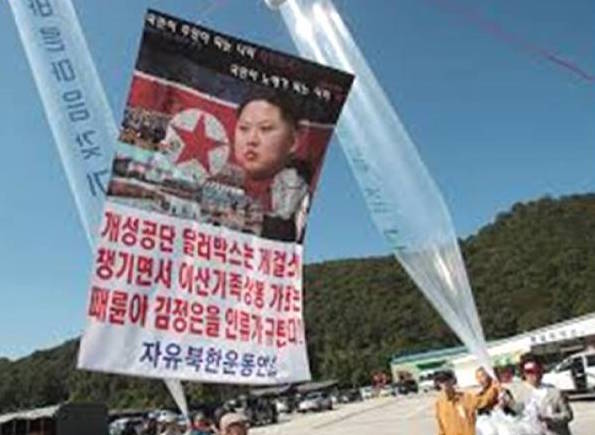 On Wednesday, the House passed the reauthorization of the North Korea Human Rights Act, first passed in 2004 with the help of the DFF, which brought North Korean defectors to testify before Congress.
"This bill expresses the sense of Congress concerning access to and protection of North Korean refugees and defectors, the forcible repatriation by China of North Koreans, and the Department of State position of Special Envoy for North Korean Human Rights Issues," the bill summary states.
The bill is now heading to President Donald Trump's desk.
Follow @PennyStarrDC on Twitter.