Less than three inches of snow has delivered 48 hours of icy cold chaos to a the city of Atlanta, resulting in 1,460 traffic accidents, including two fatal crashes and a at least 175 injuries. Another hard freeze is expected again on Thursday, as temperatures will drop down to 15 degrees overnight, according to National Weather Service forecasters.
The freak winter snow storm mutated into black ice, closed roadways, and paralyzed Hartsfield-Jackson Atlanta International Airport, which cancelled 400 flights by 6 AM on Thursday. Moreover, school districts and state and local governments across Georgia announced that offices and classrooms would remain closed Thursday.
Hundreds of motorists in the Southern city were trapped overnight in their vehicles as the snow impeded their mobility. Thousands of schoolchildren either slept on their school buses stranded on highways or on cots in school gymnasiums and classrooms.
On Tuesday, Samantha Avers left Duluth, a northeast Atlanta suburb, to go home to Smyrna, which is a drive that typically takes her about a half hour. Twenty-two hours later, Avers, an account manager who just moved from northern Virginia to Atlanta for the warmer weather, pulled her car into her driveway. She had been stranded in icy traffic congestion, slept in her car in the middle of a highway, ate fruit from her lunch box, and watched "Private Practice" on her iPad. Samantha's story is one of hundreds of the last few days caused by the not so great snow storm of 2014.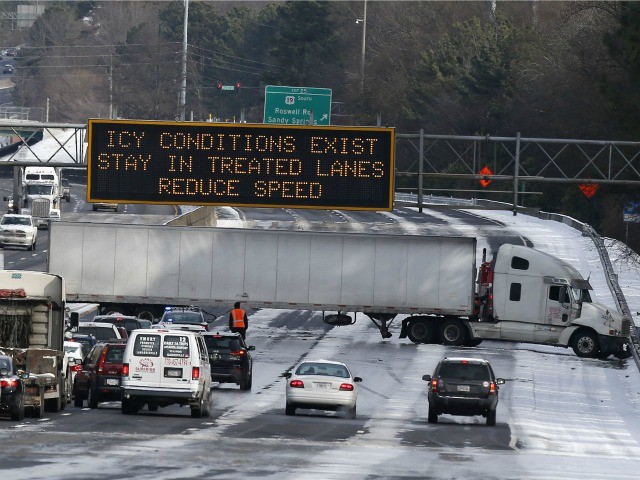 On Wednesday, state transportation crews got busy rescuing marooned drivers and removed disabled and abandoned cars and trucks sprawled all over the roads, medians, shoulders, and exit ramps. Gov. Nathan Deal (R) said emergency workers, police, and the National Guard were working around the clock to help people retrieve their vehicles that had been moved to other locations and fueling cars that had emptied their tanks by leaving the engines on to operate their heaters.   
All this bedlam caused has set off a firestorm of complaints and anger from many Atlanta residents. Gov. Deal and Atlanta Mayor Kasim Reed acknowledged that they were not adequately prepared for the storm. Deal blamed federal forecasters for not predicting the storm would be this bad. The governor indicated that he did not want to be alarmist and close businesses and roads prior to the storm because then he would have been excoriated for costing businesses time and money.
We don't want to be accused of crying wolf. Because if we had been wrong, y'all would have all been in here saying, "Do you know how many millions of dollars you cost the economies of the city of Atlanta and the state of Georgia by shutting down businesses all over this city and this state?"
Social media sites were laden with postings condemning city officials, as well as Deal and Reed, for not shutting things down ahead of the storm. "I want heads to roll tomorrow," one parent posted on Facebook. The DeKalb County School District father and husband was furious that his wife was still not home by midnight. The mother had been fighting her way through snow and traffic to try to retrieve the couple's child from school. "Horrible horrible horrible horrible job," another parent wrote.