The FBI is requesting the help of the public in finding hundreds of additional teen victims of an online sexual predator who was convicted last year for production of child pornography. He was later sentenced to more than 100 years in prison. The predator had an on-going "sextortion" scheme where he exploited nearly 350 teenage girls. Authorities have identified around 100 of the victims but need help in identifying nearly 250 more.
The convicted predator is Lucas Michael Chansler, age 26. Court documents reveal he plead guilty to several counts of child pornography production in Jacksonville, Florida, last year. He was sent to prison for 105 years in November, 2014.
Chansler would befriend underage girls online using chatrooms or other social media applications like Facebook, according to an FBI statement obtained by Breitbart Texas. In one case he established an identity as a 15-year-old boy who was good looking and involved in skateboarding. After befriending a group of girls, he would talk them into showing them pictures in provocative or revealing poses. He had many other online identities (see list attached below).
Once Chansler gained the girls' confidence, he would use the pictures he previously obtained to blackmail the victim into more revealing and explicit photos or videos. These would, in many cases, lead to the girls performing acts of masturbation and insertion of objects into their vaginas.
One of the victims who is now an adult, Ashley Reynolds (pictured above), was fourteen at the time she fell into Chansler's scheme. She has come forward to talk about her case in the hope that it will help other girls who have been victimized.
In 2009, Ashley enjoyed sports, was socially active, and was excelling academically. Like many young girls, she kept a journal for her "future self". Then she met one of the many aliases of Chansler, CaptainObvious. After that, she could no longer write in her journal or speak to her friends. According to what Ashley told the FBI, the online predator turned her life upside down. He took advantage of her and blackmailed her into sending him sexually explicit images of herself.
Ashley's parents became concerned about the abrupt change in her personality and behavior. They contacted the National Center for Missing and Exploited Children (NCMEC). Eventually, the brave young girl and her parents would come forward and support the FBI investigation that led to the arrest and conviction of this nation's most prolific online sexual predator. In the video below, Ashley, now age 20, tells her story.
"This could never happen to me—I'm Ashley, this can't happen to me, I'm normal," she said in the video. "But little did I know that I ended up getting terrorized, is the only way I can think, of it by this guy."
"I remember just lying in bed in silence and just thinking," she continued. "I felt like God was so disappointed in me, and I didn't know what to do. I wouldn't get home until late at night and then I'd have to send him all these pictures. And as I'm doing this, he would be like, 'No this isn't right. This one is blurry,' or, 'You didn't do this right, you weren't doing it right, you gotta do it again.'"
Ashley came forward with her story to help give others the courage to come forward and face their predator so they can begin to heal. The FBI revealed that Ashley's parents have been a big help to her. They pointed out that other young girls are not so lucky.
"This is something that came into my life, and as horrible and bad as it is, I know that I can help," she concluded. "I can—how people want to be, like, a doctor and save someone—I want to help someone who is in this situation that gets overlooked all the time. We weren't raped. We are overlooked because nobody actually touched us."
FBI Special Agent Larry Meyer, a veteran agent stationed in Jacksonville, Florida, investigates crimes against children. He said in a public service video that 109 of Chansler's victims have been identified through a variety of techniques. That leaves nearly 250 girls unidentified and potentially in some kind of danger or emotional distress. He said there are many of the girls "who have not had closure and who probably haven't obtained counseling and other help they might need." He explained that some of the girls have dropped out of school while others have attempted to end their lives.
"We have never seen anything like this before," Meyer said in the following video:
Chansler's victims come from 26 states across the country and other countries as well. Some were in Canada and one was in the United Kingdom.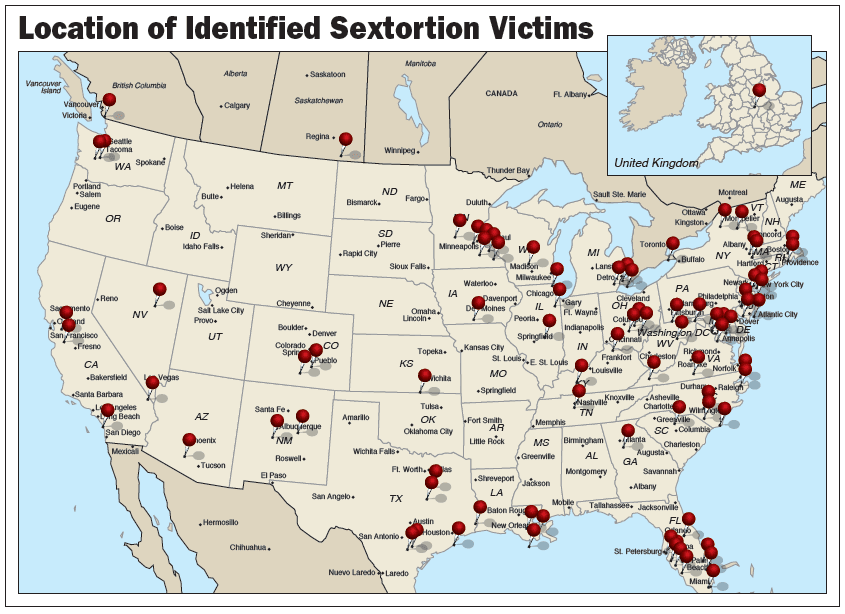 The FBI report states that in one instance on Stickam, a now-defunct live-streaming video website, evidence was found on Chansler's computer showing four girls all exposing their breasts. "The girls are apparently having a sleepover, and Chansler contacted one of them through a random online chat," Meyer said in a FBI article. "These girls thought they were having a video chat session with a 15-year-old boy that they would never see or hear from again, so they are all exposing themselves, not realizing that he is doing a screen capture and then he's coming back later—very often in a different persona—saying, 'Hey I've got these pictures of you, and if you don't want these sent to all your Myspace friends or posted on the Internet, you are going to do all of these naked poses for me.'"
Working with the Jacksonville Police Department's Crimes Against Children Task Force, Meyer and his team were able to analyze the thousands of images on Chansler's computer. Through a variety of techniques, they were able to identify and locate many girls. In one case, a young girl was identified by the reflection of her school's name in a plate glass window. Still another was found through the banner of a radio station visible behind her in one of the photos.
More than 250 people have been involved in the search for these victims of Chansler's perverse crimes. They include law enforcement investigators, analysts, victim specialists, child forensic interviewers and community child advocacy centers. Even with this massive effort, about 55 percent of the victims remain, as yet, unidentified.
"It's important that we find these girls so that they don't have to be looking over their shoulder, wondering if this guy is still out there and is he looking for them and is he going to be coming back," Meyer explained in the article. He added that "some of these girls, now young women, need assistance. Many probably have never told anyone what they went through."
Ashley said that many people don't place as much importance or emphasis on these types of crimes because no one was physically touched or injured. Officials say many people do not understand the full impact on these innocent victims. The video below explains the concept of "sextortion" crimes:
At the end of this article Chansler's plea bargain agreement is attached. There are also several other documents and files the FBI believes are helpful in understanding these crimes and identifying possible victims.
Those documents include:
A list of Chansler's online identifications or aliases
An FBI Fact Sheet on Sextortion
A NCMEC Sextortion Fact Sheet on Sextortion
An article from Glamour magazine on Sextortion
"Sextortion is a growing threat both domestically and internationally," FBI Assistant Director Joseph S. Campbell explained in a press release obtained by Breitbart Texas. "The devastating impact of these crimes on the victims, their families, and friends cannot be ignored. The FBI is committed to using our resources and leveraging law enforcement partnerships around the world to identify and arrest these criminals."
"This case serves as an example that children anywhere can be targeted for sextortion and that the FBI remains committed to stopping this cycle of victimization and holding the criminals accountable," said Campbell.
The FBI is asking the public for assistance in locating the victims of Chansler's crimes. Anyone with information or suspicions should contact the FBI through submitting an online form or by sending a confidential email message to FBI.VICTIMASSISTANCE@IC.FBI.GOV. You can also contact your local FBI Field Office or call, 1-800-225-5324.
Bob Price is a senior political news contributor for Breitbart Texas and a member of the original Breitbart Texas team. Follow him on Twitter @BobPriceBBTX and on Facebook.
Sextortion of Children Fact Sheet 6-22-2015 (1)