Florida Lieutenant Governor Carlos López-Cantera is joining the race to replace Sen. Marco Rubio (R-FL) in the Senate, making the announcement in an optimistic video.
López-Cantera, Florida's first Hispanic Lieutenant Governor, previously served in the Florida House of Representatives from 2004 until term limited out in 2012. During his time in the Legislature, he was Majority Whip and then Majority Leader. In 2012, he was elected Property Appraiser of Miami-Dade County.
The official campaign launch will be Wednesday afternoon in Miami, but in advance of that event, the campaign released a video, in English and Spanish, to announce he was running.
English version:
Spanish version:
The video begins with López-Cantera introducing himself and saying that "the most important job I'll ever have" is a husband to his wife Renee and father to their two young daughters. "As a family, we've decided that I'm running for the U.S. Senate, so that your kids and mine can continue to live in the kind of country that gave my family the blessings of liberty and freedom that only America offers."
Noting that both Democrats and Republicans have "lost sight of that idea," he continues. "Like you, I still believe in the America that Washington has forgotten, and I'm running because I want to work for you, to be part of the solution, not part of the problem."
The video continues, with López-Cantera touting the success of the Florida economy, the low taxes, and balanced budgets.
"We've proven conservative principles work," he says, touting the nearly 900,000 jobs created. "My priority will be to get government spending and government power under control, so that you keep more of your money and your freedom."
López-Cantera then addresses how he measures up against his competition. Three Congressmen are already in the race: Rep. Ron DeSantis (R-FL), Rep. Patrick Murphy (D-FL), and Rep. Alan Grayson (D-FL). Rep. David Jolly (R-FL), Rep. Jeff Miller (R-FL), and former Attorney General Bill McCollum (R-FL) are also all reported to be considering running.
"There will be a lot of people in this race who promise a lot of things, but my conservative record in Florida is more than a promise," says López-Cantera in the video. "It shows that I'll fight and win for you, even when the odds are long and the fights are hard."
When DeSantis joined the race, it generated buzz among conservative activists around the country, with several of the large national groups issuing supportive statements. However, López-Cantera has made it clear, both in public speeches this past year and in conversations with Breitbart News, that he is not conceding the conservative vote, believing that his record stacks up as well as anyone who might run.
He has nearly flawless scores from many of the groups scoring elected officials for support of conservative principles, including a 100 percent rating with the American Conservative Union, an A+ rating with the National Rifle Association Political Victory Fund, a 100 percent rating from the NFIB, a 100 percent rating from the Florida Chamber of Commerce, a 99 percent ranking from the Associated Industries of Florida, and a 100 percent rating from the Christian Family Coalition, which evaluates candidates on their support for pro-life and pro-family causes.
Beyond just a shiny report card, López-Cantera's record in the Legislature is strong across the board on fiscal conservative issues, supporting tax cuts of $4 billion (including repealing $2 billion in tax increases passed by former Gov. Charlie Crist), $7 billion in reductions to the state debt, plus other substantial spending cuts and regulatory reforms. There are also examples of independence from his fellow Republicans on several libertarian issues. He was the sole vote against red light cameras and so-called "pill mill" legislation, objecting to them on grounds of government overreach.
"That's the kind of leadership I'll bring to the U.S. Senate. I'm Carlos López-Cantera, and I'm asking for your support, your vote, and your commitment to make Washington work for all of Florida."
The video then fades out to López-Cantera's new logo, which features the outline of the state of Florida in his name.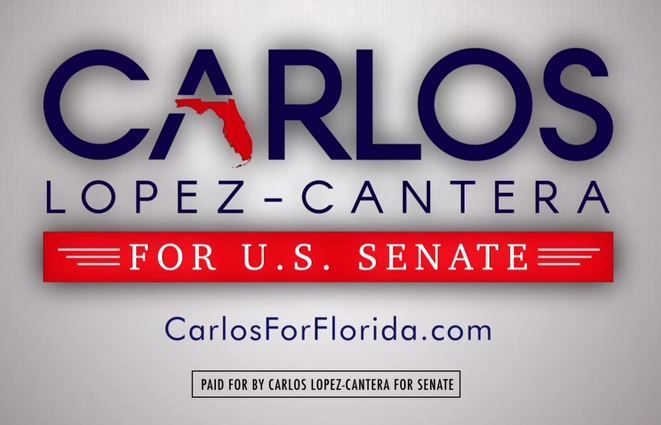 The logo is reminiscent of the one used by Rubio for his presidential campaign, where he dots the "i" in his last name with an outline of the United States. Rubio and López-Cantera have been close friends for years since working together on the 1996 Bob Dole campaign.
López-Cantera enters the race with solid financial backing. A Super PAC and a leadership PAC, both named "Reform Washington," were formed in May. Until he officially became a candidate on Wednesday, López-Cantera was able to fundraise for those groups. According to a report by Politico's Marc Caputo, the Super PAC raised $741,000 and the leadership PAC raised $140,000, for a total of $880,000.
The Super PAC will now be headed by former Speaker of the Florida House Dean Cannon. López-Cantera  served as Majority Leader when Cannon was Speaker, and Cannon is expected to be a fundraising heavyweight.
Follow Sarah Rumpf on Twitter @rumpfshaker.