EDINBURG, Texas — A Texas border man has been accused of brutally beating and raping a two-year-old girl as well as also attacking a four year old boy sending them both to the emergency room in critical condition.
The case began on Friday when investigators with the Hidalgo County Sheriff's Office were called to a local hospital in regards to a two year old who had very serious internal injuries, sheriff's spokesman Sgt. JP Rodriguez said to Breitbart Texas.
Authorities then learned that the girl's four-year-old brother was also at the hospital also with critical internal injuries. The assault took place at a rural home in the border city of Mission.
Both children ended up being taken to a larger children's hospital where specialists informed investigators that the young girl also had serious injuries indicative of sexual assault, Rodriguez said.
Investigators had been questioning 21-year-old Alfredo Luna who is the mother's boyfriend and had been caring for the children when she had left for work.
"(Luna) admitted to our investigators that he had injured the children and he had sexually assaulted the female child," Rodriguez said to Breitbart Texas. "The last update on the children is that they remain in critical condition."
On Sunday, investigators with the Hidalgo County Sheriff's Office took Luna before Justice of the Peace Gilbert Saenz who formally charged him on one count of aggravated sexual assault of a child and two counts of injury to a child. Saenz set the total bond for Luna at $750,000 and ordered sent him back to the Hidalgo County Jail where he remained as of press time.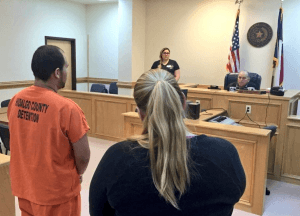 Ildefonso Ortiz is an award winning journalist with Breitbart Texas you can follow him on Twitter and on Facebook.