Local law enforcement arrested a female teenager for allegedly threatening her North Texas high school with a school shooting over Twitter.
Late Wednesday night, Arlington police took Shalaria Jones, 17, into custody in connection with multiple social media threats directed at the James Bowie High School campus. Jones, a student at the suburban Dallas school, was linked to Twitter threats from the account White Bitch @whitebitchhoe, KTVT 11 (CBS) reported.
The tweets centered on threats of a school shooting at 12 noon Tuesday. The White Bitch Twitter account was suspended Thursday. Following are screen shots of those social media posts. One read: "@ 12 be readie for bowie to have a schoo shootin."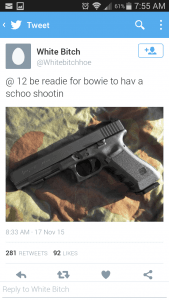 Another from the account threatened to kill 10 people with 23 bullets.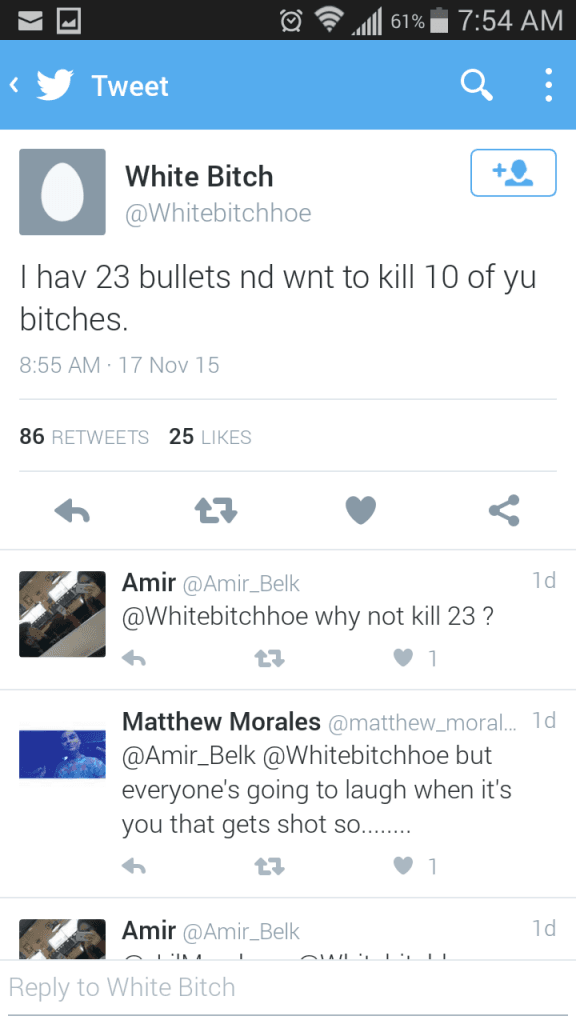 Arlington police spokesman Lt. Christopher Cook said officers seized Jones' cellphone and obtained a search warrant that linked her to the social media threats, according to the Fort Worth Star-Telegram. Arlington police also tweeted that Jones was linked to the threats posted on social media directed against Bowie High School.
17-year-old Shalaria Jones has been linked to the threats posted on social media directed at @ArlingtonISD @JamesBowieHS – Bond set $10,000

— Arlington Police, TX (@ArlingtonPD) November 19, 2015
Police chief Will Johnson said they made the arrest, emphasizing that law enforcement took the matter seriously.
We have made an arrest in social media threats directed at @ArlingtonISD @JamesBowieHS tonight #wetakethisseriously pic.twitter.com/E7wkoqL4CB — Will Johnson (@ArlingtonChief) November 19, 2015
He also tweeted that people who post threats on social media that cause alarm and interrupt the school district will be prosecuted for felony terroristic threats. Jones was taken to the Arlington Jail where she remained Thursday. She faces one charge of a terroristic threat. Her bail was set at $10,000.
The Arlington Voice speculated that Jones created a fake Twitter account and pretended to be a white student based on one of the tweets from the White Bitch account and local online chatter that followed Jones' arrest. According to KXAS 5 (NBC) police said the social media account was created the day before the alleged threats posted.
White Bitch identified as being "white" and a junior at James Bowie High School: "im at @jamesbowiehighschool sittin in class thinkin who should I kill first by the way im white nd a junior."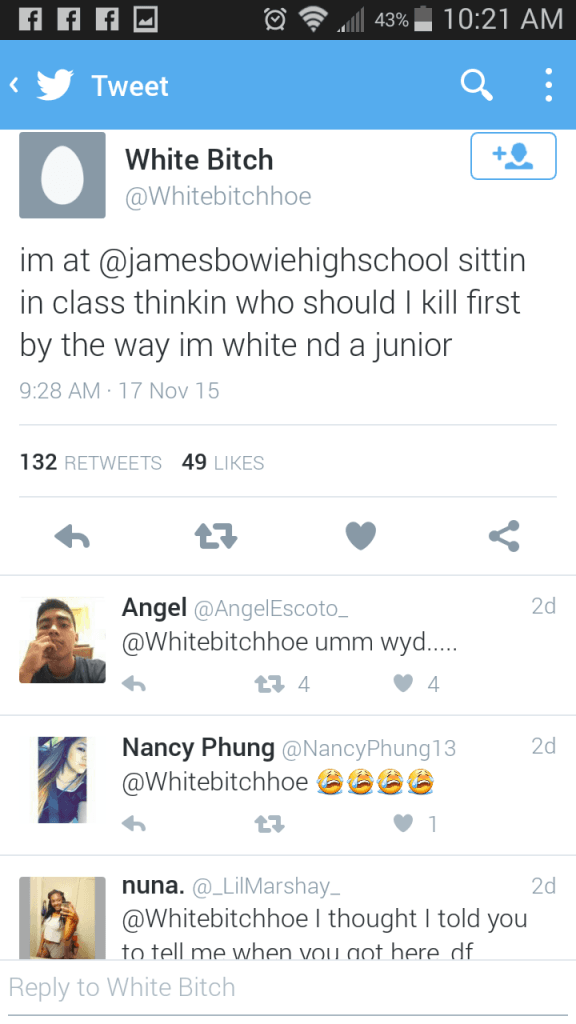 The Arlington Independent School District acknowledged they knew about the threats and, in response, added extra security on campuses through the Arlington PD as a precaution. Parents confirmed heightened police presence on the campuses said KTVT 11. Local law enforcement updated information on Twitter during their investigation. Initially, police interviewed two teens in connection with the threats. The other teen was from the district's Sam Houston High School. They did so because both high schools received threatening tweets about school shootings, according to the Dallas NBC affiliate.
Update to @JamesBowieHS Tweets from earlier. We have identified the telephone used to post those tweets & are interviewing two teens.

— Arlington Police, TX (@ArlingtonPD) November 17, 2015
Later, Arlington ISD retracted on the Sam Houston threats saying there was "no verifiable threat" to students or faculty, although KXAS 5 reported officials are searching for others in connection with similar threats made at two other district high schools, DeSoto and Cedar Hill. All appear to be hoaxes, including at Bowie High School. Arlington police confirmed they found no certifiable threats to students or faculty based upon the tweets.
The Arlington ISD Student Code of Conduct handbook defines a terroristic threat as a "threat of violence to any person or property with the intent to cause a reaction by an official or volunteer to deal with emergencies, prevent or interrupt the occupation or use of a building, place others in fear of serious bodily injury, or impair or influence activities of the government or school district."
Follow Merrill Hope on Twitter @OutOfTheBoxMom.