As new reports break that a George Soros-linked group is taking credit for efforts to violently disrupt GOP frontrunner Donald Trump's campaign rallies, the Center for Responsive Politics reveals that another George Soros-linked group is coordinating another furtive operation to stop Trump by financing the campaign of John Kasich.
According to the Center for Responsive Politics, Soros Fund Management is one of John Kasich's top financial contributors.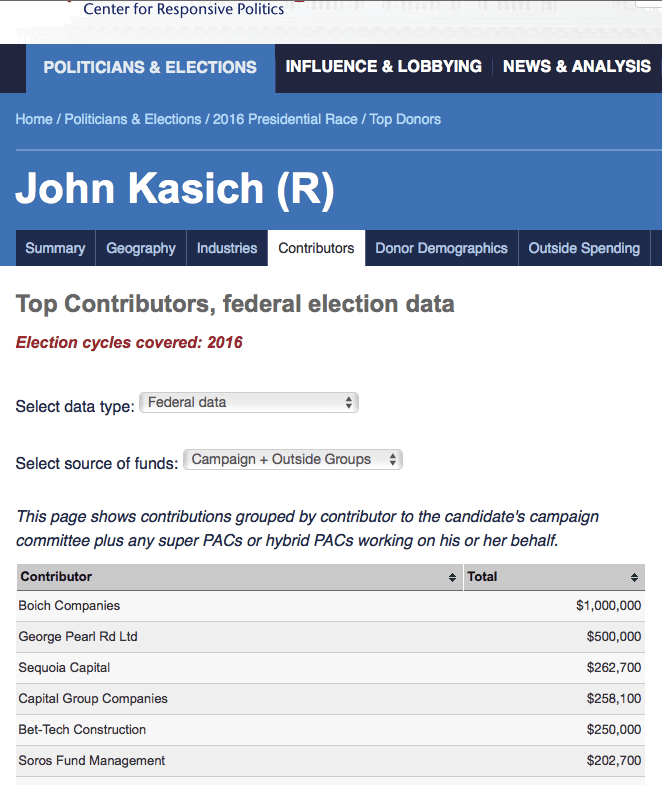 George Soros–a liberal progressive donor– has been a top funder of the push to open America's borders. According to a 2013 CNS News report, "Soros's Open Society Foundation proudly claimed to have given $100 million dollars to 'immigrant rights' projects in the United States." According to the report, those that have been the beneficiaries of that $100 million include La Raza (Soros funding $2.4 million), the Immigrant Legal Resource Center (Soros funding $1.6 million), as well as Amnesty International (Soros funding $844,088) and Immigration Equality (Soros funding: $301,667).
In addition, Soros has been financially linked to the National Immigration Forum—the group behind the "Evangelical Immigration Table (EIT). As Breitbart reported in 2013, the Evangelical Immigration Table "is actually a front group for players on the institutional left including billionaire George Soros… EIT is running a $250,000 advertising campaign in favor of the Senate's "Gang of Eight" immigration bill."
Soros money is frequently tied to groups with innocuous sounding names that promote radical agendas– such as the Evangelical Immigration Table.
Interestingly, as Breitbart News has previously reported, John Kasich has made a series of extreme statements on immigration that place him to the furthest leftward reaches of not just the GOP Presidential field, but the Democratic Presidential field as well. For instance, Kasich has said that enforcing our immigration laws and deporting the illegal immigrants is not "humane." Kasich likened deportations to the Japanese internment camps of World War II. Kasich has also pledged that he will enact amnesty within the first 100 days of his hoped-for Presidency– in effect, meaning that those who support John Kasich's presidential campaign are voting to enact the largest amnesty in U.S. history by April 30, 2017.
The Washington Times reported in January of 2015, George Soros was also behind the funding of the Ferguson protests, "Mr. Soros gave at least $33 million in one year to support already-established groups that emboldened the grass-roots, on-the-ground activists in Ferguson, according to the most recent tax filings of his nonprofit Open Society Foundations."
As the 2013 CNS report documents, "Soros has aided hundreds of left-wing groups in America since 2000 under the auspices of his Open Society Foundations. In just 10 years, he gave more than $550 million to liberal organizations in the United States. This has included money going to fund liberal agenda topics like Earth Day, gun control, government funding of student loans and even the IRS targeting of conservatives."