A Canadian man is suing Alcoholics Anonymous (AA) to have "God" removed from its famous Twelve Step program, alleging discrimination against atheists, agnostics, and freethinkers.
First published in 1939, the "Twelve Steps" of Alcoholics Anonymous have a significant spiritual component, and six of the twelve make direct reference to God or a "higher power." Those following the program must acknowledge their powerlessness over alcohol and their dependence upon God to restore them to health.
In the third step, for instance, members "Made a decision to turn our will and our lives over to the care of God as we understood Him." In the seventh step, they "Humbly asked Him to remove our shortcomings."
Although Alcoholics Anonymous allows atheists and agnostics to participate in the organization and its meetings, they have balked at reformulating the Twelve Steps to exclude all reference to God, which they believe to be an integral part of the healing process. The organization has disassociated itself from atheist groups such as Beyond Belief and We Agnostics that have gone ahead and changed traditional AA language in their formulation of the Twelve Steps.
Last year, 58-year-old Lawrence Knight, one of the founders of Beyond Belief, took AA to the Ontario Human Rights Tribunal, claiming that the words "God" and "Higher Power" are outdated, and that for some the word "God" creates negative associations and may even be "triggering."
In the Agnostic AA Preamble on Beyond Belief's website, his group expresses its vision of the new direction AA should take.
This group of A.A. attempts to maintain a tradition of free expression, and conduct a meeting where alcoholics may feel free to express any doubts or disbeliefs they may have, and to share their own personal form of spiritual experience, their search for it, or their rejection of it. We do not endorse or oppose any form of religion or atheism. Our only wish is to assure suffering alcoholics that they can find sobriety in A.A. without having to accept anyone else's beliefs or having to deny their own.
Knight wants AA to adopt a modified version of its Steps, expunging references to a divinity, so that all can feel included.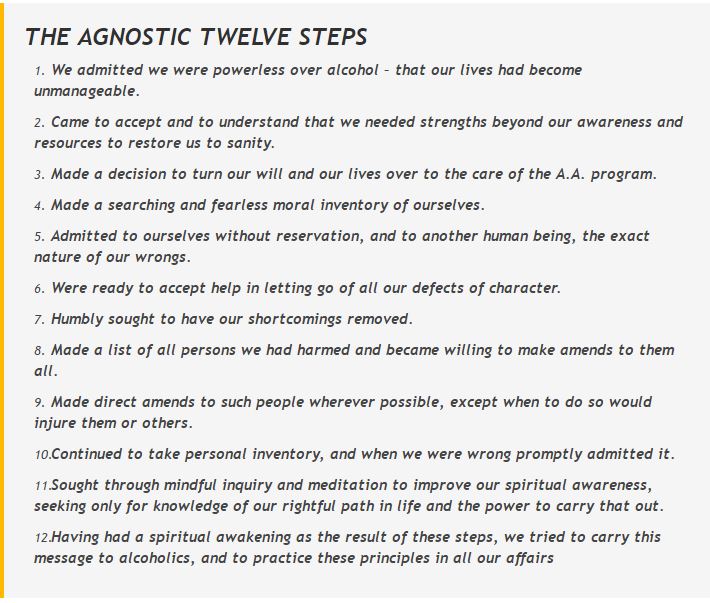 Some of the more hardcore atheists in the group, however, have even taken issue with the modified Steps, claiming that they don't go far enough in eliminating unpleasant language regarding spirituality and meditation.
One member, identified as Richard H., said that there is rampant confusion about what the word spirituality means, but above all objects to the implication of the existence of something unseen, a concept he finds "unpalatable."
On November 18, all parties will reportedly sit down for mediation in an attempt to avoid going to court. If mediation fails, contested hearings will likely follow, with the future status of AA hanging in the balance.
Follow Thomas D. Williams on Twitter  Follow @tdwilliamsrome