After a politically-motivated shooting that left Republicans and Democrats disheartened about the state of politics, lawmakers and spectators in both parties came together to celebrate America's favorite pastime at the 56th annual Congressional Baseball Game Thursday evening.
Attendance at the game was a record turnout — nearly 25,000 people attended Thursday night's game. The 24,959 tickets sold was the most in the game's history. The game has taken place since 1909.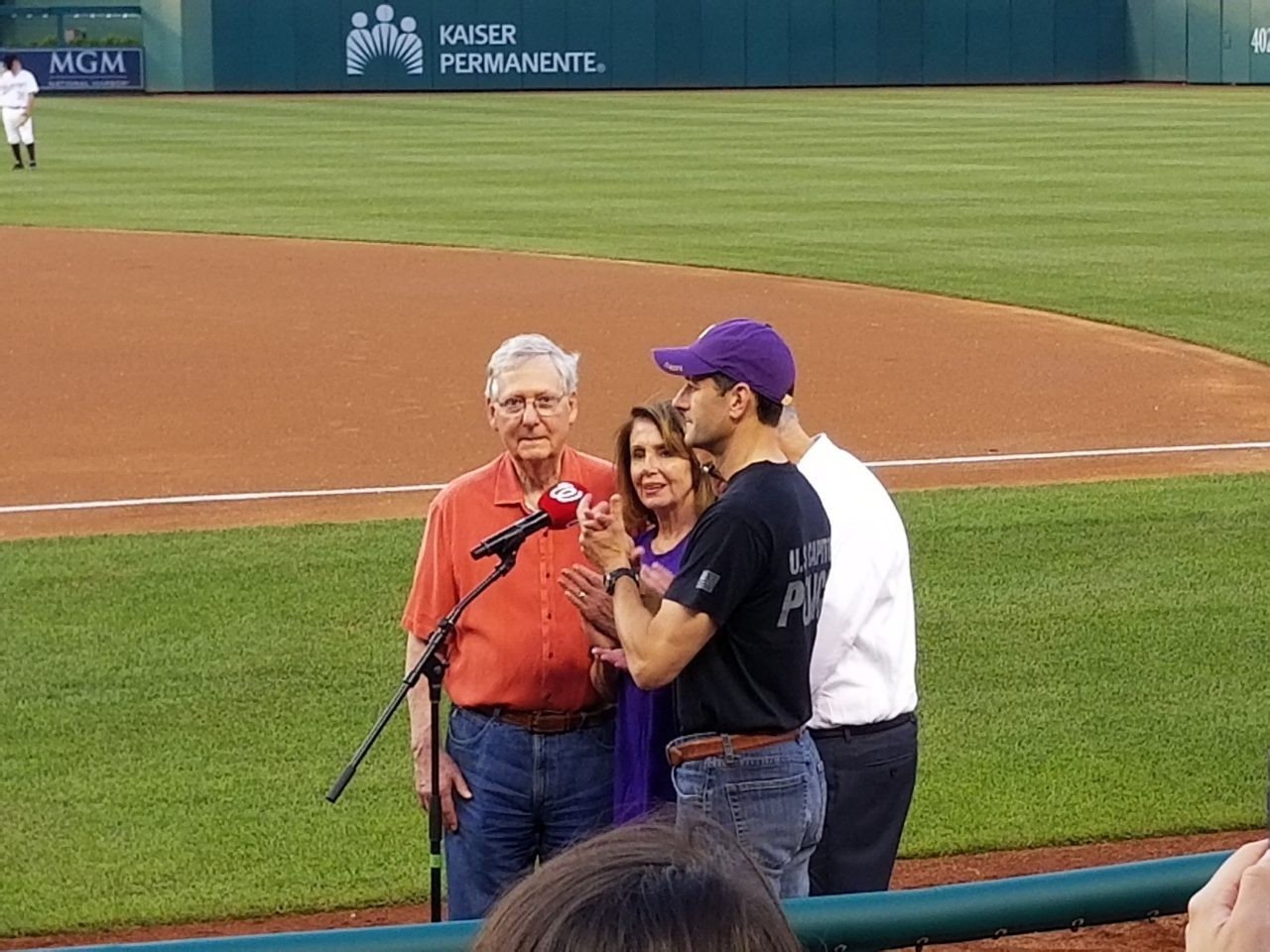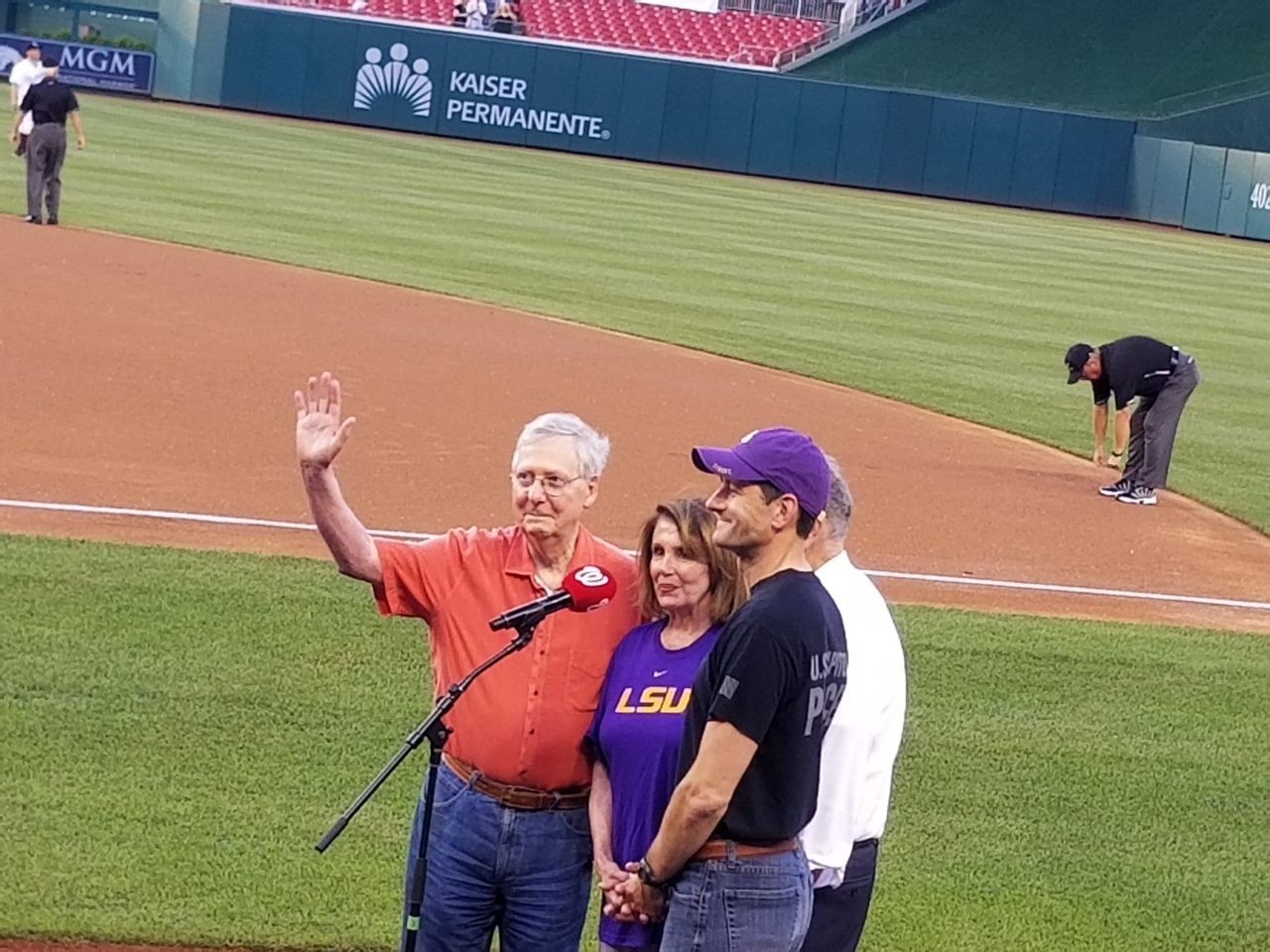 There was a heightened security presence in light of Wednesday's shooting. A police helicopter flew overhead and squads of cops clad in bulletproof vests scattered throughout Nationals Park.
Right before people started packing the stadium, Ivanka Trump, along with Treasury Secretary Steven Mnuchin met with the players in the dugout.
Soon after, young professionals in their 30s and 40s packed the stadium.
A somber occasion
Before the game began, the announcer asked for a moment of silence in remembrance of the victims of the Alexandria, Virginia, shooting that injured five. Among the injured were House Majority Whip Rep. Steve Scalise (R-LA), who was critically injured, Capitol Police Officers David Bailey and Crystal Griner, congressional staffer Zachary Barth, and lobbyist Matt Mika.
The congressional chorus sang renditions of the National Anthem and "God Bless America" to a crowd that stood transfixed by their melodic voices.
President Trump, as well as members of congressional leadership, also addressed the crowd.
"By playing tonight, you are showing the world that we will not be intimidated by threats, acts of violence, or assaults on our democracy," Trump said in a pre-recorded address to the crowd displayed on the jumbotron: "The game will go on."
Speaker of the House Paul Ryan (R-WI), House Minority Leader Nancy Pelosi (D-CA), Senate Minority Leader Chuck Schumer (D-NY), and Senate Majority Leader Mitch McConnell (R-KY) also appeared on the jumbotron, stressing unity among both parties and urged people to reflect on those who suffered as a result of the shooting.
The most touching moment of the game was when one of the officers injured in Wednesday's shooting took the field to throw the first pitch.
Capitol Police Officer David Bailey, who was wounded in Wednesday's tragedy, walked on the baseball field in crutches to throw the game's ceremonial first pitch along with former New York Yankees manager Joe Torres. After the first pitch ended, the two gave each other a hug, and Bailey hobbled off the field to "There Goes My Hero" by the Foo Fighters in an homage to the officer.
On a lighter note, both Trump and the congressional leadership ended their respective addresses with a simple, "let's play ball!" to kick off the game.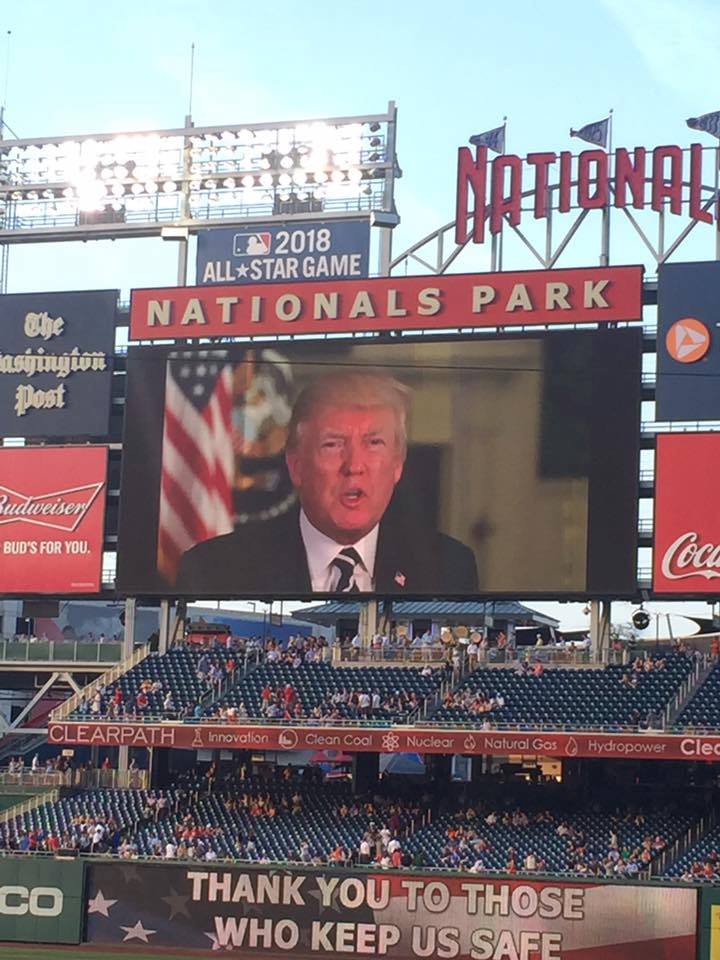 Unity and division among the spectators
Spectators of the game had differing opinions on how long the unity between the parties would last.
Father Steven, a priest from Staten Island, New York, who identifies as a conservative, said, "there needs to be more discussion" on both sides if we want to heal the partisan divide.
Dane, an intern for Rep. Mike Gallagher (R-WI), also expressed worry over heightened anger in our politics. "There's always loonies in each party," but you see more of that on the left, Dane said. "Yesterday was a perfect example of leftism at its extreme."
Reflecting on his own experiences, he recalled a friend who was "pepper sprayed by protesters while waiting in line at a Trump rally."
Rep. Pete Sessions (R-TX), who sat in the Republican section watching the game with several interns, said in an exclusive interview with Breitbart News that its the "violent tactics" some people use "to suppress free speech" that contributes to the coarsening of our political discourse.
"We cannot allow there to be the violence that there has been — you cannot target free people. I am disturbed when we find people apply violent tactics to suppress free speech," Sessions told Breitbart News in an exclusive interview.
A high school history teacher who attended the game said he thought tonight's game from a historical perspective was an example of a "positive spirit of bipartisanship" in a way that serves the D.C. community. The teacher, who is a Democrat, remains skeptical that the results of this game will have an effect on policy-making.
Trey, a lawyer who is a self-described conservative, was skeptical about whether political divisions in this country would heal.
"I'm not optimistic about bipartisanship. It would behoove people to consider how the words may be interpreted by people who are not on the same front," Trey said.
"It doesn't help when the Democratic nominee says we should 'resist.'" he added. On the other hand, he did not see Washington's heated political rhetoric as having influence in middle America. "The average American just cares about whether his life is better."
"We need to start acting like winners."
Spectators at the game also offered their suggestions for conservatives and Republicans moving forward.
"Considering conservatives won the last election, we need to start acting like winners," Fr. Steven said.
Sessions said that Republicans can start "winning through better ideas," adding that he remains optimistic that Trump will help Republicans moving forward but needs to do more.
"Donald Trump has much to teach the Republicans and the American people," Sessions said. "We need to recognize that Trump needs to up his game."
Sessions, wearing his Texas baseball uniform, did not have time to work out, practice, and play with the Republican team this year. Instead, he took selfies with constituents and other fans who greeted him.
The Democrats, who enjoyed a solid lead over the Republicans for most of the game, won 11-2. But the audience didn't seem to be focused too much on the outcome. They were just happy to go out and see this time-honored tradition of temporary bipartisanship.