All eyes are on Alabama tonight as Republican Judge Roy Moore faces off against pro-abortion Democrat Doug Jones in the Alabama Senate special election. Polls close at 7 p.m. CT (8 p.m. ET). Breitbart News' Jeff Poor, an Auburn fan and Alabama native who knows the state's politics as well as anyone, has a preview of what to look for tonight.
Stay tuned to Breitbart News for live updates. All times EASTERN.
—
WATCH LIVE: Breitbart News at Roy Moore's Election Night HQ:
11:43 PM: Amnesty advocates praise Doug Jones for supporting DREAM Act:
Congrats to Doug Jones! And THANK YOU for running a campaign with strong, constant support for the Dream Act!

— Todd Schulte (@TheToddSchulte) December 13, 2017
11:30 PM: Moore campaign says military ballots are not in yet and talks about a potential recount.
Judge Moore takes the stage and says, "It's not over. We still have to go by the rules." He says that "God is always in control."
11:20 PM: Barkley also slammed DC Dem. establishment for taking black voters for granted.
Charles Barkley on Ala. vote: "Yeah, we've got a bunch of rednecks and ignorant people here, but we've got some amazing people."

— Paul Farhi (@farhip) December 13, 2017
11:15 PM: Hannity blames McConnell:
1) MCConnell deserves a lot of the blame for Alabama. Mo Brooks would have won by 20% of the vote, and McConnell interference hurt badly. 2)Peter Strzok, Lisa Page text messages show how CORRUPT the SC Mueller and his team are. Wow! More tomorrow.

— Sean Hannity (@seanhannity) December 13, 2017
11:10 PM: Trump points out "write-in votes played a very big factor."
Congratulations to Doug Jones on a hard fought victory. The write-in votes played a very big factor, but a win is a win. The people of Alabama are great, and the Republicans will have another shot at this seat in a very short period of time. It never ends!

— Donald J. Trump (@realDonaldTrump) December 13, 2017
11:03 PM: One of the savviest people on Twitter:
Fact Check: TRUE. Doug Jones winning in Alabama is like Scott Brown winning in Massachusetts. Feels good for the winning party but there's no way to hold the seat.#ALSEN https://t.co/XCkDnBKVOe

— Andrea Katherine (@STL_Blonde) December 13, 2017
11:00 PM: Doug Jones is overwhelmed on his 25th wedding anniversary. He thanks Angels fan Joe Trippi, Doug Turner, and campaign chairman Giles Perkins. He thanks the African-American community that delivered for him. He says "Happy Hanukkah" to all of his Jewish friends.
Doug Jones: "Folks, I gotta tell you. I think that I have been waiting all my life and now I just don't know what the hell to say." pic.twitter.com/TeQHGMdaMr

— NBC News (@NBCNews) December 13, 2017
Jones thanks campaign staff at length, then issues policy challenge to his "future colleagues" in DC:

"Don't wait on me… Go ahead and fund that CHIP program."

— Kayla Tausche (@kaylatausche) December 13, 2017
10:55 PM: Left-wingers praise Messrs. Romney, Flake:
take a bow @MittRomney, @JeffFlake

— Peter Beinart (@PeterBeinart) December 13, 2017
10:50 PM: Booker, not robotic Gillibrand, may actually be the big winner this week among Dem. 2020 hopefuls:
Congratulations Alabama!!!! https://t.co/jfgPTMqYPp

— Cory Booker (@CoryBooker) December 13, 2017
10:40 PM: Former Arizona University sharpshooter and Trump critic Steve Kerr is happy.
Roll Tide!

— Steve Kerr (@SteveKerr) December 13, 2017
War Eagle!

— Steve Kerr (@SteveKerr) December 13, 2017
10:35 PM: Joe Trippi elated:
Thank you Alabama!

— Joe Trippi (@JoeTrippi) December 13, 2017
10:30 PM:
I hate everyone who opposed Roy Moore, so I'd laugh if he won, but I secretly hope Moore loses, so Mo Brooks can replace the Dem in 2 years.

— Ann Coulter (@AnnCoulter) December 13, 2017
10:25 PM: AP Calls Race for Doug Jones:
BREAKING: Democrat Doug Jones wins election as U.S. senator from Alabama. @AP race call at 10:23 p.m. EST. #AlabamaElection #APracecall

— The Associated Press (@AP) December 13, 2017
10:22 PM:
African-American women (18% of electorate) went for Jones 97-3, per preliminary exit polls.

— Evan McMurry (@evanmcmurry) December 13, 2017
Amazing: turnout is at 72%-77% of '16 presidential race in heavily black counties, but just 55%-60% in rural white counties. Black voters punching above their weight tonight & giving Jones a chance. #ALSEN

— Dave Wasserman (@Redistrict) December 13, 2017
10:20 PM:
With 85% of precincts in, the write-in total (1.5%) is bigger than the difference between Moore and Jones (.4%).

— Gabriel Debenedetti (@gdebenedetti) December 13, 2017
10:05 PM:
Reminder: Automatic recount triggered at half-percent margin

— Kim Chandler (@StatehouseKim) December 13, 2017
9:37 PM:
ALABAMA SENATE (52% in): Moore 52% in counties where he got 52% in 2012 (running even with 2012).

— John Couvillon (@WinWithJMC) December 13, 2017
9:25 PM: Moore arrives at election night HQ:
Am told Roy Moore has arrived to the site of his campaign's watch party here in Montgomery.

— Vaughn Hillyard (@VaughnHillyard) December 13, 2017
Moore doing better than we expected in his base, and Jones doing better than we expected in his base. What else is new: it's a base election. #ALSEN

— Dave Wasserman (@Redistrict) December 13, 2017
9:20: Potential turnout problem for Moore if the NYT model's estimates are correct.
Folks, our model thinks that the GOP may have a big turnout problem.
The three, white, GOP counties have fallen far short of our turnout estimates–including two under 75% of our estimates.
That's what the big swing in our estimate is about.

— Nate Cohn (@Nate_Cohn) December 13, 2017
9:10 PM:
Whatever the outcome in Alabama tonight, I'm guessing residents there will gladly wave goodbye to lots of Acela corridor journalists…

— Steve Cortes (@CortesSteve) December 13, 2017
9:00 PM: Moore has a slight early lead.
8:35 PM: Breitbart News Tonight getting ready for a special 'Bama edition tonight!
https://twitter.com/AmandaLeeHouse/status/940754481263923200
8:30 PM: Bannon to speak at Roy Moore rally:
Bannon to speak at Moore's election night rally https://t.co/18reXKbYlq

— NBC Politics (@NBCPolitics) December 13, 2017
LATE DECIDERS FOR MOORE:
"Late deciders" in Alabama Senate race are "about 10 percent of the electorate right now," @SalvantoCBS reports; late deciders are "breaking towards Moore," according to new exit polling https://t.co/JhJTKxZ7LB pic.twitter.com/sfEziGjKo0

— CBS News (@CBSNews) December 13, 2017
8:20 PM:
Vote by race (Alabama exit):

White
Moore 70%
Jones 27%

Black
Jones 95%
Moore 5%

— Steve Kornacki (@SteveKornacki) December 13, 2017
White voters (AL exit)
White men w/ college degree 64-32% Moore
White men no college degree: 81-16% Moore

White women w/ college degree: 54-43% Moore
White women no college degree: 74-24% Moore

— Steve Kornacki (@SteveKornacki) December 13, 2017
Overall, Moore is up with white college grads 59-37%. JONES wanted this gap closer

— Steve Kornacki (@SteveKornacki) December 13, 2017
8:15 PM: Did Republicans who did not want to vote for Moore instead vote for Nick Saban to join his childhood friend from West Virginia, Joe Manchin, in the Senate? Miss Terry would would probably veto that, though, like she did when Saban wanted to coach the New York Giants.
"The numbers just generally are not there for Doug Jones," @stevechaggaris says of past Alabama voting tendencies. "The question is, can he get enough people — enough Republicans — to cross over and vote for him?" https://t.co/JhJTKxZ7LB pic.twitter.com/CbIkOkPxQT

— CBS News (@CBSNews) December 13, 2017
8:00 PM: Polls are closed.
https://twitter.com/amandaleehouse/status/940749476066668544
7:55 PM: Breitbart News cameras at Roy Moore's election night event.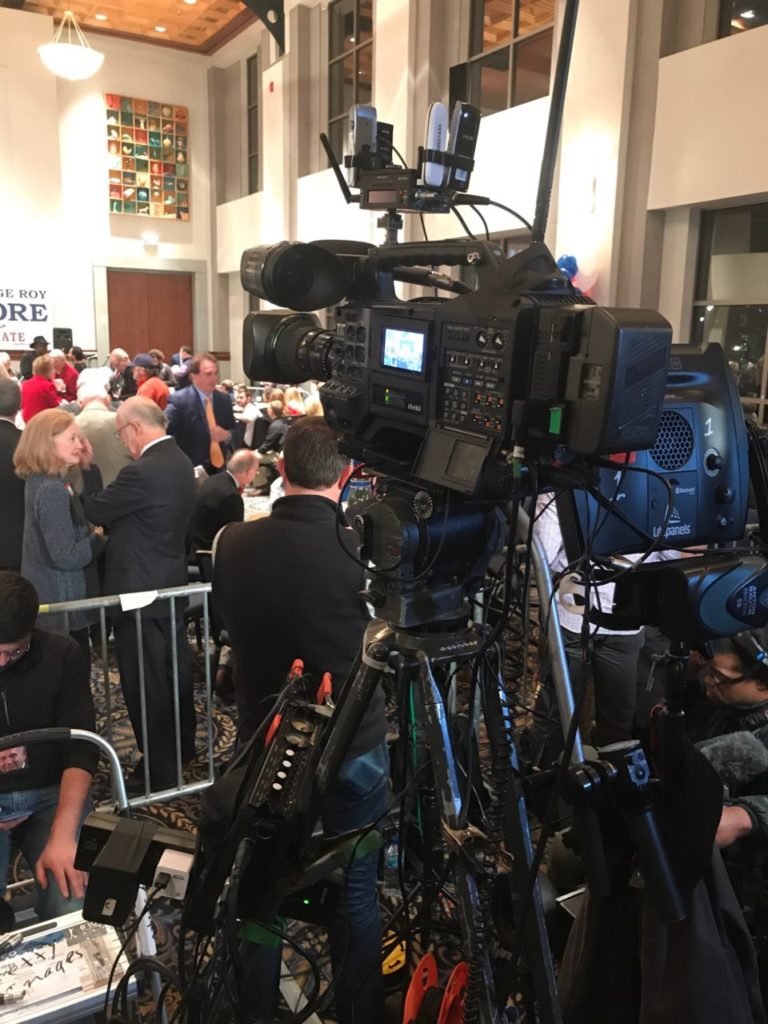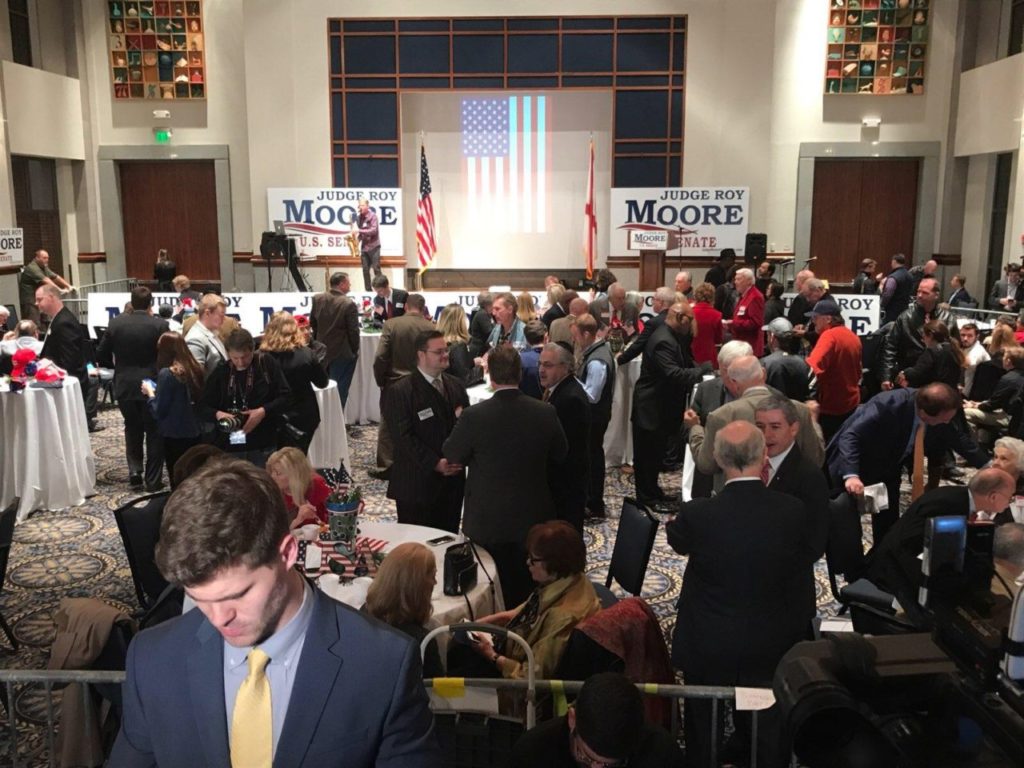 (Photo Credit: Luke Livingston)
7:40 PM: Clinton campaign's Robby Mook says exit polls have "broken many hearts in the past."
Exit polls are fun, but my advice is to just wait an hour for actual results. They have broken many hearts in the past. Make some last minute GOTV phone calls instead.

— Robby Mook (@RobbyMook) December 13, 2017
CNN EXIT POLL: Today's electorate in Alabama was 65% white, 30% black, 2% Latino. There aren't exit polls from 2016 but the 2012 presidential electorate was 68% white, 28% black, 2% Latino. Usually off-year elections and special elections have less diverse electorates, not more.

— Marshall Cohen (@MarshallCohen) December 12, 2017
Exit polls overweight Democrats for the same reason phone polls do. Republicans avoid the nosy intrusive pollsters and Democrats seek them out. Seems Republicans have places to be after voting.

— Bill Mitchell (@mitchellvii) December 12, 2017
7:10 PM: Senate Republicans have scheduled a Wednesday morning meeting to discuss what to do next if Moore wins tonight.
Senate Republicans will meet tomorrow morning to discuss next steps if Roy Moore wins tonight, multiple sources tell @LACaldwellDC and me.

Will need to discuss:
1) Ethics Investigation
2) Whether to include him in GOP policy discussions
3) Whether to seat him on cmtes

— Frank Thorp V (@frankthorp) December 12, 2017
7:05 PM: Exit Polls Should Be Taken with Grain of Salt.
Edison Research exit pollster stationed outside Ozark, AL precinct. Most people are declining his requests.

He says city of Ozark tried to prevent him from him setting up outside precinct #alpolitics pic.twitter.com/GwoVA6vMZ2

— Jeff Poor (@jeff_poor) December 12, 2017
Exit polls often overstate turnout among black voters, college-educated voters, and other groups who generally vote Democratic.

(That was a big problem in 2016.)https://t.co/ubUOBpzs94

— FiveThirtyEight (@FiveThirtyEight) December 13, 2017
Some early exit polls are out, and they have found that Trump's approval rating at 48%.
Trump's approval in the early AL exit poll is striking: 48% approve, 48% disapprove.

But what's *especially* striking is intensity — in Alabama:
Strongly approve 32%
Strongly disapprove: 41%

— Mark Murray (@mmurraypolitics) December 12, 2017
remarkable that both @NBCNews & @CNN's exit polls have Trump's approval at 48/48 in Alabama.

he won Alabama by 28 points a year ago.

— Jesse Lehrich (@JesseLehrich) December 12, 2017
A majority believe that abortion–the issue that could well decide the election–should be illegal in most cases.
The abortion question out of Alabama today—>
Per NBC News Early Exit Polling:
Voters say abortion should be…
Illegal in all cases: 26%
Illegal in most cases: 28%
Legal in most cases: 27%
Legal in all cases: 13%

— Vaughn Hillyard (@VaughnHillyard) December 12, 2017
NBC News reports that 60 percent of voters made up their minds before November. The sexual misconduct allegations against Moore surfaced on November 9.
Initial exit polls show 60% of Alabama voters made up their mind about Senate race *before November* i.e. before Washington Post story about Roy Moore alleged sexual misconduct broke pic.twitter.com/foX3GmCLcZ

— TheBeat w/Ari Melber (@TheBeatWithAri) December 12, 2017
According to CNN's exit polling, "four in 10 voters say the allegations were an important factor in their vote, while a majority says they were not an important factor. Still, fewer than 1 in 10 said the allegations were the most important factor in their vote on Tuesday. One in 3 voters said the allegations weren't a factor at all. Almost 9 in 10 supporters of Jones say they believe the allegations against Moore are true, while 9 in 10 Moore voters say they are false."
7:03 PM: Jones outspent Moore six-to-one on television.
7:01 PM: Moore rides horse to polling booth, posts Trump robocall:
https://twitter.com/MooreSenate/status/940701324840263680
Alabama GOP candidate Roy Moore rides in on horseback to vote in #ALSen special election. https://t.co/DYWbTatXFQ pic.twitter.com/NMse0DsWjZ

— ABC News Politics (@ABCPolitics) December 12, 2017
7:00 PM: Moore campaign bans the Washington Post.
Fox News has confirmed that the Washington Post has been denied entry into tonight's @MooreSenate election night watch party in Montgomery AL. Hannah Ford, spokesperson for the campaign says the Post was also asked to leave the event last night in Midland City AL. #ALSen

— Pat Ward (@WardDPatrick) December 12, 2017