An overwhelming majority of the roughly 1,200 conservatives who were polled during the Conservative Political Action Conference (CPAC) said they support reducing legal immigration levels in exchange for a small enforcement amnesty.
In a detailed questionnaire on immigration, CPAC attendees were asked if they supported a plan to end the process known as "chain migration," end the Diversity Visa Lottery program, construct a border wall along the U.S.-Mexico border, and end the program known as "Catch-and-Release" – in exchange for allowing only the 800,000 illegal aliens who are enrolled in the President Obama-created Deferred Action for Childhood Arrivals (DACA) program to remain in the United States.
About 75 percent of CPAC attendees said they supported the plan that gave immediate immigration relief to Americans, in exchange for the small DACA amnesty for only those illegal aliens who are enrolled in the program.
A minority, 21 percent of CPAC attendees, said they did not support the immigration deal.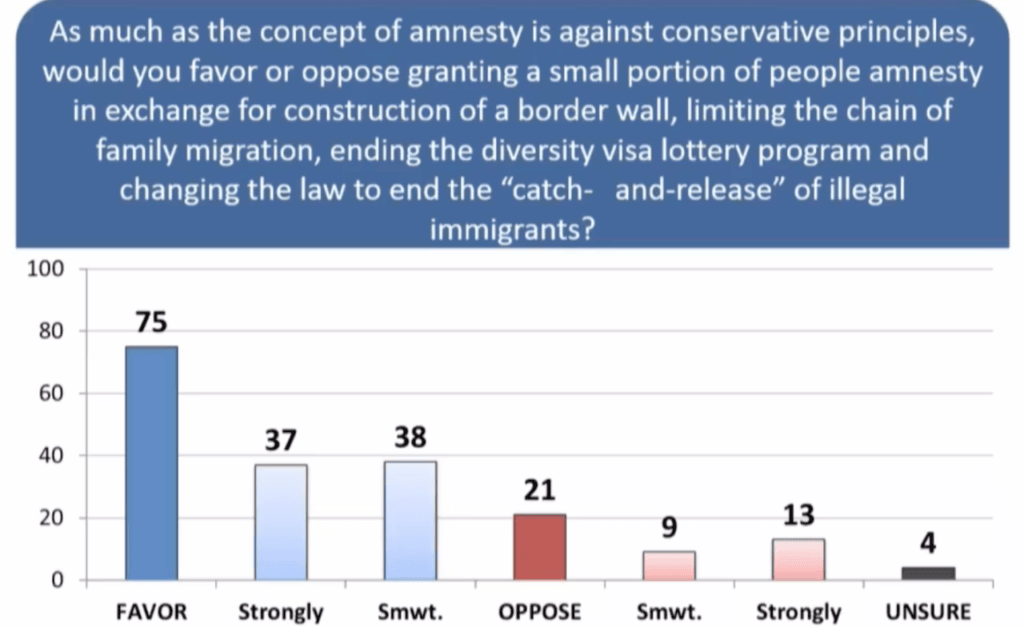 Under chain migration, newly naturalized citizens can bring an unlimited number of foreign relatives to the U.S., with more than nine million chain migrants arriving in the country since 2005.
Likewise, the Visa Lottery randomly doles out 50,000 visas annually to foreign nationals from a multitude of countries. The countries include those with terrorist problems, including Afghanistan, Algeria, Egypt, Iraq, Lebanon, Libya, Nigeria, Saudi Arabia, Somalia, Syria, Trinidad and Tobago, Venezuela, Yemen, and Uzbekistan.
As Breitbart News has reported, convicted and suspected terrorists have been able to use chain migration and the Visa Lottery to enter the U.S.
NYC Terror Suspect Came to U.S. as Foreign Relative of 'Visa Lottery' Immigrant https://t.co/Rq8OoN3K7H

— John Binder 👽 (@JxhnBinder) December 12, 2017
Additionally, the Obama "Catch-and-Release" program has continued through President Trump's administration, whereby illegal aliens are released into the interior of the U.S. while they wait for immigration hearings to which many never show up.
The poll reveals widespread support for reducing legal and illegal immigration to raise the wages and quality of life for America's working and middle class, who have suffered under decades of poor job growth, stagnant wages, and increased public costs to offset the importation of millions of low-skilled foreign nationals.
A Harvard-Harris poll last week showed similar, massive support for reducing legal immigration levels to the U.S. When Republican voters were asked what issues were the biggest priority for them, reducing immigration was the second biggest issue in their opinion, as Breitbart News reported.

This makes reducing immigration a bigger priority for Republican voters than repealing and replacing Obamacare, destroying ISIS, and passing an infrastructure bill. The only issue that outpaces reducing immigration levels as the biggest priority for Republican voters is stimulating American jobs, which is directly tied to immigration.
Trump has repeatedly called on the Republican-controlled Congress to end chain migration, the Visa Lottery, and to fully fund his proposed wall along the U.S.-Mexico border.
Trump's efforts to ramp up interior immigration enforcement — where in Fiscal Year 2017 deportations of illegal aliens living throughout the U.S. increased by nearly 40 percent — have been beneficial to America's working and middle class.
For example, the strict immigration enforcement thus far has secured historic wage increases for American workers in the construction industry, the garment industry, for workers employed at small businesses, and for black Americans.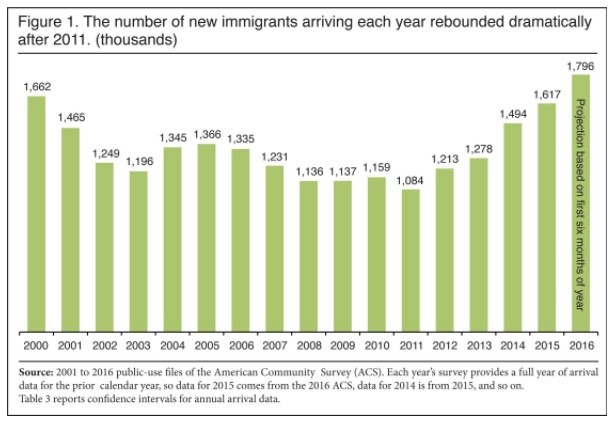 Every year, the U.S. admits more than 1.5 foreign nationals, with the vast majority deriving from chain migration. In 2016, the legal and illegal immigrant population reached a record high 44 million. By 2023, the Center for Immigration Studies estimates that the legal and illegal immigrant population of the U.S. will make up nearly 15 percent of the entire U.S. population.