New York's police department, politicians, and judges are helping the city's illegal immigrant workforce evade repatriation by U.S. Immigration and Customs Enforcement agency, according to an article in the New York Times.
The campaign, which protects the business groups' supply of cheap, illegal-immigrant labor, was described by the newspaper on February 27:
ICE issued 1,526 detainer requests to the New York Police Department in the 2017 fiscal year, up from 80 in 2016. The Police Department complied with none of them.
Amid the massive resistance, ICE officials have developed new tactics to get around the city's suppression of law enforcement, such as picking up illegals when they are required to go to courts, says the New York Times:
According to the Immigrant Defense Project, a nonprofit organization that is tracking arrests at city and state courthouses, 87 arrests were made in New York City courts in 2017, compared with six in 2016. So far, this year, there have been 13 courthouse arrests.
Those ICE tactics have got results. In July, ICE picked up 100 illegals, for example. Overall, ICE arrested 2,976 city arrests in 2017, up from 1,762 in 2016. The arrests included 899 people without criminal convictions on their record, up from only 250 people without criminal convictions on their record in 2016.
The city's upper-income residents and business groups are heavily dependent on the cheap labor supplied by a large percentage of the 500,000 illegal immigrants who live in the city. The city's "sanctuary city" practices protect this supply of cheap labor, so they also impose lower wages and more crime risks on Americans living in New York.
According to a  February 2017 report by the Washington Post:
"In major cities, you're talking about a restaurant workforce that is maybe 75 percent foreign-born, and maybe 30 to 40 percent undocumented," said Saru Jayaraman, a labor activist and the founder of the worker group Restaurant Opportunities Center United. "The restaurant industry in major cities would absolutely collapse without immigrants."
National Public Radio reported:
Tim Zagat, founder and CEO of the Zagat Survey, says that immigrant labor, legal and otherwise, is nothing short of vital to the inner workings of most New York City restaurants.

Mr. TIM ZAGAT (Founder and CEO, Zagat): I go into the backs of restaurants all the time. In most restaurants, and I'm talking about the better restaurants, there may be one European and everybody else is from South and Central America.
The huge labor force of illegals has successfully kept food-industry wages extremely low, according to 2017 state data, despite the high cost of living in the city: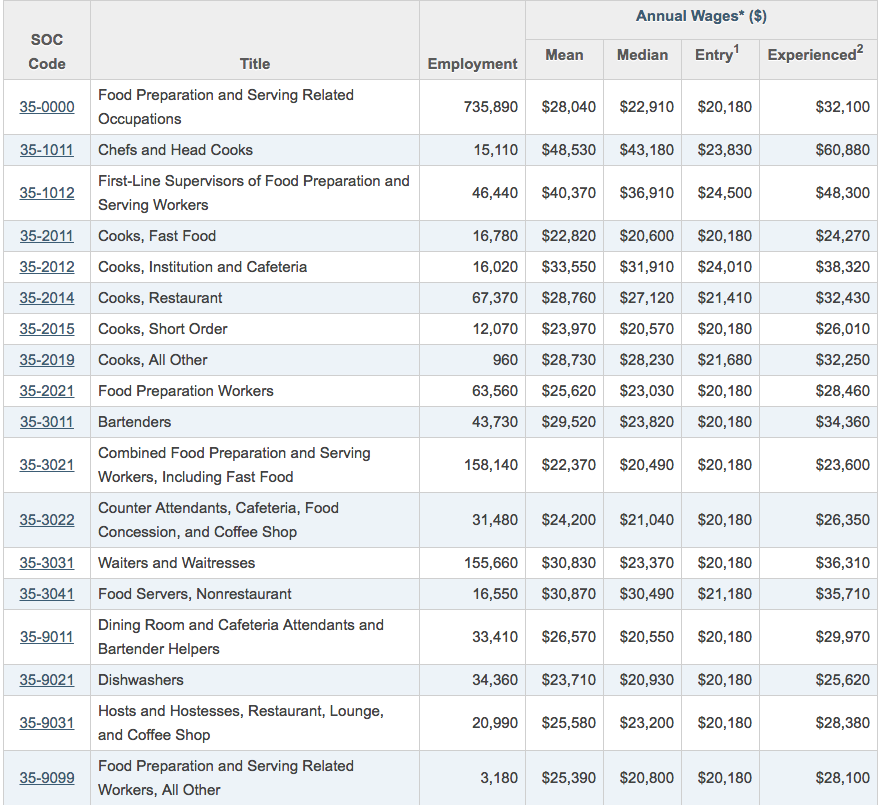 But, in common with other media sites, the New York Times' reporter, Liz Robbins, ignored the economic angle in the controversy and instead described the illegal workers as "residents … undocumented residents … people … [a] congregation … undocumented victims … a person … client … immigrants."
The New York Times provided one example of an illegal from the Ivory Coast who is now facing deportation, "Aboubacar Dembele, 27, … was surrounded by immigration agents moments after stepping out of a hearing in Bronx Criminal Court."
The New York Daily News provided readers with useful information about the illegal, whose first name likely refers to an Islamic hero, Abu Bakr:
Aboubacar Dembele, 27, was brought to the U.S. when he was 3 years old and had no prior criminal record, his wife, Zaquera Lanier said. He'd applied for "Dreamer" status under the Deferred Action for Childhood Arrival program, but was denied last year …

Dembele faced felony assault charges after he punched out another man's two front teeth on a city bus Dec. 15, according to a criminal complaint …

Dembele, who is in community college and works full-time as a barista …
As a barista, Aboubacar's estimated salary of $26,350 leaves him far below the city's 2015 poverty line of $31,813.
The taxpayers' cost of this illegal immigration is high, partly because of the very low wages. In 2009, New York city's support for illegal immigrants — including aid, education, housing — cost taxpayers roughly $9.5 billion, according to the Federation for American Immigration Reform.
In the cat-and-mouse game to protect the cheap workforce, New York judges and city officials are now trying to help illegal immigrant escape courthouse arrests, according to the New York Times:
ICE agents were in a Brooklyn courthouse to pick up a defendant. The judge postponed the case when the man's lawyer, Roger Asmar, told her that his client was afraid to appear.

[Brooklyn district attorney, Eric] Gonzalez has instructed prosecutors to bring lesser charges against immigrants accused of low-level offenses so as not to trigger deportations or affect their immigration applications, and the Manhattan district attorney, Cyrus R. Vance Jr., has declined to prosecute most people arrested for evading the fare on the subways …
Politicians are also using taxpayers' funds to hire lawyers for the illegals, the NYT says.
The city, which has provided a municipal ID card often used by undocumented residents, has also allocated $47.5 million for immigrant legal services this year.
In December, New York Governor Andrew Cuomo pardoned 18 illegals who faced immediate deportation. The state's Attorney General is also suing the federal government to keep the 'DACA' amnesty.
Read it all here.