The Department of Justice arrested an Indian CEO when he flew into Sea-Tac airport and charged him with using the H-1B visa-worker program to "compete unlawfully in the market."
The secret investigation and arrest highlight what critics say is endemic fraud and corruption in the Indian-dominated H-1B visa-worker program.
"The criminal complaint describes how two companies incorporated by [CEO Pradyumna Kumar Samal]  in 2010 and 2011, engaged in a scheme sometimes referred to as a 'bench-and-switch' scheme, to exploit foreign-national workers, compete unlawfully in the market, and defraud the U.S. government," said the statement from the Department of Justice.
The CEO, Pradyumna Kumar Samal, allegedly lied to federal agencies when he said the visa-workers were imported for existing contracts, and he allegedly effectively forced his Indian employees to work for less than the promised wage-levels, said the statement:
Nearly 200 workers may have been brought in under the phony applications.  The employees were forced to pay SAMAL's companies a partially-refundable "security deposit" of as much as $5,000 for the visa filings, regardless of whether they were assigned to any projects that provided them with income.
Since 2014, Samal's two companies have asked for roughly 700 H-1B visas and six green cards, according to MyVisaJobs.com. The 700 requests are likely to have gotten 200 visas for foreign workers who can be subcontracted at very low rates out to other technology firms in the Seattle area.
One of the companies, Divensi, says it has worked with Amazon, Alaska Airlines, Microsoft, Physicians Interactive, Tesla, Nordstrom and the University of Washington.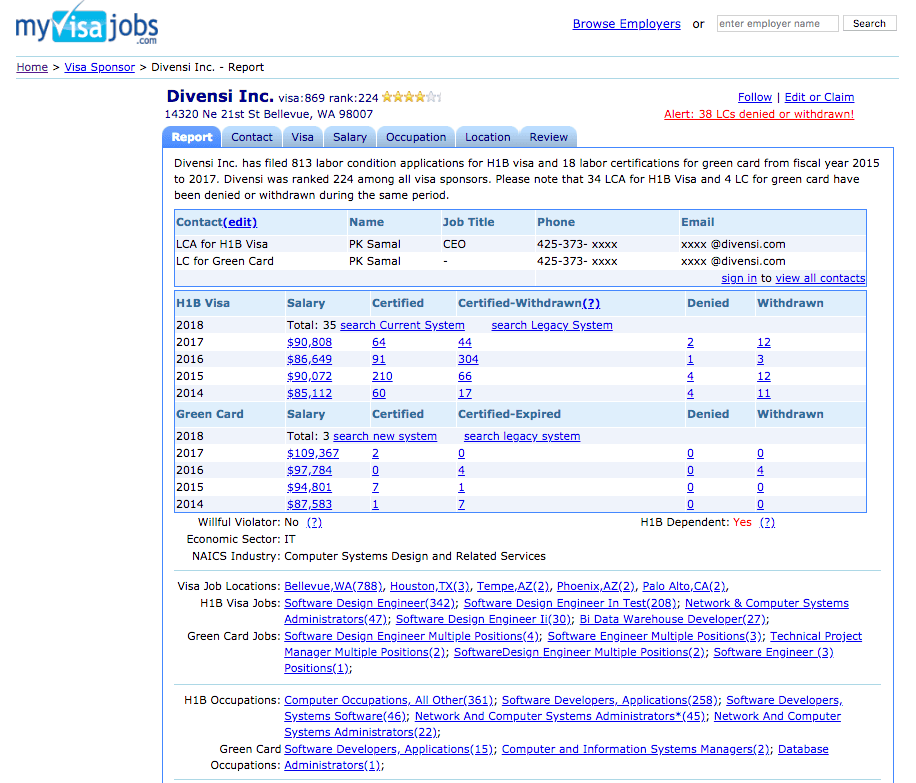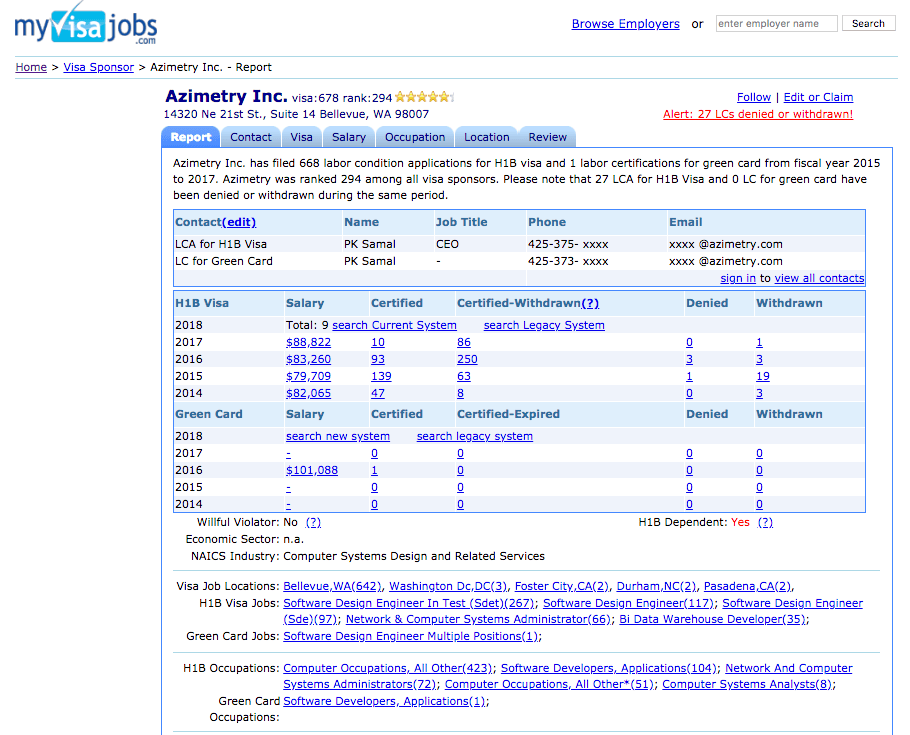 The H-1B visa program was created to allow companies to import temporary workers until Americans could be trained for the jobs. But lobbyists persuaded Congress to gradually convert the program into an outsourcing program that imports roughly 100,000 low-wage foreign college-graduates per year.  The estimated number of H-1B workers in the United States ranges from 450,000 up to 900,000, partly because many H-1B workers will extend their work visas — even when they are working for lower wages — because they hope to get the huge bonus of green cards.
The number of former H-1B workers who now have green cards or citizenship is also very large, and it includes the current CEOs of Google and Microsoft.
The cheap-labor program is widely used and strongly defended by many companies, including Amazon and Microsoft, by many universities and hospitals, and by investors'  lobby groups, such as FWD.us. These CEOs and investors can use the visa programs to spike their stock prices by outsourcing the jobs held by many mid-career Americans to the Indian companies, which then use their U.S.-based visa-workers to outsource the work to even cheaper workers living in India.
Many GOP and some Democratic legislators support this double-outsourcing program, including Kansas GOP Rep. Kevin Yoder. He is pushing his HR 392 legislation into the 2019 spending bill that would put roughly 400,000 Indian and Chinese H-1B visa-workers — plus their families and relatives — on a fast-track to green-cards. If passed, the Yoder legislation would further increase the supply of white-collar workers competing for jobs in the United States.
The various visa programs, including H-1B, OPT, H4 EAD, L-1, TN, and J-1 programs, keep a population of roughly 1.5 million foreign graduates employed in the United States as managers, recruiters, scientists, programmers, engineers, doctors, accountants, therapists, and designers. These huge labor programs help to lower salaries for many American college graduates and to push many skilled American workers into new, low-tech, lower-wage careers, such as journalism.
The visa-worker programs allow the Indian-born CEOs in the U.S. to transfer many Indian tech-workers to the United States for subcontracting jobs, including many contracts that the companies hope to win during the next year. But the H-1B rules bar this "bench and switch" practice and require companies to justify each new request for a visa against an existing job.
Nonetheless, many Indian and U.S. companies import H-1B workers and use their very low salaries to win a variety of contracts that would otherwise have gone to American consultants.
The Seattle Times cited the federal indictment's description of Samal's alleged violation of those visa rules:
Samal appeared to get pushback from a client after the U.S. Citizenship and Immigration Services (USCIS), part of the Department of Homeland Security, started investigating Samal. The CEO of a client company used in the [H-1B visa] application letters emailed Samal after USCIS contacted him, according to the case.

"I received this email from the Visa office asking if I signed this," the email from a CEO, identified in court documents as V.K., reads. "I did not. I don't even know who this resource is. This is concerning? Pls advise on how this happened?"
Sarah Blackwell, the founder of a pro-American group, Protect US Workers, Tweeted:
"Bench and switch" – It has a phrase it is so common. We need more policing. https://t.co/xSUAb1f9mz

— Sara Blackwell (@4US_Workers) August 30, 2018
The American critics of the visa-worker programs are trying to block Yoder's HR 392 fast-track legislation, partly by arguing that it will allow Indians managers to discriminate against Americans, and so push more Americans away from technology careers. The American groups include Protect US Workers and U.S. Tech Workers.
Much of the criticism is aimed at Indian firms which receive a huge slice of the H-1B visas each year. For example, QZ.com reported in June about a discrimination lawsuit:
A former senior executive at Infosys [Technologies Ltd.] has accused Indian software major Infosys of a racist bias that favors Indian techies over others.

Erin Green, who worked at Infosys's Texas office from October 2011 to July 2016, has alleged that his former employer tilted the scales too far towards Indians in its 200,000-strong workforce in the US. In a lawsuit filed (paywall) with the district court in eastern Texas on June 19, Green cites the lack of diversity at the firm as proof of discrimination …

Since then, the lawsuit claims, "…Plaintiff (Green) was not promoted, and no white or black employees on Plaintiff's teams were ever promoted, progressed, or given salary increases." Only the careers of south Asians progressed. Binod Hampapur, whom Nayak reported to, is also called out in the complaint for not curbing the discrimination.
Infosys is the largest user of the H-1B program, and paid a small fine for discrimination in 2013: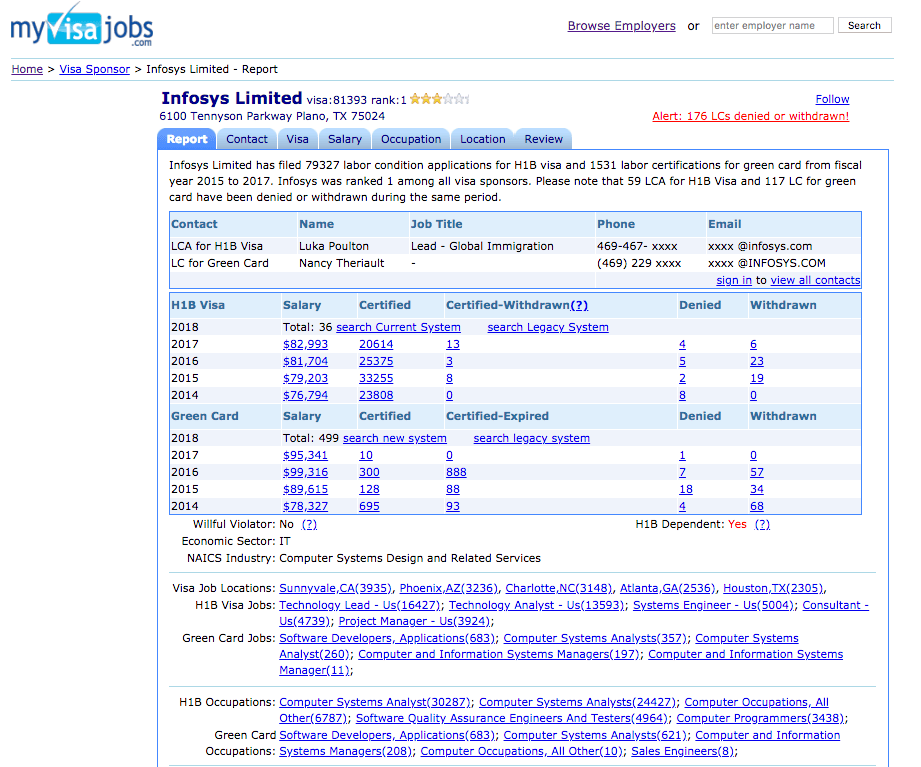 A U.S. government cable released via Wikileaks said that:
H-1B fraud is one of the top two visa categories for fraud throughout Mission India. All posts regularly encounter inflated or fabricated educational and employment qualifications. The vast majority of these documents come from Hyderabad. In the 18 months prior to the start-up of consular operations in Hyderabad, FPU Chennai investigated 150 companies in Hyderabad, 77 percent of which turned out to be fraudulent or highly suspect (ref F). Most of those cases slated for site visits were to verify the experience letters for H-1B applicants who did not meet minimum educational qualifications.
Some Indian business leaders admit problems. For example, Infosys' co-founder, N.R. Narayana Murthy, said in February 2017 that Indian managers need to learn skills from American graduates:
I think by and large, the Indian mindset is always to take the soft option. … Our managers will have to learn with non-Indian professionals … how to make sure that we understand the rules of crossing cultures. So therefore I think this is a learning opportunity for our senior people. This is not an easy option, it is s very tough option, but the earlier we start, the better it is for us.
But U.S. firms are also facing charges of anti-American discrimination. Bloomberg reported this month that Cisco Systems is being investigated by the Department of Labor for using the H-1B visa program to enable discrimination against Americans
The DOL's Office of Federal Contract Compliance Programs determined that the technology firm secured visas for foreign workers instead of hiring U.S. citizens for certain jobs and paid the visa holders at a lower rate than their American counterparts, according to the sources. The federal contractor watchdog, which uncovered the alleged discrimination as part of a routine audit, is currently discussing the settlement of a violation notice issued to Cisco earlier this year …

The probe is one of several ongoing investigations into possible discrimination by federal contractors against visa holders. The OFCCP considers that a form of national origin bias, banned by an executive order first issued in 1965 by President Lyndon Johnson …
American workers are also using Twitter to share evidence of Indian cheating and resume-padding. For example one video shows an Indian in a video job-interview mouthing the answers provided by a hired coach:
Many ads are posted on Indian websites offering people to coach job-seekers during job interviews.
Fresh proxy interview postings. Apparently there are separate forums for providers and receivers. 100's of such posting a day folks! pic.twitter.com/ro9V2J99YS

— American_desi – blocked by IV & leon fresco (@America_Desi) August 13, 2018
More proxy requests! pic.twitter.com/iOEMBYhu7r

— American_desi – blocked by IV & leon fresco (@America_Desi) August 27, 2018
Critics and news outlets have frequently reported widespread resume fraud and legal gaming of the federal rules used to allocate work visas and green cards.
Contact the author here.