President Donald Trump cheered the rising wages being delivered to Americans by his combination of a high-pressure economy and his "Hire American!" policy.
He Tweeted Friday morning:
Wow! The U.S. added 250,000 Jobs in October … Unemployment at 3.7%. Wages UP! These are incredible numbers. Keep it going, Vote Republican!
The good news came in the scheduled agency report about the October economy. Breitbart News reported:
Wage growth, long considered the 'missing ingredient' to the economic expansion, has finally returned. Average hourly earnings climbed by five cents an hour for the month, or 83 cents year-over-year. That represents a 3.1 percent gain, the first time wages have grown more than 3 percent year-over-year.
Wow! The U.S. added 250,000 Jobs in October – and this was despite the hurricanes. Unemployment at 3.7%. Wages UP! These are incredible numbers. Keep it going, Vote Republican!

— Donald J. Trump (@realDonaldTrump) November 2, 2018
The Friday data echoed good news in an earlier Nov. 1 report about the economy's performance in the summer months. Breitbart News reported:
Wage hikes are accelerating. Hourly compensation rose at a 3.5 percent rate the July through September period, up from the 1.9 percent pace in the spring.
Productivity also showed sustained growth in the summer months. That is important because rising productivity produces the rising wealth which is divided among employees and investors:
Productivity climbed at a 2.2 percent annual pace in the three months from July to September, a government report released Thursday showed.  That was in line with economists' expectations. Productivity was revised up a notch to a 3 percent annual rate for the second quarter.
The 2018 wage-raises are putting Trump in an excellent position to win the 2020 election while his immigration policies are hindering the arrival of cheaper illegal-workers and also of legal visa-workers. Trump's curbs on the labor supply are forcing CEOs to compete for workers by offering higher wages.
A new report by economist Michael Strain, an economist at the corporate-friendly American Enterprise Institute, showed the highest pay gains among the people hit hardest by illegal immigration under President George W. Bush and Barack Obama: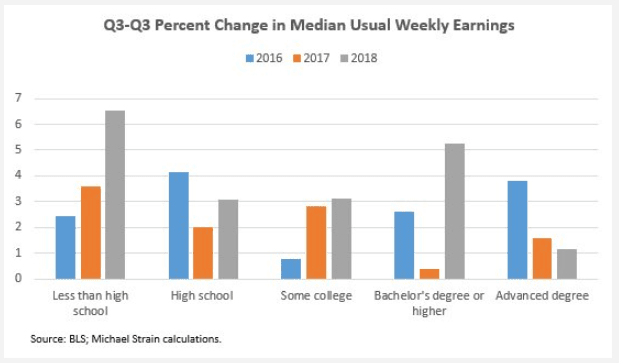 American college-grads have also gained, partly because Trump's deputies have blocked business demand for more white-collar visa workers. That trend may help Trump rebuild support among college-graduate voters, but investor demand for cheaper college-grads is growing more strident.
For example, the 2019 budget bill for the Department of Homeland Security includes several measures to dramatically expand visa-worker programs, includes a "country caps" measure that would allow U.S. companies to outsource more Americans' jobs to Indian graduate visa-workers. The H.R. 392 bill is backed by GOP Rep. Kevin Yoder, who is lagging in his race against a far-left Democratic candidate.
Nationwide, more than 1.5 million white-collar jobs are held by foreign college-graduates because of the various H-1B, L-1 and OPT visa-programs established by Bush, Obama, and Congress. That huge foreign workforce pushes down possible salary gains for American college graduates and postgraduates.
Establishment media outlets increasingly recognize that Trump's high-pressure/low-migration economy is forcing up wages. The Washington Post admitted Oct. 31:
U.S. workers are seeing the largest nominal wage increase in a decade, the Labor Department reported Wednesday, as companies compete harder for employees than they did in recent years.

…

"Wages are grinding higher as the labor market continues to tighten," said Justin Weidner, an economist at Deutsche Bank. "Wage growth is likely to be over 3 percent again soon."
A Washington Post report said Nov. 2:
the typical worker's earnings rose by 3.1 percent over the year that ended in October, the biggest leap since 2009.

"This is the best labor environment in over a decade," said Joseph Brusuelas, chief economist at RSM US, an international consulting firm.

…

"Average wages are finally starting to pick up, especially for some lower-skilled positions," Chamberlain said. "Maintenance workers, bank tellers, cashiers, cooks — employers are running out of workers for many of these roles."
The New York Times noted:
The number of adults not in the labor force at all fell by 487,000.

And employers evidently needed to pay higher wages to coax these workers off the sidelines. Long the soft underbelly of this expansion, average hourly earnings are now up 3.1 percent over the last year, from 2.8 percent in the previous reading.

Put it together, and this is the best time for the American labor market in at least 18 years and maybe closer to 50 — though it would be nice to see sustained wage growth substantially higher than inflation, not just in a single month, before making any comparisons to the boom of the late 1960s.
The shortage of workers is also helping sidelined Americans get back into the job market, the New York Times said:
The proportion of prime-working-age adults — those between 25 and 54 — who were working in October soared to 79.7 percent, up from 79.3 percent in September and easily the highest of this expansion.
The rising wages are boosting Trump's political support. The New York Times reported one anecdote from Ohio:
A short walk away, [union organizer Russ] Brode approached Michael Birch, 39, perched on a roof grinding sandstone for a chimney repair. Was he interested in hearing about some fine folks running for office?

"Are they Republicans?" asked Mr. Birch, a union bricklayer. No? Then he was not interested.

Mr. Brode turned to leave, brushing past a truck with a sticker on the back window: "Making America great again," it read, "one brick at a time."
The other side of Trump's high-pressure/low-migration economy is a reduction of the wealth gaps are investors are forced to share their profits with empowered employees. CNBC reported Oct. 16 that:
Larry Fink, CEO of BlackRock Inc. (BLK – Get Report) , the world's largest money manager, pointed to the trend in an Oct. 16 interview with CNBC.

"Companies are having margin pressures because of rising wages, which may be a good thing for the overall economy, but not as good for corporate profitability," Fink told the network.
That is a big shift from Obama's tenure. Obama's decision to spike immigration shifted many billions of dollars from voters' pockets over to Wall Street. His easy-migration policies pushed legal and illegal immigration to a record level of 1.75 million in 2016 by accepting one migrant for every two young Americans who entered the workforce in 2016. The huge inflow matched the record set in 1999 when Bill Clinton was president.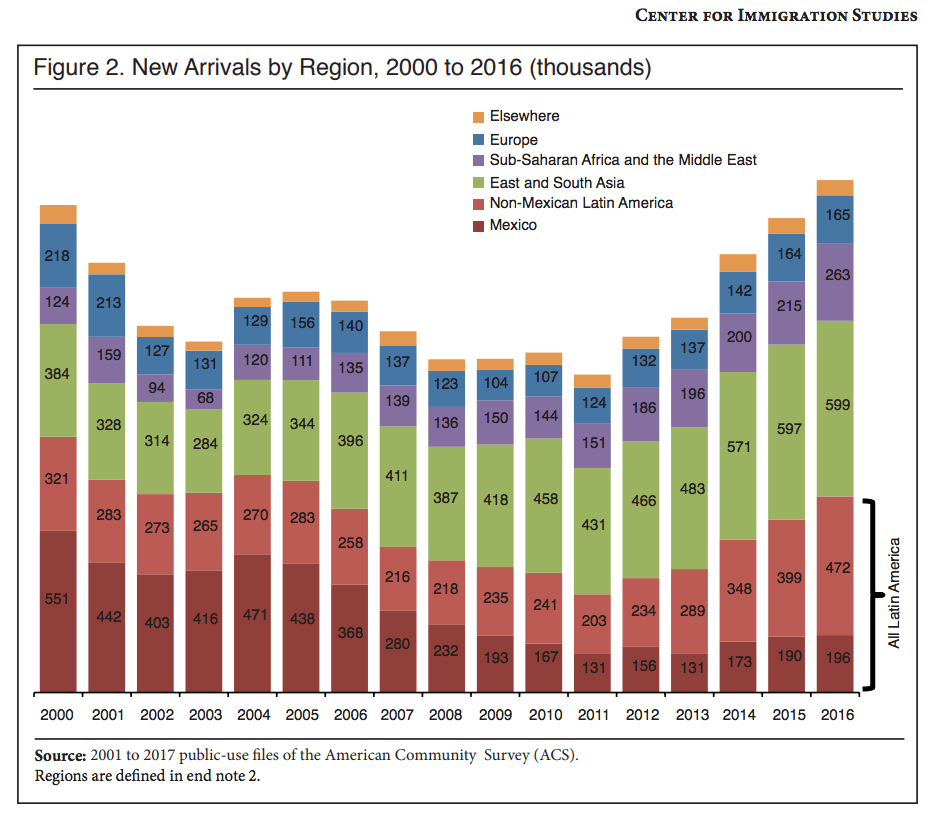 Obama's wave of legal immigrants, illegal migrants, and visa workers rose from 1.1 million in 2009 to 1.75 million in 2017. In the same year, roughly four million Americans turned 18 and joined the workforce. The four million Americans included the children of immigrants as well as the children of illegal migrants.
Washington's economic policy of using migration to boost economic growth shifts wealth from young people towards older people by flooding the market with cheap white-collar and blue-collar foreign labor. That flood of outside labor spikes profits and Wall Street values by cutting salaries for manual and skilled labor offered by blue-collar and white-collar employees.
The policy also drives up real estate prices, widens wealth-gaps, reduces high-tech investment, increases state and local tax burdens, hurts kids' schools and college education, pushes Americans away from high-tech careers, and sidelines at least five million marginalized Americans and their families, including many who are now struggling with opioid addictions.
Immigration also pulls investment and wealth away from heartland states because coastal investors can more easily hire and supervise the large immigrant populations living in the coastal states.