As the nation bids farewell to President George H.W. Bush, the one-term president's immigration legacy can most be remembered for its significance in forever changing the workforce and demographics of the United States.
In 1990, then-President Bush signed into law one of the country's most expansive immigration policies, the Immigration Act of 1990, which created the series of employment-based visas that allows businesses to readily import cheaper foreign workers rather than hire American citizens.
The legislation was introduced by the late Sen. Ted Kennedy (D-MA) the year before, and although the Immigration and Naturalization Act of 1965 is often blamed for creating the ongoing mass illegal and legal immigration inflow into the U.S., it is Bush's Immigration Act of 1990 that "ushered in [the] cheap labor era," as columnist Joe Guzzardi notes.
Bush's pro-business legislation has imported more than three million temporary visa workers, and added more than 15 million legal immigrants to the U.S. population.
This high-immigraiton policy has helped flatten wages for working and middle-class Americans, slowed investment in labor-saving machinery, and has given Democrats enourmous confidence that shifts in the country's demographics will soon give progressives a political lock on the federal government that will leave Bush's Republican Party powerless.
Creating the Cheap Foreign Labor Economy
The Bush immigration law created and expanded the H-1B visa, used to import white-collar foreign workers; the H-2A visa, used to import cheaper foreign farm workers; and the H-2B visa, used to import blue-collar nonagricultural foreign workers. All three visa programs have been responsible for the displacement and wage stagnation of millions of American workers.
With the H-1B visa, more than 100,000 foreign workers are brought to the U.S. every year to take high-paying, white-collar jobs — often in the tech industry — allowing business to replace American citizens with the cheaper pool of foreigners, almost entirely from India. In the last decade, alone, more than 2.6 million H-1B foreign workers have been approved to take U.S. jobs from American college-graduates for six years or more.
Similarly, the H-2B and H-2A visa programs have allowed businesses to cut many of America's blue-collar workers out of the workforce entirely and instead rely on the importation of cheaper foreign labor.
The H-2B visa, whereby businesses can import 66,000 nonagricultural foreign workers every season, has been used to cut down the wages of America's working class. In eight of the ten occupations where H-2B foreign workers are brought to the U.S., businesses offered lower wages to foreigners.
Likewise, research from the Economic Policy Institute has long revealed how wages in the top 15 H-2B jobs in the U.S. have been stagnant or slightly decreased over the last decade.
Increasing Legal Immigration
The Immigration Act of 1990 is also responsible for increasing the inflow of legal immigrants from Central America, South America, and Mexico to the U.S.
Between 1965 and 1990, the average annual number of legal immigrants admitted every year was about 530,000. Since Bush's signing of the 1990 immigration law, the average annual number of legal immigrants admitted every year is a staggering one million plus.
Bush's immigration law increased legal immigration levels to 700,000 visas every year until 1994 and 675,000 every year after.
The current form of "chain migration" — whereby newly naturalized citizens can bring an unlimited number of foreign relatives to the U.S. — was created by Bush's immigration law. Since 2008, thanks to Bush's expansion of chain migration, nearly eight million legal immigrants have been imported to the U.S. through chain migration. More than ten million legal immigrants overall have been resettled in the country in the last decade.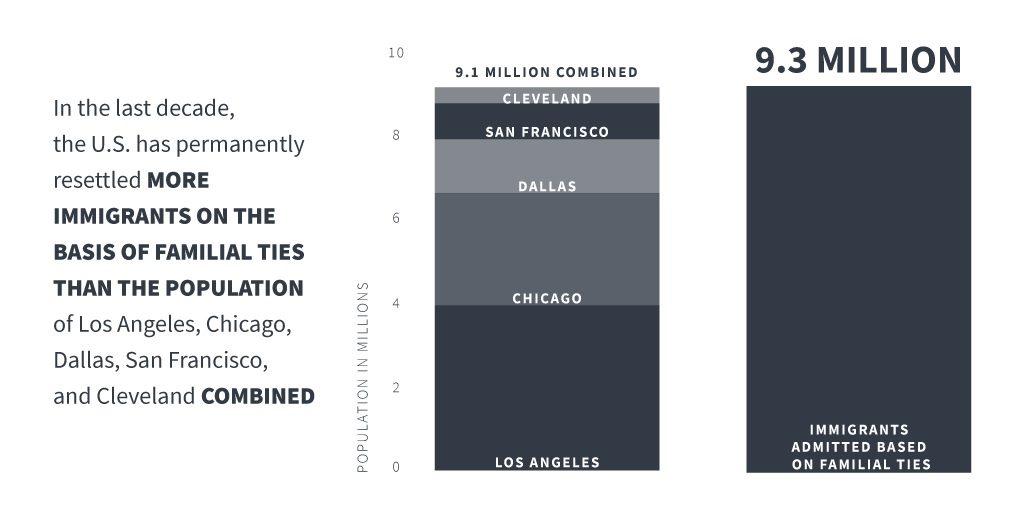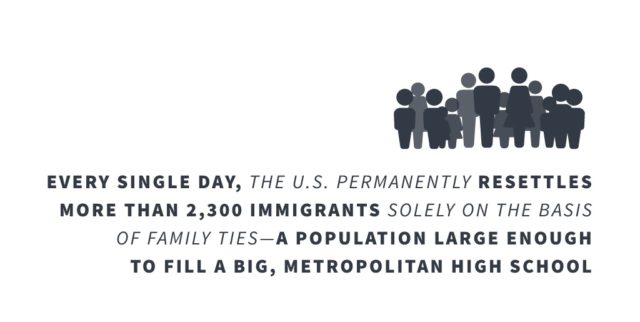 Since 2005, chain migration has allowed 120,000 foreign nationals from terrorist-funding countries to permanently resettle in the U.S. for no other reason than the fact that they have relatives living in the country. In fact, five years of chain migration adds more residents to the U.S. than the annual number of American babies born every year.
Bush's increasing of legal immigration to the U.S. is expected to change the American electorate forever. In the next two decades, should legal immigration levels go unreduced, there will be an additional 15 million foreign-born voters living in the country. About eight million of those foreign-born voters will be in the U.S. from chain migration. This is double the number of annual American births.
The nation's booming foreign-born population — which has now reached 44.5 million — is likely to hand over electoral dominance to Democrats, as analysis and researchers have shown.
Implementing the Diversity Visa Lottery
Another outcome of Bush's signing into law the Immigration Act of 1990 is the creation of the Diversity Visa Lottery, whereby the U.S. randomly gives out about 55,000 visas every year to foreign nationals from a multitude of countries.
Those countries include regions of the world with known terrorism problems – such as Afghanistan, Algeria, Egypt, Iraq, Lebanon, Libya, Nigeria, Saudi Arabia, Somalia, Trinidad and Tobago, Venezuela, Yemen, and Uzbekistan. Visa Lottery winners have undergone only minor screening from immigration officials, even when their ideology is hostile to American laws and culture.
Bush and Kennedy intended to "diversify" the U.S. with the Visa Lottery program, though the random selection to import foreign nationals has led to a number of well-known terrorists being able to come to the country, legally.
The most recent case involves Uzbek national Sayfullo Saipov, who arrived in the U.S. in 2010 through the Visa Lottery. On October 31, 2017, Saipov was arrested after he allegedly used a truck to run down numerous Americans and tourists on a bike lane on the west side of Manhattan, killing eight individuals.
Since 2007, the Visa Lottery has brought in nearly 30,000 foreign nationals from foreign countries designated by the State Department as state-sponsors of terrorism. This includes nearly 21,000 Iranian nationals, 2,732 Sudanese nationals, and 812 Syrian nationals, all who entered on the Visa Lottery — not counting subsequent chain migration of additional unscreened people from those countries.
Over the last half-decade between 2012 and 2016, 72,794 foreign nationals have come to the U.S. on the Visa Lottery from countries that the Immigration and Customs Enforcement (ICE) agency has designated as terrorist sponsors.
In 2016 alone, more than 15,600 foreign nationals entered the U.S. from terrorist-sponsored countries designated by ICE. Those countries included Iran, Iraq, Saudi Arabia, Afghanistan, Somalia, Syria, Sudan, and Algeria.
Since 2005, more than half a million foreign nationals have come to the U.S. by randomly winning the Visa Lottery, bringing with them a chain migration of five million foreign nationals since 1994, according to researchers at the Center for Immigration Studies.
All three major immigration changes made by Bush — cheap labor programs, increasing chain migration, and creating the Visa Lottery — have yet to be ended nearly three decades later. And although there is a consensus among American voters to reduce immigration, end the Visa Lottery, and prioritize American workers for U.S. jobs over foreign workers, there is no legislative plan in the upcoming Congress to take any such action.