An African refugee-turned-New Hampshire state representative and Joe Biden supporter resigned after criticizing Tara Reade and casting doubt on her sexual assault claims against the Democrat frontrunner.
Former state Rep. Richard Komi (D-Manchester) posted, then deleted, the following Friday on Twitter: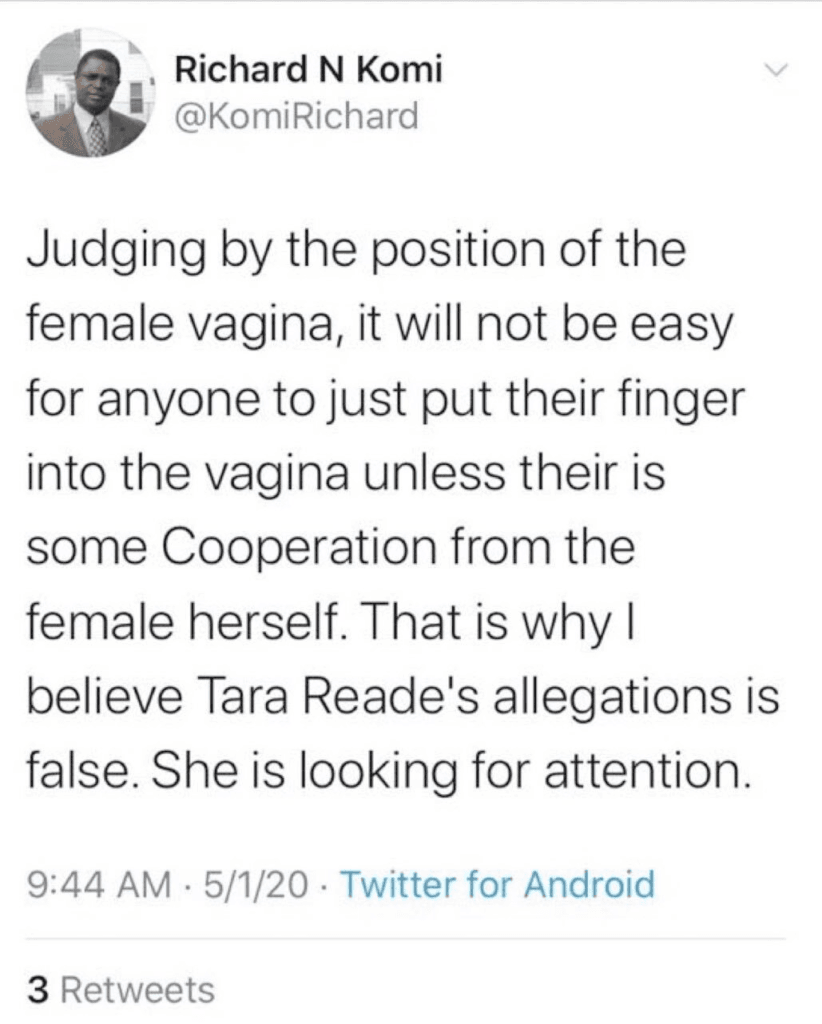 "Judging by the position of the female vagina, it will not be easy for anyone to just put their finger into the vagina unless their [sic] is some Cooperation [sic] from the female herself," Komi theorized.
"That is why I believe Tara Reade's allegations is [sic] false. She is looking for attention."
Komi posted numerous photos of himself with Biden and Biden's wife, Jill.
Komi, who was a Biden supporter during the primaries, was immediately hit with fierce backlash.
"Representative Komi's comment is wrong, inappropriate, and offensive to all Democrats, and does not reflect the values of our party," New Hampshire Democratic Party Chairman Ray Buckley said, Manchester Ink Link reported.
"I wish I had worded my words more appropriately. It was not intended to lessen the pain that sexual assault survivors face all their lives," Komi told Manchester Ink Link on Friday.
"I do not believe Joe (Biden) is the type of person who would do anything to hurt a woman," he added, seeming to mimic talking points circulated by Biden's campaign.
State House Speaker Steve Shurtleff (D-Merrimack) asked Komi to resign, the New Hampshire Union-Leader reported.
"I am appalled by Representative Komi's comments," Shurtleff said.
"They were dismissive and hurtful to survivors of sexual assault across the Granite State and across the country," he said. "The comments are not fitting for the New Hampshire House of Representatives and immediately upon learning of them I called him and asked Representative Komi to resign his seat."
Komi, the first refugee elected to state office, initially apologized for making the controversial comment.
"I regret the poor choice of words that I used," Komi told the Washington Examiner. "It kind of portrayed me as someone who doesn't care about women or the victims of sexual assault. That is not the case."
Not long after, Komi resigned his position.

Komi lives in New Hampshire because he was placed there as a refugee. The Concord Monitor reported in 2018:
A member of the Ogoni People, Komi fled political persecution in Nigeria after he was targeted by the government, which at the time was a military dictatorship that "visited tremendous violence against my people," he said. Komi spent time in a Benin refugee camp before he arrived in Manchester on Sept. 13, 1999.

When he first ran for office in 2008, he remembers that former president Barack Obama had just been elected and that New Hampshire's State House was controlled by the Democrats. The political climate, he says, was much more civil.
According to his Facebook page, Komi is married.
Kyle Olson is a reporter for Breitbart News. He is also the host of "The Kyle Olson Show," found on Michigan radio stations on weekends. Follow him on Twitter and like him on Facebook.