Mashantucket, Conn.– The UFC invaded the Foxwoods Resort Casino for a cable-TV card that eclipsed its recent pay-per views in star power. What the undercard prepping the casino's sold-out Grand Theatre for the likes of Alistair Overeem, Gergard Mousasi, and regional favorite Joe Lauzon lacked in big-name fighters, it made up for in big-time action.
Two weeks after submitting Tom Niinimaki, Chas Skelly found himself back in the octagon. The 12-1 Texan added another win to his resume by outgrappling Sean Soriano for three rounds to take a 30-27 sweep on the scorecards in the opening fight of the Foxwoods card. "I was looking for a first round submission," the featherweight affirmed. Taking the fight on short notice "was a no brainer," Skelly explained.  
Breitbart Sports scores the fight 30-27 Skelly
Tateki Matsuda came out aggressive against undefeated Chris Beal winning the first-round battle but losing blood in the process. Repeated kicks to the thigh by the Japanese bantamweight took the plant leg out from under Beal, who struggled to find his range. Matsuda used feints and leg kicks to keep Beal at bay. A Matsuda takedown late in the second led to a reversal and Beal dishing out punishment. Beal brought the momentum from the final minute of the second round into the third, controlling Matsuda from the top position and softly slamming him to the mat in the closing seconds. The judges unanimously ruled in Beal's favor 29-28, 29-28, and 30-27 as the Ultimate Fighter alum improves to 10-0.
Breitbart Sports scores the fight 29-28 Beal
Rafael Natal caught Chris Camozzi's attention with a punch that catalyzed the action 90 seconds into the middleweight scrap. Three minutes in Natal followed up a massive whiff by hitting a takedown. In the second, Natal took Camozzi down about two minutes into the round. Camozzi quickly recovered and stuffed several subsequent takedown attempts. Camozzi pressed the action with strikes in the third frame, stuffing takedowns and stumbling Natal halfway through the final stanza, again with a minute remaining, and a third time in the final seconds. Camozzi enjoyed the fight's highlight-reel moments but Natal controlled the surrounding grind. Two judges saw it 29-28 for Natal, one 29-28 for Camozzi–much to the displeasure of the Connecticut crowd.
Breitbart Sports scores the fight 29-28 Natal  
Al Iaquinta controlled fellow Ultimate Fighter graduate Rodrigo Damm, nearly spinning the Brazilian with one punch late in the first frame. Both fighters traded heavy hands in the second before the Long Island wrestler put on a boxing clinic. Iaquinta stalked Damm for much of the third, finally knocking his opponent down. Iaquinta wanted Damm to stand up. Damm didn't. Referee Herb Dean convinced him to rise after threatening to wave off the fight. Iaquinta soon capitalized with a wild frenzy of punches and kicks that sent Damm down and the crowd up.
Al Iaquinta wins by stoppage on strikes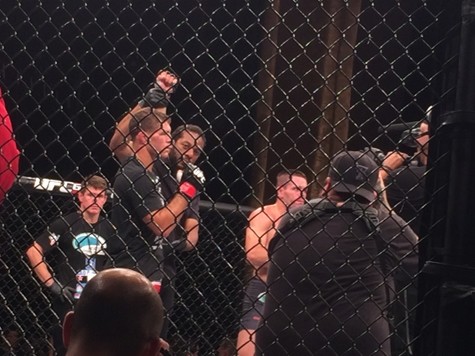 Justin Scoggins, easily identifiable with the "Scoggins" tattoo on his back, takes control of his flyweight tilt with John Moraga. He follows up several first-round kicks with by bringing his opponent to the mat. But Moraga nearly lands a choke from his guard and negates much of his adversary's offense. History repeats itself in the second round. This time, Moraga lands the guillotine from his back to coax the tapout. The Arizonan, outmatched through much of the bout, tells the in-ring interviewer, "He was letting me get under his neck too easily."
John Moraga wins by submission