NFL Commissioner Roger Goodell couldn't have made his stance on paying players to intentionally injure other players any more clear than after he slammed the New Orleans Saints for their bounty program. He handed down a punishment so severe, and evidence-challenged, that former NFL Commissioner Paul Tagliabue stepped in and overturned four of Goodell's player suspensions.
Since Goodell clearly has no problem slamming the door when it comes to punishing teams, get your popcorn ready because we just might get a chance to see how the NFL punishes their own.
NFL Network analyst and 11-year NFL veteran, Brian Baldinger made an appearance on 97.5 the Fanatic in Philadelphia to discuss Philadelphia's Sunday night tilt, which they lost in overtime 29-23, against the Dallas Cowboys.
Baldinger offered some special recommendations for the Eagles when it came to dealing with Cowboys running back Ezekiel Elliott. Baldinger said, "This is the guy that that we've got to hurt. This is the guy that we've got to take out of the game. There's got to be 10 guys that want to hurt him every single play. In fact, we may even put a little bounty on Ezekiel Elliott."
Then to make things worse, Baldinger summoned his inner Gregg Williams, the Saints defensive coordinator during the Bountygate scandal, and imparted this gem, "You want to cut off the head to kill the body, that's the guy you've got to get to."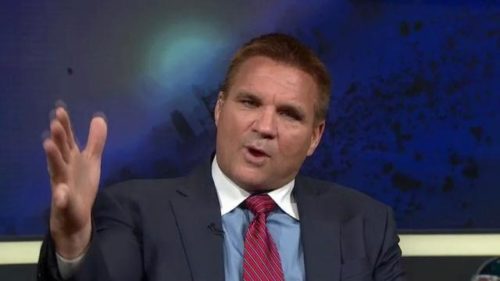 According to Pro Football Talk, Baldinger referred to Elliott as "arrogant," specifically for the way Elliott dressed at the NFL Draft. Baldinger also said that Elliott, "bugs me."
No one doubts, or better said, no one should doubt that player bounties exist in football. Just this week, we brought you the story of Artis Hicks of the Minnesota Vikings who admitted that the Saints weren't the only team in the 2009 NFC Championship game that had a bounty system. The Vikings had done the exact same thing throughout that season.
However, it takes a special kind of stupid to actually say something like this in public. Especially for Baldinger, an employee of the league, at least for now. Also weird, the personal nature of Baldinger's grudge against Elliott.
You want a guy targeted for injury because you don't like the outfit he wore to the draft? Not since Mugatu plotted the death of the Malaysian Prime Minister have harsher threats resulted in the world of fashion.
Follow Dylan Gwinn on Twitter: @themightygwinn