A New Year's Day report in Esports Observer revealed that Major League Gaming, the largest e-sports company in North America, has sold the majority of its assets in exchange for $46 million to publisher Activision Blizzard.
Breitbart had reported earlier in the year that MLG were looking for a sale and had been in talks with tech giant Yahoo, but after talks broke down it seems they have found a buyer a lot closer to home.
Esports Observer published an extract of a letter that had been sent out to shareholders revealing the amount that Activision Blizzard had paid for MLG: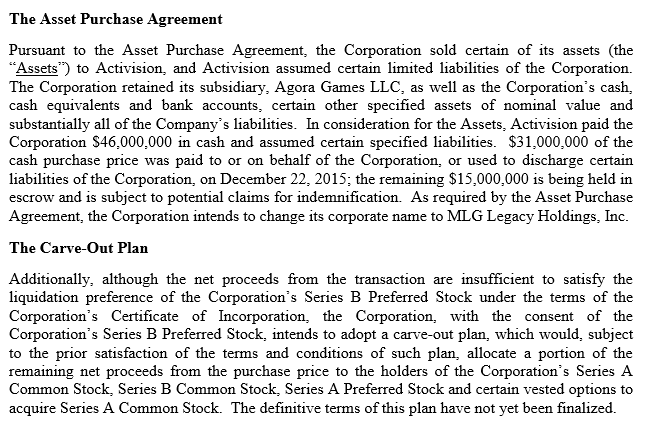 There is some sensible speculation that the move had been a long time in the making. The co-founder of MLG, Mike Sepso, who also happened to manage Legion Capital Investments LLC which invested significant sums in MLG, had taken a job as the President of Esports with Activision Blizzard in September. Along with three other venture capital groups – Treehouse Capital LLC, Ritchie Opportunistic Trading Ltd, and Oak Investment Partners – they are likely to see a return on the sale. Smaller stockholders are not so lucky, with many reportedly believing the bulk of the money will go toward paying off MLG's sizeable debts.
Also of note was the reported removal of co-founder and CEO Sundance DiGiovanni. His role had been less and less visible in recent times after being the face of the company for many years. He is to be replaced by Greg Chisholm, MLG's former CFO.
With Activision Blizzard now in control of what was MLG, many eSports enthusiasts have some concerns about whether or not what was MLG will continue to run events for games not made by the new owners. With the company having hosted events for Dota 2 and CS:GO, including being scheduled for the first CS:GO major of the year, there is a question as to whether or not this will be their last involvement. The Activision side have worked with MLG for some time on the broadcasting of their Call of Duty World League, but they recently lost that to rival company Electronic Sports League (ESL) after almost a decade of partnership on the title.
Blizzard also have several new titles in the forms of Heroes of The Storm and Overwatch that could benefit from a tournament circuit. Blizzard has worked with MLG for Starcraft 2 tournaments for many years, although it hasn't always been smooth sailing. In 2013, MLG's qualifiers for the North American World Championship Series were heralded as a disaster and resulted in a public apology that didn't satisfy all the community.
It has also been strongly rumoured that a large part of the appeal could be down to MLG's broadcasting platform, MLG.tv. Sources close to both companies informed Breitbart that there had been talks about a potential acquisition of Los Angeles-based streaming company Azubu, as the publisher expressed interest in having their own streaming platform.
This isn't the first time Activison Blizzard have acquired a tournament organiser such as MLG, which is why many eSports enthusiasts are waiting with bated breath to see how this pans out. In April 2013 they purchased the IGN Pro League, which was much respected due to the high quality of events they had run, only to shut down their operations entirely. The staff from IPL were placed in a specialist team designed to create "high-quality web and mobile content in support of Blizzard games." After speaking with multiple sources close to the deal, Breitbart understands this will not be the case for MLG and that they still have plans to operate in much the same manner as before, hosting tournaments across multiple titles regardless of developer.
In regards to the Counter-Strike major due to be held in Columbus, Ohio at the end of March, it seems that there will be no change to the plans despite these developments. This was confirmed by MLG's Executive Vice President Adam Apicella on Twitter, which he later deleted. The tweet said, "I'm trying to catch up on what everyone is talking about, CSGO Major, Minor, and Offline Qualifier is all good to go, Happy NYE."
After Breitbart made contact with MLG representation, they declined to comment on this story, saying an official statement would come early next week.