Twitter has unverified the account of Breitbart technology editor Milo Yiannopoulos, effectively declaring war on conservative media by punishing the outspoken commentator for his views. This comes despite CEO Jack Dorsey declaring that Twitter "stands for freedom of expression" just a few months ago.
Yiannopoulos was informed via email that due to "recent violations of the Twitter Rules," the blue tick marking his account as verified by Twitter had been removed. He was not told what rule he had violated, nor if there was any appeal procedure.
https://twitter.com/Nero/status/685601754654871552
https://twitter.com/Nero/status/685603478677405696
https://twitter.com/Nero/status/685604951809200130
Verified Twitter accounts are typically given to well-known figures as a defence against impersonation. They are distinguished from other Twitter accounts by a small blue checkmark in the top-right hand corner of a user's profile.
Yiannopoulos, whose public profile has been soaring since September 2014, was verified in mid-2015 and is the subject of dozens, if not hundreds, of parody and fan accounts. He is listed on the Drudge Report as one of Matt Drudge's favourite writers and is one of the rising stars of libertarian and conservative media.
His unverification appears to be the first time a major media personality has been stripped of a blue badge by Twitter. The company refuses to be drawn on why it had taken the popular journalist and commentator's verified status away.
Yiannopoulos's suspension led to an immediate and massive global backlash. The #JeSuisMilo hashtag was created and quickly trended in the United States, United Kingdom, Canada, Scandinavia, Germany, and over a dozen other countries with over 50,000 tweets posted to it. Within a few hours, it was the #1 top trending topic in the U.K, U.S, and Canada and it trended globally at the #3 spot for several hours.
https://twitter.com/Nero/status/685799159304159232
Fans also demonstrated the necessity of verification by changing their usernames and profile pictures to copies of Yiannopoulos's profile en masse. Absent the blue tick, it is now difficult to spot the real Milo from the thousands of tribute accounts on Twitter.
https://twitter.com/Nero/status/685652396022853633
@nero #JeSuisMilo So many Milo's, so few mirrors. pic.twitter.com/KPNV6q7GEg

— Carbon Based Greg (@Greglharder) January 9, 2016
https://twitter.com/jtLOL/status/685652790006398979
https://twitter.com/cringe_channel/status/685695380885995520
The outpouring of anger at Twitter is driven in part by Yiannopoulos' unusually dedicated fanbase, but mostly by long-standing concerns about political bias at Twitter. It comes on the heels of the recent, inexplicable suspension of conservative firebrand and Hollywood actor Adam Baldwin.
There is also a sense of precedent: if not the first, this is certainly the most high-profile unverification of a prominent media figure to date in Twitter's history. Users see it as an example of bias on Twitter's part, the latest in a string of attacks on conservative and libertarian Twitter accounts.
eating at Caf

— jack (@jack) March 30, 2006
The #JeSuisMilo hashtag is advancing at such speed that many on Twitter are calling it a "second #GamerGate," a reference to a long-running protest hashtag that Yiannopoulos is associated with.
Another, more troubling parallel for Twitter is that aggrieved users are now planning to complain to their sponsors and affiliates.
If @Nero isn't re-verified or more properly explained to about his "violation," I'm going to ask @BlogBash sponsors to suspend ad dollars.

— Ali Alexander 🇺🇸 (@ali) January 9, 2016
I'll be emailing folks on the @gov team and encouraging my fellow consultants to do the same. Twitter needs to name @nero's "violation."

— Ali Alexander 🇺🇸 (@ali) January 9, 2016
There are no signs of an organised campaign to email sponsors, advertisers and affiliates yet, but it's a tactic that Yiannopoulos followers — many of whom are GamerGate veterans — are highly experienced at.
Big hitters in Silicon Valley, such as angel investor and serial entrepeneur Jason Calacanis, have also condemned Twitter's decision. It seems the social media company has awoken more than just Yiannopoulos' die-hard fans: it's now drawing fire from some of the most respected names in tech.
https://twitter.com/Jason/status/685644432557748224
https://twitter.com/Jason/status/685650591280791552
https://twitter.com/pmarca/status/685619276657459200
The scandal could scarcely have come at a worse time for Twitter. The company's stock price recently dipped below $20 – its lowest point ever.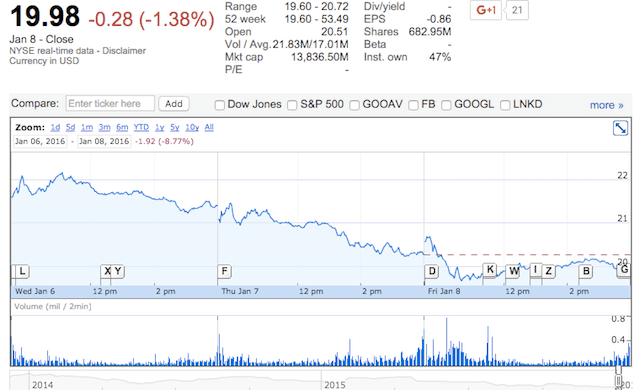 There is continued concern that Twitter's user growth is flatlining, and this will not be helped by a perception that it is biased against critics of progressivism and feminism like Yiannopoulos, particularly at a time when both movements are increasingly unpopular with the public.
Sympathy for progressive radicals is rapidly evaporating in academia, on the web, in arts and entertainment, and even on the mainstream Left, with President Obama recently criticising liberal college students for being too "coddled." Younger movements like cultural libertarianism, of which Yiannopoulos is a leading figure, look set to capture the shifting tides of public opinion.
Twitter may just be following protocol. But to many observers, it doesn't look that way. It looks as if Twitter, whose CEO is known for his progressive politics, has abandoned any pretence of neutrality and thrown its lot in with social justice warriors — at the very moment public opinion has shifted decisively against them.
It wouldn't be the first time such a blunder has occurred. Twitter, whose notoriously opaque user guidelines and seemingly arbitrary rule enforcement have left many wondering if the platform can be trusted in the future, did not respond to requests for comment.
Follow Allum Bokhari @LibertarianBlue on Twitter, and download Milo Alert! for Android to be kept up to date on his latest articles.