Breitbart Tech editor Milo Yiannopoulos has been permanently banned from Twitter, but the accounts of many users who have called for or praised violence remain active.
In early July, journalist Remington Hernandez was barraged with tweets that praised the shootings of more than ten Dallas police officers.
Til they care about us…don't care about them. https://t.co/FXbxBSTNQM

— Beige Rob TBE (@MrRedMartian) July 8, 2016
I fuccin love it 👏👏👏👏 https://t.co/QdmxNEHfMh

— Long Live Teliosis (@Slllliiimmeee) July 8, 2016
Idgas. Have any protestors been harmed? https://t.co/aiCpyd87jS

— Heauxlange Knowles (@LikeAir_iRise) July 8, 2016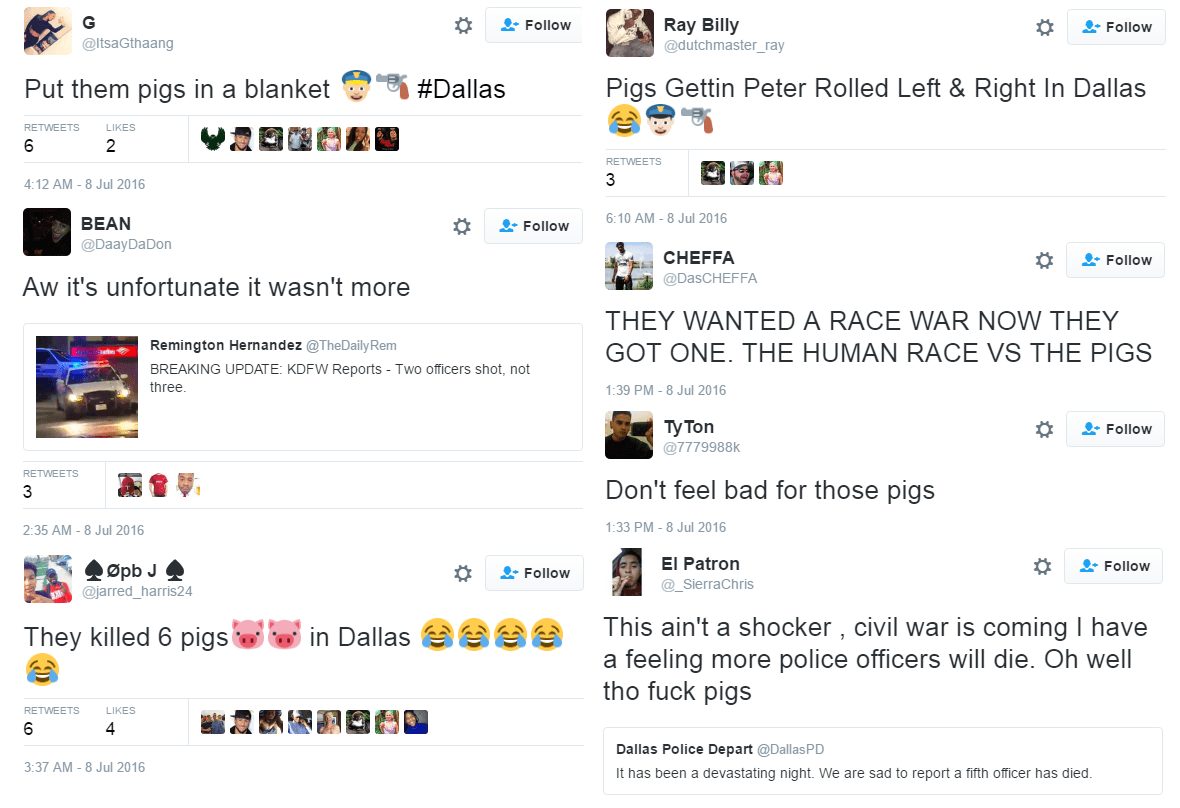 As Breitbart Tech's Allum Bokhari previously reported, each of these instances violate Twitter's terms of service. Despite the praise for and calls to violence, none of these users were sanctioned by Twitter:
Twitter's terms of service explicitly forbids "threats of violence" and any tweets that "promote violence, including threatening or promoting terrorism." The company also bans using the platform for the "furtherance of illegal activities." Yet, so far, the platform has taken no action against accounts promoting violence against the police, which includes a verified user with more than four hundred thousand followers.
In addition, rapper Talib Kweli has not faced any consequences for using Twitter to call Breitbart's Jerome Hudson a "coon." He defended his remarks by claiming that "calling a coon a coon ain't an attack."
Although Yiannopoulos has been permanently banned, ISIS members and sympathizers still comfortably hold accounts on the social media platform. Most notably, a member of the radical terrorist group threatened to bomb the warehouse that stores merchandise sold by Swag by Milo, Yiannopoulos' popular online apparel store.
One of many pic.twitter.com/yK2Gj3DKjd

— SWAG by Milo (@swagbymilo) June 15, 2016
Tom Ciccotta is a classical liberal who writes about Free Speech and Intellectual Diversity for Breitbart. You can follow him on Twitter @tciccotta or on Facebook. You can email him at tciccotta@breitbart.com