A data-driven report in The Western Journal sheds more light on how Facebook's recent newsfeed algorithm change has disproportionately affected conservatives and conservative media.
The report is based on data from the third-party service SimilarWeb, which tracks web traffic. It shows that conservative publishers have lost an average of 14 percent of their traffic from Facebook since the platform's newsfeed change, while liberal websites have gained an average of 2 percent. When Fox News, a high-traffic outlier, is removed from the results, the average drop in Facebook traffic for conservative websites is 32.4 percent.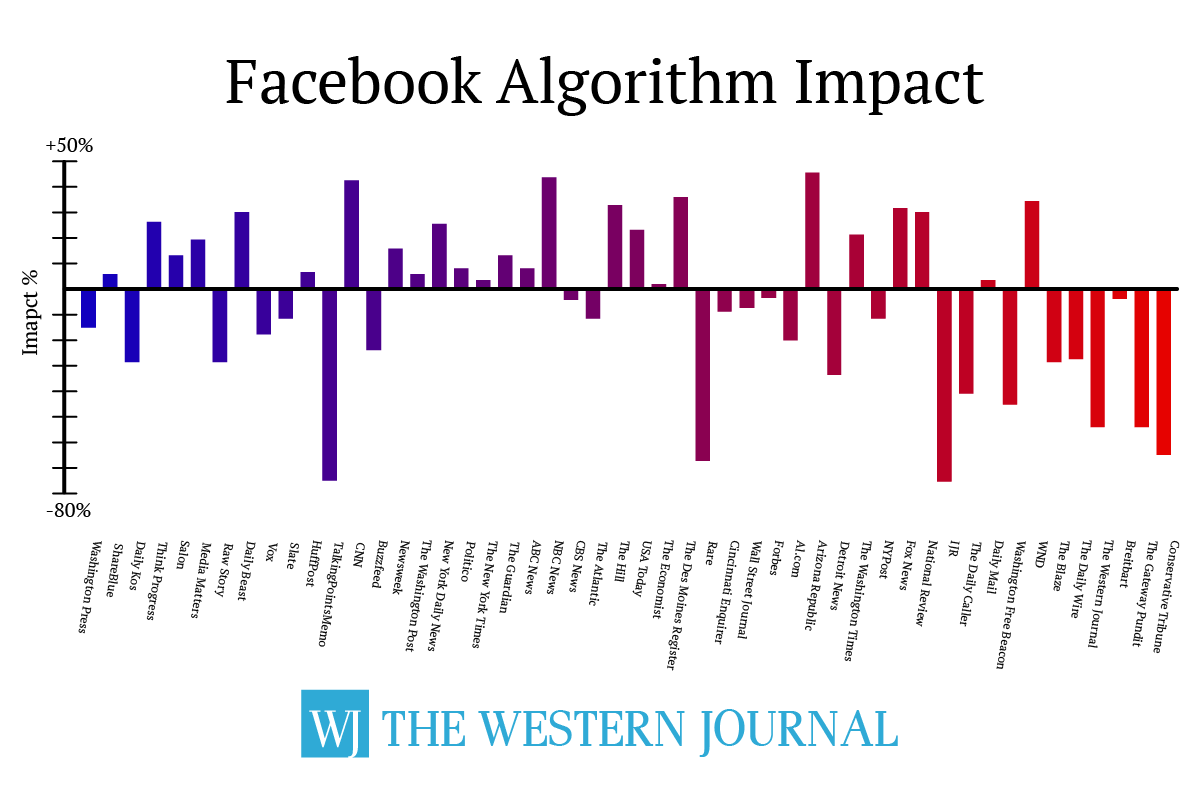 Breitbart News recently reported that Facebook's recent changes to users' newsfeeds had caused engagement on President Trump's page to drop by 45 percent — almost half. This was followed by a story in The Outline which revealed that the engagement of conservative sites including Fox News, Breitbart News, and Gateway Pundit had also taken a hit, while mainstream sites like CNN and the New York Times were largely unaffected.
From the Western Journal:
After removing the 15 publishers with the least traffic from Facebook, the trend becomes even more clear.

Of the remaining 35 news sources, the 12 most liberal sites averaged a boost of 0.21 percent — in other words, they don't appear to have been affected in any meaningful way.

The 11 sites in the middle — which ranged from "left-center" to "least biased" on the MBFC News scale — saw a significant increase in Facebook traffic of 12.81 percent.

The 12 most conservatives sites lost an average of 27.06 percent of their traffic from Facebook.

Of the 12 most liberal sites, six saw double-digit decreases in traffic, while four saw double-digit increases and two — The Washington Post and HuffPo — saw single-digit increases. CNN's traffic increased 43.78 percent.

….

Fox News was the only conservative site that saw significant growth in this calculation. If Fox were removed from the group of 12 conservative sites shown above, the average drop would grow to 32.4 percent among the remaining 11.
"Facebook's Campbell Brown has said that Facebook now has a 'point of view' when it comes to news" said the executive editor of the Western Journal, George Upper, in a comment to Breitbart News.
"They are, in other words, making editorial decisions rather than allowing users to choose what posts get the most traction through likes, shares, and other interactions. Facebook is literally saying to users that they don't care what sites or people or news outlets a user has liked on Facebook — they will determine what news users get to see. Those seem like the words and deeds of a publisher to me — and not only that, but a publisher with an agenda."
Facebook, said Upper, "is a monopoly and should be treated by the federal government as such."
He also agreed that Republican politicians should spend more time calling the tech giants to account.
"It's past time," said Upper. "Conservatives care deeply about this issue. It's going to come up in the 2018 midterms and it will certainly come up again in 2020. Smart politicians will start getting in front of it now."
Allum Bokhari is the senior technology correspondent at Breitbart News. You can follow him on Twitter, Gab.ai and add him on Facebook. Email tips and suggestions to allumbokhari@protonmail.com.