Breitbart Texas traveled to the Mexican States of Tamaulipas and Coahuila to recruit citizen journalists willing to risk their lives and expose the cartels silencing their communities.  The writers would face certain death at the hands of the various cartels that operate in those areas including the Gulf Cartel and Los Zetas if a pseudonym were not used. Breitbart Texas' Cartel Chronicles are published in both English and in their original Spanish. This article was written by Reynosa's "AC Del Angel."
REYNOSA, Tamaulipas — The hunt for the elusive Comandante Toro, the leader of the Metros faction of the Gulf Cartel, continues as raging gun battles continue to be a regular occurrence in this border city.
Breitbart Texas has reported about how in recent months, Mexican authorities have upped their attempts to corner and arrest Juan Manuel "Toro" Loisa Salinas.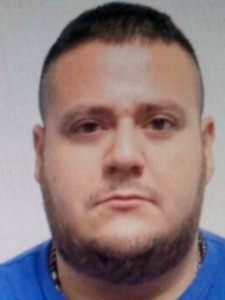 Most recently, the increase in police and military forces as they carry out their raids has led to a spike in violence as Gulf Cartel members continue to shoot it out with authorities.
The most recent shootouts have taken place this past weeks with one particularly lengthy shootout that Mexican officials have yet to provide any official information about.
In that shootout, a convoy of Mexican Marines was patrolling the area near Las Cumbres neighborhood when they spotted a convoy of gunmen.
As expected the cartel gunmen began to shoot at the Mexican Marines as they tried to flee. During the ensuing shootout, a military vehicle crashed into a parked vehicle while an SUV filled with cartel gunmen also crashed down the road. The gunmen dropped their gear and ran away trying to blend into the neighborhood.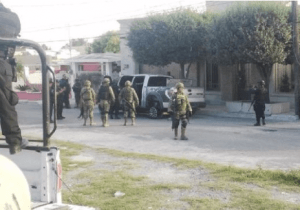 Neighbors reported seeing a gray pick up truck fleeing through a nearby neighborhood called Las Fuentes. The pickup has multiple bullet holes and had some of the tires deflated presumably from gunfire. The gunmen then left the truck behind and continued their escape on foot.
As security forces began to search for the other gunmen, Gulf Cartel lookouts known as Halcones or Hawks began to set fire to vacant lots in an effort to cloud the vision of Mexican authorities in the area. Authorities never released any information about arrests or casualties.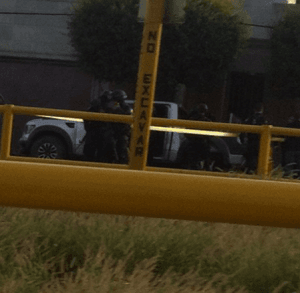 In recent days the hunt for the elusive Comandante Toro has intensified pushing the man to the outskirts of the city into rural areas known as "Ejidos" where he and his troops can move about more easily.
Breitbart Texas recently reported about how a recent attempt to capture him resulted in cartel members ambushing a Mexican military truck forcing to crash into a taco stand that killed four innocent victims including a baby. Comandante Toro made a desperate attempt to blame the Mexican military for the crash by hanging banners throughout the city claiming the soldiers were to blame.