Breitbart Texas traveled to the Mexican States of Tamaulipas and Coahuila to recruit citizen journalists willing to risk their lives and expose the cartels silencing their communities.  The writers would face certain death at the hands of the various cartels that operate in those areas including the Gulf Cartel and Los Zetas if a pseudonym were not used. Breitbart Texas' Cartel Chronicles are published in both English and in their original Spanish. This article was written by Ciudad Victoria's "M.A. Navarro".
CIUDAD VICTORIA, Tamaulipas — Cartel executions continue to rock this city as two factions of Los Zetas fight for control of the region.
In the most recent execution, a team of gunmen attacked a beer store killing three men and injuring a fourth. The multiple executions are blamed on the faction known as Grupo Bravo which has been tied to various other executions and violent attacks.
Breitbart Texas has reported in the past on how Grupo Bravo announced their arrival last month where they placed banners around the city threatening corrupt officials, corrupt police officers and even corrupt journalists.
The most recent attack took place on Tuesday at 1:45 a.m. at a beer store on the intersection of 16th and Veracruz streets in the San Francisco neighborhood. According to witnesses, the cartel hit men pulled up to the store on a Jeep Liberty before getting off and carrying out the multiple executions.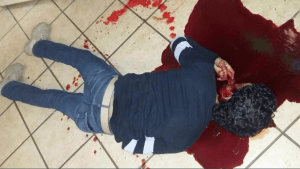 The three men killed have been identified as Lazaro Rodriguez Molina, Edelmiro Gonzalez Mendoza and Felipe Eduardo Posada Velazquez.
Rodriguez, the late owner of the store, is the brother of Gustavo Han Molina who owns a chain of convenience stores called Galan. The family has been singled out for having ties to one faction of Los Zetas that currently controls Ciudad Victoria.