Breitbart Texas traveled to the Mexican States of Tamaulipas and Coahuila to recruit citizen journalists willing to risk their lives and expose the cartels silencing their communities.  The writers would face certain death at the hands of the various cartels that operate in those areas including the Gulf Cartel and Los Zetas if a pseudonym were not used. Breitbart Texas' Cartel Chronicles are published in both English and in their original Spanish. This article was written by Reynosa's "AC Del Angel." 
REYNOSA, Tamaulipas — In a interesting turn of events, Mexican authorities seized 16 drug bundles after a shootout with cartel members near the border with Texas; however, they only reported having seized 15 bundles.
The shootout and seizure took place late last week when Mexican authorities were carrying out routine patrols along the "Riberena highway" which connects Reynosa with Nuevo Laredo, information provided to Breitbart Texas revealed.
When authorities reached the Rancho Grande neighborhood, four gunmen in a sand colored Chevrolet Tahoe began to shoot at the police and military convoy and then tried to flee. Authorities chased the gunmen who crashed their vehicle near the Caracoles neighborhood. Two of the gunmen ran away leaving behind two of their fellow gunmen who had been injured in the crash. 

According to information released by the Tamaulipas government, members of the Fuerza Tamaulipas police force seized 15 bundles of marijuana, two handguns, communication equipment, body armor, road spikes and a wooden paddle.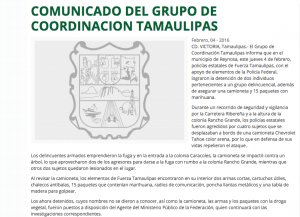 Despite the claim by the government that 15 bundles were seized, one of the photographs obtained by Breitbart Texas revealed that authorities had stacked 16 drug bundles at the scene of the crash instead of the 15 reported.