UPDATE: Reporters on the scene would not tell Breitbart News if they had permission to dig through the apartment. During a press briefing, the F.B.I. spokesman said they had cleared the scene. 
UPDATE: The Washington Post calls this "slimy" and "awful."
One of the most bizarre and possibly irresponsible and craven scenes in media history just unfurled on MSNBC and CNN as reporters from both networks (and a handful of others), during a live broadcast, toured the apartment of the San Bernardino Islamic terrorists. While a MSNBC reporter rummaged through the deceased terrorists' closets and boxes and photo albums, Andrea Mitchell reassured viewers that the disturbing scene was okay. "The landlord told us authorities were done with the crime scene," she said.
According to the landlord, though, this was not the case. When he opened the door, reporters rushed into the apartment, possibly contaminating one of the most important crime scenes in years.
Watch a video report on these media vultures from Breitbart's Raheem Kassam:
—
Landlord says he didn't allow media into San Bernardino shooters' apartment: 'they rushed' https://t.co/2CfqNG6voO pic.twitter.com/HlWPUEeJHY

— CBS Los Angeles (@CBSLA) December 4, 2015
— Grasswire reached out to the San Bernardino sheriff's department and were told that the apartment is still an active crime scene and not cleared for the media. —
Me: "Are you watching what we're watching on TV?" San Bernardino Sheriff's Bozek: "Oh yeah, I am. That — I don't know what's going on." — Matthew Keys (@MatthewKeysLive) December 4, 2015
—
If all of this proves true, the media not only contaminated an active crime scene, they trampled through evidence that might lead to apprehending others involved in the plot.
Even if the scene was cleared, which sounds ridiculous after just 2 days, the media still broadcast video of photos of children, a woman's drivers license, and rummaged through property that does not belong to them.
While CNN was digging through the place, law enforcement guests on the network were furious at what they were witnessing: "Never have I seen anything like this. … I'm shaking right now. … Where is the fingerprint dust you see after a crime scene is worked? … This was the destruction of a crime scene … A crime scene for a terrorist mass-murder has been turned into a rummage sale."
Here is what the melee looked like as it unfolded:
—
@HowardKurtz they used a crowbar to get in pic.twitter.com/PlN9ywyUzz

— Greg Pollowitz (@GPollowitz) December 4, 2015
—
Media digs thru terrorists photo album in the bathroom. pic.twitter.com/KoA7gmViJH — John Nolte (@NolteNC) December 4, 2015
—
"Goodnight Stories from the Koran." Dug up by MSNBC rummaging thru terrorists apt. pic.twitter.com/XwTmGQauhn

— John Nolte (@NolteNC) December 4, 2015
—
Two Korans among the IDs on the bed. pic.twitter.com/liPtzXSJbf — John Nolte (@NolteNC) December 4, 2015
—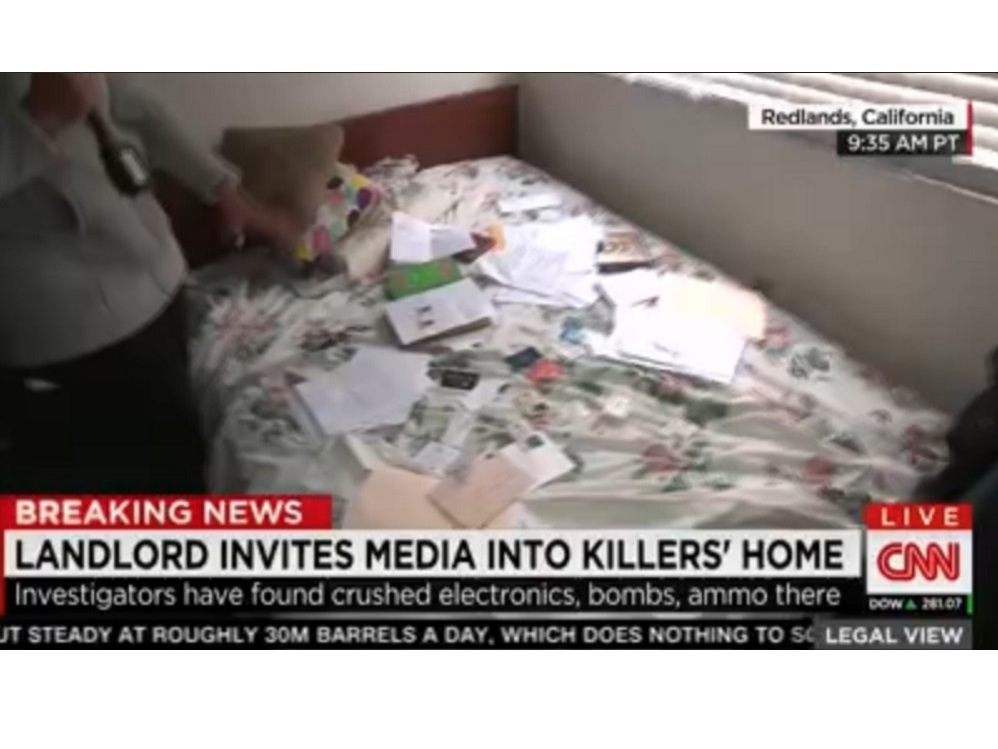 Follow John Nolte on Twitter @NolteNC