The current lead story on the Huffington Post, headlined, "Chris Wallace Won't Call Candidates On Their Lies During Last Presidential Debate," attacks the Fox News anchor for believing that he should not be a participant in the presidential debate he is moderating — a la Candy Crowley in 2012.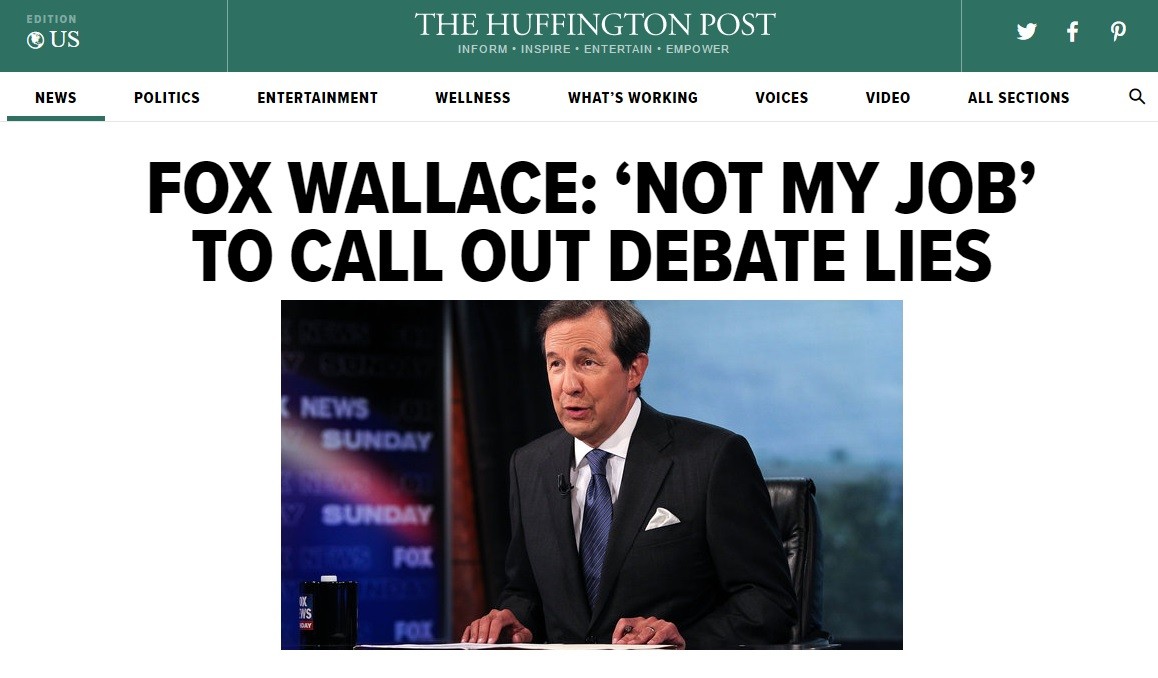 From the Huffington Post:
Chris Wallace says it won't be his job to separate truth from fiction in his historic role as moderator of the final debate before the November election.
Wallace, who earlier this month became the first journalist from Fox News to be chosen to moderate a presidential debate , spoke to the network's Howard Kurtz about the difficulties of the job and his aim to "ask smart questions" and "engage the two [candidates] in conversation."
But when Kurtz asked how Wallace planned to negotiate a campaign fraught withfalsehoods and unfounded accusations, Wallace's answer was less than comforting.
"That's not my job," Wallace, who hosts Fox News Sunday, said. "I do not believe that it's my job to be a truth squad. It's up to the other person to catch them on that. I certainly am going to try to maintain some semblance of equal time if one of them is filibustering, I'm going to try to break in respectfully and give the other person a chance to talk."
Read the rest of the story here.