Like something right out of the 1990s, when the news media did everything it could to undermine then-President Bill Clinton's female accusers, Kasie Hunt, the Capitol Hill correspondent for NBC News, claimed that what Democrat Senator Al Franken did to journalist Leeann Tweeden is "not actually groping."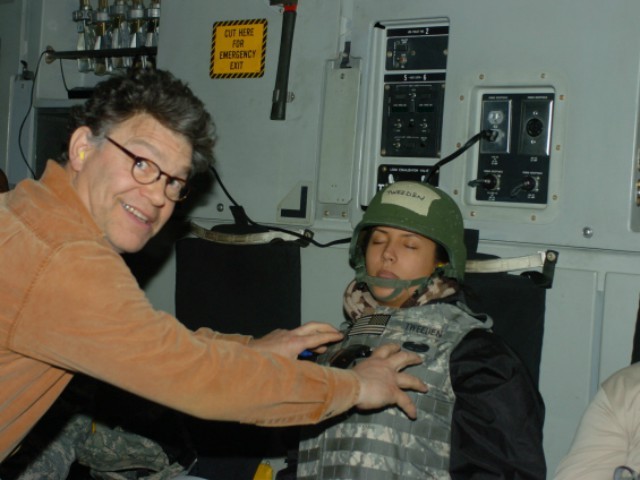 Appearing on MSNBC, the left-wing Hunt said, "And then [Franken] took a picture, which his office now says was a joke, that shows him not actually groping, but mock-groping her while she was asleep."
This was not a mistake on Hunt's part. It is all-too obvious that NBC has already manufactured a false narrative to undermine Tweeden and save Franken. After all, here is a separate report where Hunt again describes Franken's behavior as "mock-groping."
Just last month, Hunt declared herself in solidarity with sexual misconduct victims through the #MeToo campaign:
Me too. https://t.co/V2PE23RJDf

— Kasie Hunt (@kasie) October 16, 2017
Obviously, Hunt is torn between the tribalism of her profession, her partisan politics, and her lying eyes. The photograph clearly shows what it shows — a 55 year-old married man fondling a sleeping woman.
Moreover, in his statement, even Franken himself does not wrist-flick his behavior away as  a "mock-grope." But when you have the media on your side, when you have woke feminists like Hunt and the rest of NBC News prepared to sell their souls, when you are a Democrat, you do not have to.
We still do not know if Hunt declared the allegation that Franken shoved his tongue down Tweeden's throat as a "mock-assault."
Here is how Tweeden herself describes what Hunt says did "not actually" happen:
The tour wrapped and on Christmas Eve we began the 36-hour trip home to L.A. After 2 weeks of grueling travel and performing I was exhausted. When our C-17 cargo plane took off from Afghanistan I immediately fell asleep, even though I was still wearing my flak vest and Kevlar helmet.

It wasn't until I was back in the US and looking through the CD of photos we were given by the photographer that I saw [the picture.]

I couldn't believe it. He groped me, without my consent, while I was asleep.

I felt violated all over again. Embarrassed. Belittled. Humiliated.

How dare anyone grab my breasts like this and think it's funny?
Democrats sure got it good, because when the victim is asleep, it is not really groping.
Follow John Nolte on Twitter @NolteNC. Follow his Facebook Page here.