EDINBURG, Texas — Sheriff's deputies, police officers, federal agents, constables, game wardens, state troopers and first responders gathered at courthouses, police stations and other government buildings along the Texas border to honor a fallen comrade.
"Today is when law enforcement came together to honor our fallen officers specifically our deputy that was ambushed and killed in the Houston area," said Hidalgo County Sheriff's Office Chief Deputy Mario Lopez to Breitbart Texas.
Lopez was referring to Harris County Sheriff's Deputy Darren Goforth, who was executed on August 28 while fueling his vehicle. Since the brutal murder, Texas Governor Greg Abbott issued a proclamation and asked the community to wear blue as well as turn on their flashing lights on Friday at 11 a.m.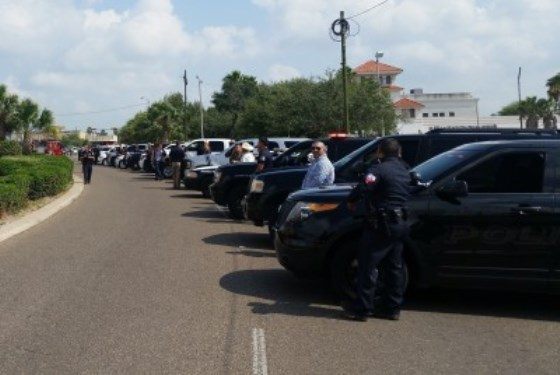 Law enforcement agencies along the border including Brownsville, Harlingen, Laredo, Cotulla, Rio Grande City and others held simultaneous events honoring Goforth and other fallen deputies.
In the border city of Edinburg, a police vehicle from each agency lined out outside of the courthouse as the fire department used their ladder to hoist up a massive U.S. Flag. Right at 11 a.m. two law enforcement helicopters flew over flashing their lights as the nearly 30 patrol vehicles on the ground flashed their police lights while they observed a minute of silence.
"We are a brotherhood. When an officer is killed we come together as brothers as friends as counterparts to honor our fallen officers," Lopez said. "We are all a family regardless of where we are from. We have to show the community that we as officers do have families do have lives and it hurts if one of our officers is killed in the line of duty providing a service to the community."
Those who wear a badge come together as a close community because they all work together to provide a service to the community.
"Regardless of threats that we receive, regardless of what we are going through, we have an obligation to work together and provide a service to the community," Lopez said.
Photos by Ildefonso Ortiz.
Ildefonso Ortiz is an award winning journalist with Breitbart Texas you can follow him on Twitter and on Facebook.