Breitbart Texas traveled to the Mexican States of Tamaulipas and Coahuila to recruit citizen journalists willing to risk their lives and expose the cartels silencing their communities.  The writers would face certain death at the hands of the various cartels that operate in those areas including the Gulf Cartel and Los Zetas if a pseudonym were not used. Breitbart Texas' Cartel Chronicles are published in both English and in their original Spanish. This article was written by Matamoros' "J.A. Espinoza." 
MATAMOROS, Tamaulipas — The out of control cartel violence that continues to take place in this border city continues to escalate as a 13-year-old girl, along with her parents, became innocent bystanders of a cartel gun fight and the teenage girl was killed.
The family was caught in the crossfire of a fierce firefight between cartel gunmen and Mexican authorities. The raging shootout also resulted in the deaths of seven gunmen and the seizure of drugs and weapons.
According to a prepared statement by the Tamaulipas government, the teenaged girl and her father were both struck by cartel gunmen who were firing at Mexican authorities. The girl was rushed to a local hospital where she died from her injuries. The father was grazed by a bullet and only sustained minor injuries. The girl's mother was not hurt in the gun battle. Breitbart Texas has learned that the 13-year-old girl's name was Leslie Rodriguez and her family has begun to hold visitation services at Escobedo Funeral Home in Matamoros.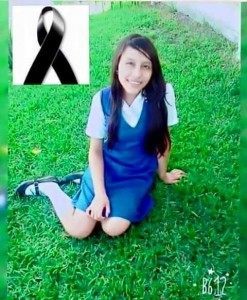 The violence began on Sunday afternoon when this border city again became ground zero for multiple shootouts between cartel gunmen and authorities. Even though the residents took to social media to report shootouts and blockades throughout most of the eastern side of the city, Tamaulipas state officials only acknowledge two shooting incidents where members of the Fuerza Tamaulipas "were attacked" by gunmen. In response to attack, authorities fired back killing seven gunmen in two separate locations. One shootout took place by the San Geronimo neighborhood and the other by Ciudad Industrial neighborhood.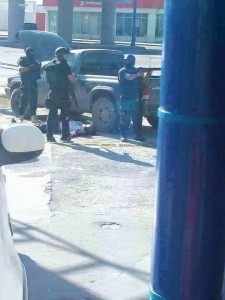 One of the shootouts that authorities did not acknowledge in their prepared statement, took place at a popular shopping center that is next to one of the international bridge that connects this border city with Brownsville Texas.
"They went into the Soriana Lauro Villar (shopping center), the criminals were being followed by authorities, they are chasing them, they already killed one in the parking lot and they are evacuating the shopping center," one concerned citizen reported on social media about the ongoing gun battle in front of him.
Law enforcement sources consulted by Breitbart Texas stated that the violent response from the Gulf Cartel was an effort to keep their regional boss Odon Azua Cruces  also known as "Gordo Cherry" from getting captured. As previously reported by Breitbart Texas, Azua Cruces is responsible for the recent wave of kidnappings and extortion that has brought down terror in this border city. Under orders from Azua Cruces, cartel gunmen have set out to kidnap and extort  innocent individuals. Many times even when the ransom was paid, the victims were killed.