Breitbart Texas traveled to the Mexican States of Tamaulipas and Coahuila to recruit citizen journalists willing to risk their lives and expose the cartels silencing their communities.  The writers would face certain death at the hands of the various cartels that operate in those areas including the Gulf Cartel and Los Zetas if a pseudonym were not used. Breitbart Texas' Cartel Chronicles are published in both English and in their original Spanish. This article was written by Coahuila's "JM Martinez" and Breitbart Texas' Ildefonso Ortiz.
PIEDRAS NEGRAS, Coahuila — The police force that has been responsible for suppressing the presence of Los Zetas in this region has gotten a new headquarters aimed at keeping a constant presence in this border city.
The police force is known as Los GATES (acronym similar to SWAT). They are a secretive unit within the Coahuila State Police. The members of the unit only use call signs and are constantly wearing face-masks to protect their identities and their families. Rather than wearing police uniforms, Los GATES wear black tactical uniforms with full body armor and carry state of the art weapons that they use primarily on Los Zetas.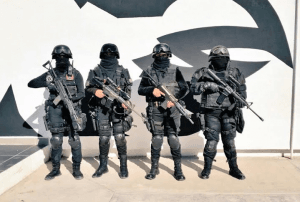 The type of firepower may seem overwhelming; however, it is what is needed to fight the brutality of Los Zetas. As Breitbart Texas recently reported, Los Zetas are behind the mass extermination of hundreds of innocents from the region whose remains were ultimately incinerated. 
As recently reported by Breitbart Texas, in late December Los Zetas made a show of force by beheading four informants and spreading their remains around town bringing terror to the city. The new state of the art GATES headquarters is aimed at housing and training 100 special forces police officers aimed at keeping the peace in Piedras Negras.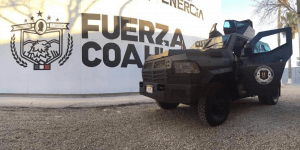 During the recent unveiling of the new Los GATES fort, current Piedras Negras Mayor Fernando Puron Johnston thanked Coahuila's Governor Ruben Moreira for the new headquarters.
According to Puron, Los GATES have had an impact in the general public by increasing the public perception by 32 percent in regards to public safety when compared to 2013.
"The people of Piedras Negras have not forgotten when we had the criminals living even right in front of City Hall and today the state police forces have run them out of the urban areas bringing peace and tranquility to our municipality," the mayor said.