Breitbart Texas traveled to the Mexican States of Tamaulipas and Coahuila to recruit citizen journalists willing to risk their lives and expose the cartels silencing their communities.  The writers would face certain death at the hands of the various cartels that operate in those areas including the Gulf Cartel and Los Zetas if a pseudonym were not used. Breitbart Texas' Cartel Chronicles are published in both English and in their original Spanish. This article was written by "M.A. Navarro" from Ciudad Victoria.
CIUDAD VICTORIA, Tamaulipas — The raging war for control of this city continues to spread narco-terror throughout the city as the number of beheadings and public executions continues to increase with each passing day.
As Breitbart Texas has previously reported, two rival faction of the Los Zetas Cartel, the Cartel Del Noreste (CDN) and Grupo Bravo or Vieja Escuela Z (Old School Z) have been fighting for control of the state capital of Tamaulipas. The ongoing struggle has resulted in levels of violence that had not been seen before in this city. Despite the governments best efforts to suppress information about it, both faction have managed to spread terror at all levels of society through their gory executions and cartel shootings that have killed several innocent civilians.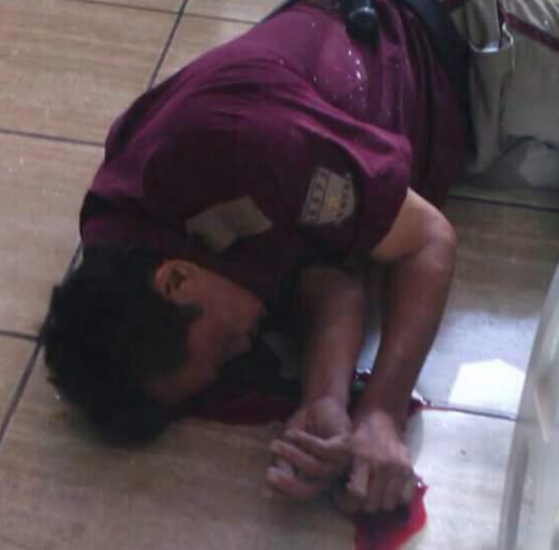 Earlier this week, Grupo Bravo placed an ice-chest containing two human heads along the Ciudad Victoria-Matamoros highway near the Olivo rural community. Next to the ice chest, the cartel gunmen  placed a banner threatening their rivals from the CDN.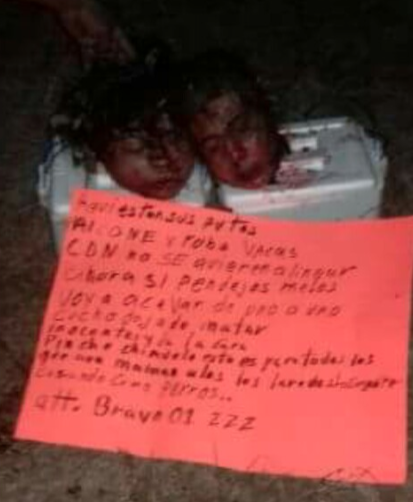 According to the expletive filled banner, the heads belonged to two CDN lookouts who sit by the entrance to the city warning their bosses about the location of military forces or rival gunmen.
The message also threatens a man known as "Chucho" who is one of the CDN leaders in Ciudad Victoria telling him to stop murdering innocent victims.
On Monday afternoon, authorities carried out a search in the city's north side after spotting a group of gunmen who ran away and tried to hide among regular citizens. Authorities were able to arrest two gunmen.  Throughout the day authorities responded to various drive by shootings, however no injuries were reported.
On Tuesday morning, a group of gunmen carried out a drive by shooting at a popular bakery called Coco Cake near the city's downtown area. From their vehicle, the gunmen murdered the bakery's security guard and then stopped to place an banner signed by the CDN issuing out a series of obscure threats against their rivals.