Students from the Texas Tech University Black Students Association (@TTUBSA) reportedly tweeted a hate-filled message on the day before five Dallas-area police officers were ambushed by a lone gunman. The tweet was quickly taken down following strong community reactions.
The tweet sent out by @TTUBSA stated, "All lives don't matter [sic]… While lives don't mater… Blue lives don't matter… #BlackLivesMatter." Following negative responses from the community, the tweet was taken down and the account was closed. The account has since re-opened with a single tweet apologizing for the previous tweet.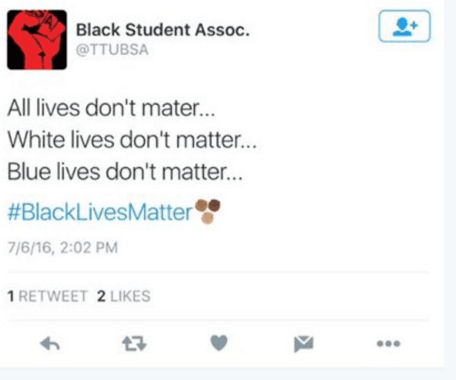 — TTU BSA (@BSATXTech) July 13, 2016
Officials from Texas Tech responded to the incident after more than a week stating:
As an institution of higher learning, Texas Tech University is dedicated to an inclusive environment for all and supports our students' rights to freedom of expression. A recent tweet sent from a student organization account is not representative of the university or the student organization.

Chris Cook
Managing Director
Office of Communications & Marketing
Texas Tech Public Media
Texas Tech University
The response from University officials did not come until after a harsh broadcast from KFYO's Chad Hasty on his show Wednesday morning. Hasty said:
"This is the kind of crap you see on college campuses. This is the kind of stuff President Obama needs to talk about. You know you have President Obama, he's going to hold a town-hall on this, on race. This is the kind of stuff he should talk about. And I'm telling you right now, Texas Tech University, they need to do something about this. They need to get a press release, they need to get on top of this right now. Because I guarantee you, if it was any, any kind of young Republican, young conservative, college Republican, student government association that had tweeted out about Black Lives Matter, the university would take swift action."
His entire segment on the issue can be heard in the YouTube video below.
While the @TTUBSA has issued an apology and it is not known who actually sent out the hate-filled tweet, others on Twitter are not as quick to forgive.
A Twitter user named Andrew (@themrkrueger) re-posted a screenshot of the original tweet and reminded the group that you can delete a tweet, but it never goes away.
@BSATXTech just remember, you can delete tweets. But they never go away. Do the right thing and delete your account pic.twitter.com/6AdQs3g6PT

— Andrew (@themrkrueger) July 13, 2016
While the organization stated the comment was representative of their group, @Texas4Family was not so sure:
@BSATXTech @TexasTech Real reason you deleted your Twitter account is because it showed your tweet was totally representative of your org

— Texas Family (@Texas4Family) July 13, 2016
In a conciliatory tone, @SplintersMind reminded readers about former President George W. Bush's comment from Tuesday's memorial service. The former president asked people not to judge based on the worst examples.
@BSATXTech As Bush said, do not judge based on the worst examples! Thank you!

— SplinterInYourMind (@SplintersMind) July 13, 2016
Additional Facebook reactions can also be found on the KYFO Facebook page:
Bob Price serves as associate editor and senior political news contributor for Breitbart Texas. He is a founding member of the Breitbart Texas team. Follow him on Twitter @BobPriceBBTX.