The vice president of the University of Houston Student Government Association (SGA) has been suspended after a furious reaction to her social media posting that #AllLivesMatter.
University of Houston (UofH) SGA Vice President Rohini Sethi received a 55-day suspension along with other disciplinary actions from the student government board after she made a Facebook post that said, "Forget #BlackLivesMatter; more like #AllLivesMatter."
Sethi made the post on the evening 5 Dallas-area police officers were assassinated during a Black Lives Matter protest rally. She, like many others, was upset with what she saw unfolding before her lives as some police officers lay dead on the streets while others continued to risk their lives to protect those who were there to protest against them.
A few days later, after receiving negative pushback from other social media users, Sethi apologized for her posting.
"Thursday night as our nation recoiled in shock, I took to Facebook and shared in a way that was inappropriate given the context and my position," she wrote on Faceboook. In that moment, I did not act as your Vice President, I acted, in my own flawed way, as many do when presented with a tragedy from afar. My response has caused enormous pain for many members of our community, and I think it is high time that I clarify my statement."
She continued to explain saying, "Visually we are black, white, tan, and a hundred shades between but we are all human, thus I believe that all lives matter. Let's all come together through conversations to reach unity. This is how we begin to set the standards for ourselves and our future, especially in times of adversity."
She concluded by taking responsibility for her actions and asking for unity and respect for all.
Her apology and explanation apparently were not enough for her fellow students that were out for her resignation or impeachment.
Sethi would not be offering her resignation and impeachment did not appear to be a viable alternative because of procedural processes and the absence of a speaker of the house, according to a report by KTRK ABC13.
Jessica Ingalls posted on Facebook that the board had to draft a special bill to sanction Sethi because she had not violated any of the punishable rules.
Student Government President Shane Smith received a one-time power to determine the punishment for Sethi, TheDailyCougar student newspaper reported. His recommendation was approved by the Student Senate by a 13-2 vote.
An online poll conducted by TheDailyCougar revealed that 64 percent believed that Sethi should either not be removed or was brave in standing by her comments. Only 23 percent responded that she should be removed despite that poll posting that option in a bold font.
Sethi's "punishment" initially included a 50-day suspension that will begin on August 1. That suspension was increased to 55 days before it was made public. She must also attend a Libra Project diversity workshop and attend at least three cultural events per month. She is required to write a "reflection letter" and make a public presentation to the September Senate meeting.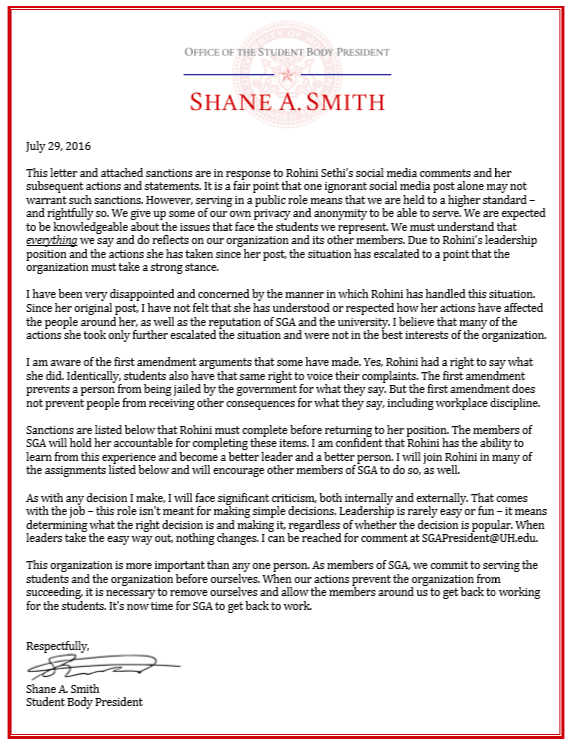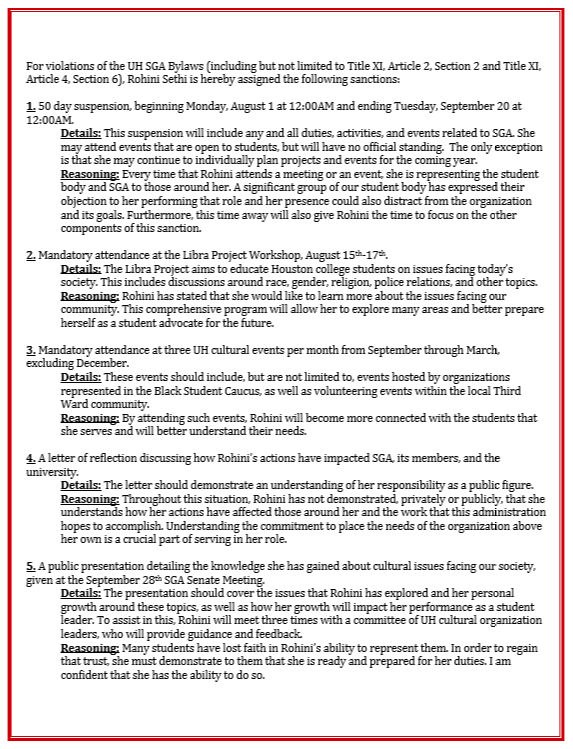 The SGV vice president responded to the suspension on Facebook saying, "I disagree with the sanctions taken against me by my SGA because I believe I have done a great deal to better understand the controversy I caused. I have apologized for my words because no student should feel as though I do not have their best interests at heart. Even so, I will abide by the sanctions for as long as they are in place."
"It's absolutely disgusting how Rohini has been treated by certain members of the student body," U of H SGA Senator Will Simpson told Breitbart Texas on Saturday. "Free speech is essential to a free society, which includes protecting unpopular speech. #alllivesmatter includes African American lives."
Reactions to her posts on Facebook were mixed. Some supported her comments and subsequent actions while others attacked her for not really understanding what #BlackLivesMatter really means.
Sethi's comments saying #AllLivesMatter occurred shortly after the Texas Tech University Black Students Association made a controversial tweet supporting #BlackLivesMatter and saying that white lives and police lives do not matter, Breitbart Texas reported earlier this month.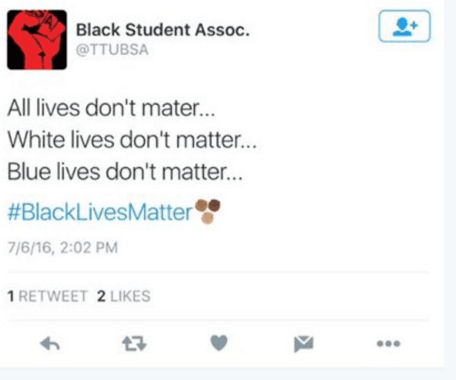 The university apologized for the tweet, but it was not made clear what, if any, disciplinary action would be taken about the offensive post that came in the days leading up to the murders of the Dallas-area police officers.
Bob Price serves as associate editor and senior political news contributor for Breitbart Texas. He is a founding member of the Breitbart Texas team. Follow him on Twitter @BobPriceBBTX.