SAN JUAN, Texas — Police officers in this border city have been preparing for the new reality facing law enforcement: the hunting of police officers.
In the wake of the rising number of attacks on police officers nationwide, San Juan Police Chief Juan Gonzalez had his patrolmen go through a series of scenarios aimed at preparing them to survive and deal with an ambush-style attack. As Breitbart Texas previously reported, one of the most tragic attacks on law enforcement took place in Dallas when five police officer died and six others were wounded by a crazed gunman during a Black Lives Matter protest.
"This training was inspired because of the ambush attacks on law enforcement in Dallas, Baton Rouge," Gonzalez said.  "We wanted to effectively train our guys so that when they respond to incidents like this, they know what to do."
Rather than have a regular officer or a volunteer play the role of the attacker, Gonzalez had one of his SWAT instructors play the role. A SWAT commander himself, the chief also took part in the scenario acting as one of the the attackers.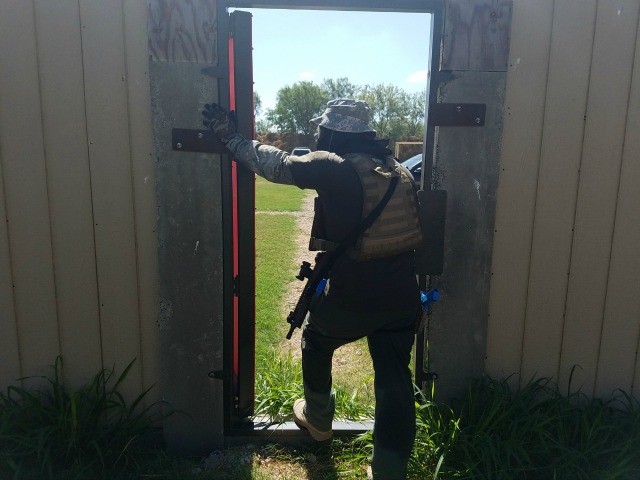 "These recent attacks have carried out by individuals that have received military or weapons training and have a level of proficiency not seen in the average criminal," the chief said. "By having one of our tactical operators play the role of the attacker, the officer gets that extra level of intensity that will help improve their training."
The scenario called for the patrolman to pull up to the scene of an active shooter and immediately come under fire from the attacker. Using fast moving wax-bullets with dye inside, commonly known as "simmunition", the officers are able undergo the stress of being shot at in a relatively safe manner.
"We wanted to focus on the officers, being that they are the ones being hunted," Gonzalez said as he explained the scenario. "The suspect is looking to hurt them, to kill them.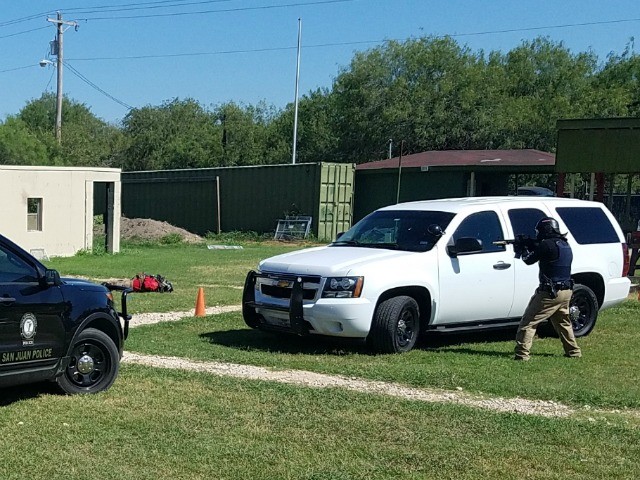 The scenario mimics in part the events of a shootout in the border city La Joya where in June 2014, the tactical officers from Law Enforcement Emergency Regional Response Team (LEERRT), faced off against a operative from the Gulf Cartel who had barricaded himself inside a house. The LEERRT is made up of SWAT operators from various police departments that base their operations out of San Juan and are led by Gonzalez.
As Breitbart Texas previously reported, LEERRT officers had been called to assist with the takedown of Joaquin Cibrian, a member of the Texas Syndicate prison gang and an operator with the Gulf Cartel. As police officers pulled up to Cibrian's house, he began to fire on police leading to a a three hour shootout. The gun battle ended when LEERRT officers were able to neutralize him. Originally, Cibrian was wanted in connection with a drug execution in the city of Edinburg.
Ildefonso Ortiz is an award winning journalist with Breitbart Texas you can follow him on Twitter and on Facebook.