HOUSTON, Texas — A lone protester stood outside shortly before the appearance by Republican presidential nominee Donald Trump in Houston at an event honoring the families of those killed by illegal aliens on Saturday. As Trump's arrival time came, the protest grew to about a dozen people and then eventually capped out about about 25 to 30.
The failed anti-Trump protest was made up of an odd assembly of self-proclaimed communists, Black Lives Matter activists, and those who support eliminating our border and providing amnesty to the millions of illegal immigrants in this country. The group threw together some makeshift signs a few banners and Mexican flags to show their sentiment. Not a single U.S. flag was present.
Reporters from local news outlets easily outnumbered the protesters.
Across the driveway entrance to the Omni Hotel in west Houston where the event took place, a small group of Trump supporters gathered to counter the anti-Trump protesters. The pro-Trump side was diverse in age and races.
Inside the Omni Hotel, several hundred people gathered to honor the families of people who have been killed by illegal immigrants in the United States. Following the event some of the attendees came out an joined with the pro-Trump supporters on the street.
The leftist group conducted their usual chants of protest. "Hey Trump – You Liar — We're here to say your fired," a few number of protesters yelled. It appeared there were more news media present than protesters. Another chant, "Hey Trump, get off your ass – Here comes the working class."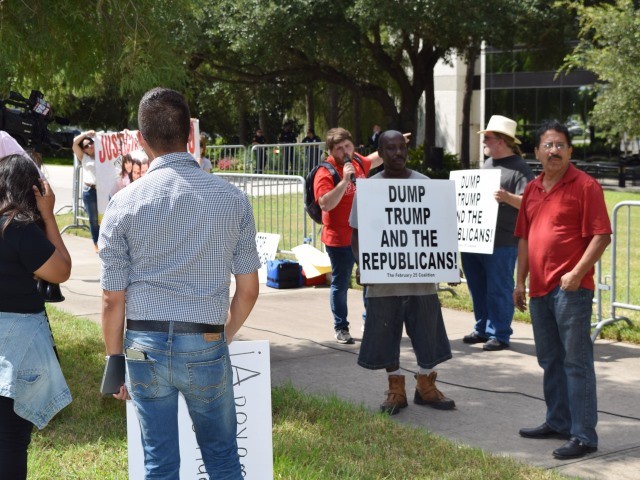 A few of the protesters draped themselves in the Mexican flag. "This is my country," said one Hispanic woman. "You people should go back to England."
At one point, a black teenager wearing a Donald Trump shirt approached one of the anti-Trump protesters, former College of the Mainland tenured political science professor David Michael Smith. Smith was fired by the board of trustees in 2013 after previously receiving tenured status at the college. The former professor and self-proclaimed communist was heard on the bullhorn yelling "Trump is a racist."
The black teen approached Smith and some kind of disturbance erupted. Houston police officers quickly responded and separated the two.
Breitbart Texas spoke with the teen, 15-year-old Marcel McClinton after he returned to the pro-Trump side of the driveway entrance. "I asked the man how Trump is a racist," he said in the interview. He said Smith responded, "I am not here to talk. Back up – You're just a f#cking ni##er. You don't know what you're talking about."
"He kind of contradicted himself," McClinton said. "He called Trump a racist and then he called me a ni##er."
When asked why he supported Trump for president, McClinton responded, "When I get into college, and when I get out, I want to know I will be able to get a job, that our country will be safe, and that we will have security. Trump will lay the bricks to build the road to what I want."
Breitbart Texas also spoke with one of the men gathered with the protesters. Gary Chambers of Katy, Texas, said he was disappointed in the turnout of protesters. "I have seen more in other cities." He said he just found out about the event this morning from his young pre-teen daughter who is very concerned about Trump becoming president. "Her mother is from Mexico, and she is worried about what might happen to her mother if Trump is elected."
He said his little girl watches MSNBC every day to learn about the presidential campaign. "She wanted to come out today to express herself."
A Hispanic woman carrying an umbrella to protect herself from the pounding summer heat took to the microphone while wearing a Mexican flag as a shawl. She chanted, "Hey, hey, USA – How many people have you killed today?" along with several other anti-American chants.
Breitbart Texas did not observe any pro-Hillary Clinton comments or chants or signs during the protest.
Bob Price serves as associate editor and senior political news contributor for Breitbart Texas. He is a founding member of the Breitbart Texas team. Follow him on Twitter @BobPriceBBTX.