CIUDAD VICTORIA, Tamaulipas — The ongoing war for control of lucrative drug trafficking territories continues to spread terror in this border state as executions and dumped bodies are increasingly commonplace.
Earlier this week, authorities found the bodies of an underage female, a woman, and a man that showed signs of torture prior to execution. The bodies were found in a poor neighborhood off Las Torres Avenue. Military personnel rushed to cordon off the area while investigators documented the crime scene.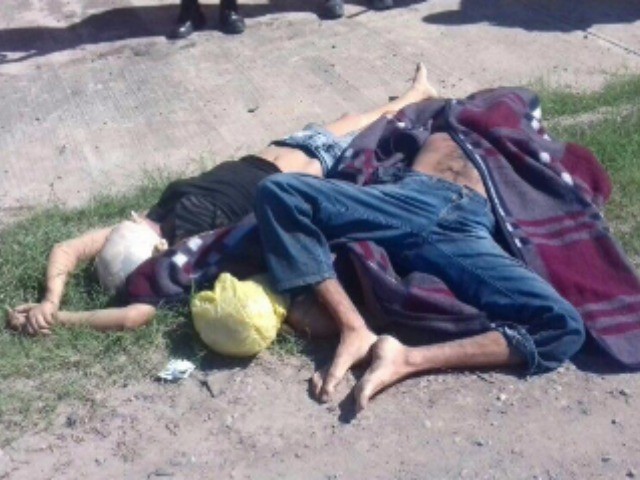 The female victims had their hands tied and their heads wrapped in trash bags, while the male victim had his hands tied and his body was wrapped in a blanket. None of the rival factions of the Los Zetas cartel have taken credit for the gruesome murder to date. The gory scene comes days after as Breitbart Texas reported gunmen kidnapped, interrogated, tortured and murdered a woman named Fabiola Serna. The interrogation of Serna was recorded on video and then uploaded to her hacked Facebook account by members of the Grupo Bravo / Vieja Escuela Z.
As Breitbart Texas has been reporting, two rival faction of the Los Zetas cartel have been fighting for control of lucrative drug trafficking and drug distribution routes. The faction known as Vieja Escuela Z / Grupo Bravo has been working to push out the faction known as Cartel Del Noreste (CDN). The fighting between the two factions has resulted in almost daily kidnappings, executions, shootouts and other violent acts. The violence has since spread from Ciudad Victoria into the border city of Nuevo Laredo and from there, the border states of Nuevo Leon and Coahuila.
Editor's Note: Breitbart Texas traveled to the Mexican States of Tamaulipas, Coahuila and Nuevo León to recruit citizen journalists willing to risk their lives and expose the cartels silencing their communities.  The writers would face certain death at the hands of the various cartels that operate in those areas including the Gulf Cartel and Los Zetas if a pseudonym were not used. Breitbart Texas' Cartel Chronicles are published in both English and in their original Spanish. This article was written by "M.A. Navarro" from Ciudad Victoria, Tamaulipas.