RIO GRANDE CITY, Texas — A Texas appellate court has struck down a lawsuit seeking to close two rural voting locations for an upcoming school board election. Residents claim the case was an effort to rig the local school board election.
The Texas Fourth Court of Appeals ruled Friday against a lawsuit filed by a "Concerned Citizen" that called for a temporary restraining order to close two polling locations in rural neighborhoods for the Rio Grande City Independent School District Board election. According to the Starr County Election Administrator's office, RGCISD is running their own election separate from the County. Had the lawsuit been successful, the only early voting location in the area would have been the Starr County Courthouse.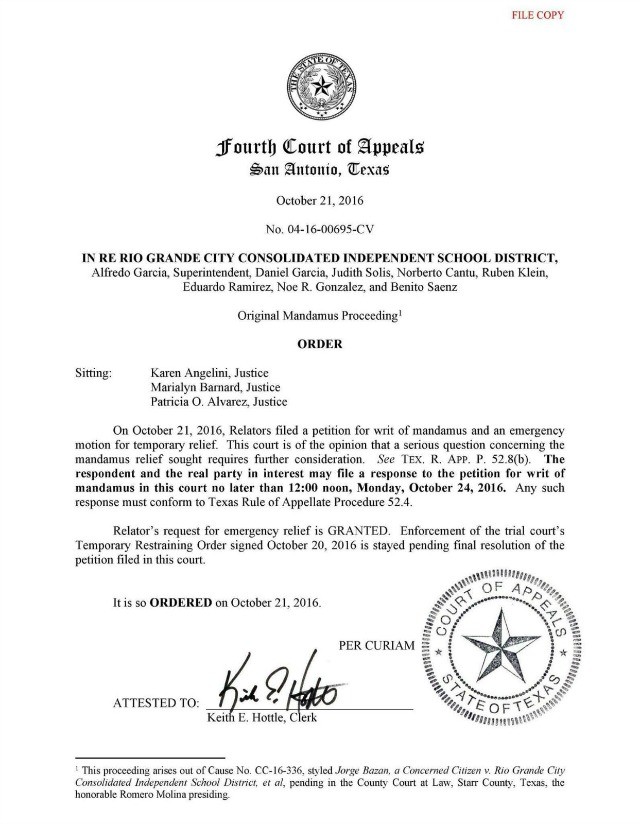 The original lawsuit was filed last week by Jorge Bazan, a man identified in court documents as "a concerned citizen" who requested a restraining order to keep the district from using two locations in rural community areas as early voting locations. Bazan also demanded $50,000 in damages.
"In a county where voter turnout is, at times, less than 20 percent of its registered voters, it is our duty as public servants to do everything we possibly can to encourage and enable increased voter participation," said current Rio Grande City ISD Board Member Eddie Ramirez in an interview with Breitbart Texas. "As such, it is rather disappointing that our vision isn't shared by other elected officials. In an effort not to waver in our commitment, every possible alternative is being considered to accommodate the population we serve and ensure that every citizen's most fundamental basic right is respected."
Breitbart Texas spoke with multiple community members that support the incumbent school board members. According to those residents, the move by Bazan is an effort by individuals connected to certain officials within the Starr County government to tilt the election in favor of the challenging candidates.
The school board members who are up for re-election claim to have been trying to expose a series of financial irregularities carried out by the previous board. Breitbart Texas was granted access to an audit ordered by the current board which revealed that the previous board had allegedly executed a series of questionable expenses and contract awards that only favored a few businesses. The audit has since been turned over to the FBI for further investigation.
School officials rigging contracts and benefiting certain financial interests appear to be a common sight along the Texas border. Breitbart Texas has reported how school board members with Donna ISD demanded bribes from contractors and hired a convicted felon as the school attorney. In the case of Donna, the faction that remains in power created a witch-hunt where, according to court documents, they used the school police force to fabricate a case against one board member and the former superintendent.
The lawsuit in Starr County comes just days after Breitbart Texas reported of a similar issue in Hidalgo County where community organizers claim that county officials are working to rig the election in order to pass the creation of a new taxing district.
Rio Grande City School Law Suit by ildefonso ortiz on Scribd
Ildefonso Ortiz is an award winning journalist with Breitbart Texas. He co-founded the Cartel Chronicles project and you can follow him on Twitter and on Facebook.